Mitsubishi Outlander PHEV GX4hs
November 2015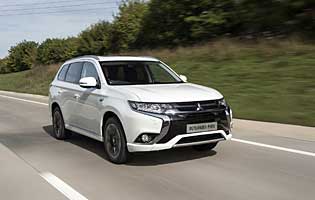 New nose gives the Outlander greater presence on the road
Ratings
Overall rating
Value for money
Costs
Space and practicality
Controls and display
Comfort
Car security
Car safety
Likes
Sharper looks give the Outlander good kerb appeal
Impressive hybrid powertrain suits a wide variety of conditions
Good standard specification across the range
Exceptionally low emissions and strong economy
Gripes
Cabin quality is improved but lags behind some rivals
Badge may put off some buyers at this price point
Loss of boot space compared to diesel version
Home charging point required for best charging performance
Best known for its range of sturdy 4x4 vehicles, Mitsubishi has expanded its range over recent years with one of the key models being the Outlander SUV. For 2015 the Japanese manufacturer has refreshed the range with particular attention paid to the top-selling PHEV version, while all models benefit from updates inside and out.
Mitsubishi created an overnight success story with the introduction of the Outlander SUV in plug-in hybrid form. With a clever pricing policy matched to the standard diesel model and the benefit of the government incentive scheme it has found favour with private and business buyers and in 2014 was the best-selling plug-in vehicle by some margin.
Now Mitsubishi has updated the Outlander with the aim of building on its existing appeal and bringing new buyers into the brand. On the outside both the front and rear ends are substantially changed with new bumpers, lights and a distinctive front grille. The changes also increase the overall length of the car, which improves its appearance and proportions.
Under the Outlander's skin Mitsubishi has worked to improve the driving experience with some significant changes. Changes to the hybrid system have improved off-the-line performance as well as cutting emissions and increasing economy still further, and the suspension has been stiffened to reduce body roll and enhance on-road performance.
There are significant changes inside too, and although the cabin is not all-new it is substantially improved. New front seats, centre console and steering wheel have improved the quality feel and offer increase comfort, while all models benefit from an enhanced specification
Our verdict on the Mitsubishi Outlander PHEV GX4hs
The original Outlander PHEV had a great deal to recommend it but the enhancements in this second generation version increase its appeal still further. The looks are a definite improvement and give it more presence and style, while the driving experience is more composed. That it's a practical and appealing SUV in its own right is impressive, but to match that with such potential for zero emissions and low consumption is exceptional.
Costs

This is one area where the Outlander PHEV has a particular advantage over its rivals, as it is one of the least expensive plug-in hybrid vehicles yet offers the potential for very high fuel economy. For drivers regularly making short journeys the ability to run on electric only for a claimed 32 miles makes it viable to use no petrol on daily trips.
Space and practicality

The Outlander in PHEV form does give away some of its boot space to accommodate the battery pack, offering 128 litres less than the standard car. However the boot itself remains useful and reasonably spacious, while inside the cabin front seat passengers have plenty of space. The rear seats are not quite as generous but certainly big enough to accommodate full-sized adults.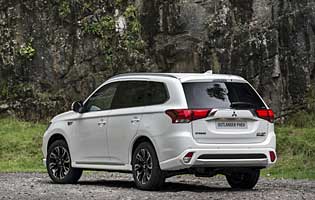 Reprofiled bumpers front and rear increase the Outlander's overall length
Controls and display

Mitsubishi has made specific improvements in order to make the Outlander PHEV easier to drive. In particular the gear lever has been reshaped to make it easier to use, while the main display between the instruments has been subtly reconfigured for easier reading at a glance. Elsewhere the bare bones of the layout remain the same, and they are refreshingly simple with large buttons and clear labelling.
Comfort

The suspension changes have tightened up the Outlander's handling but not at the expense of ride quality. Although its ride is not the most supple in the class it is comfortable in the majority of conditions without allowing excessive body roll. Noise levels are also improved over the outgoing car, helped by better aerodynamics and extra sound deadening, as well as the ability to run in near-silent electric mode.
Car security

All Outlander models are fitted with keyless entry and start, privacy glass and an engine immobiliser with alarm system all fitted as standard. The dark privacy glass in particular, added to the useful load cover over the boot space means the Outlander should provide a good level of security. Any fears of theft while the car is charging can also be put to rest as the charging cable is locked into position when charging is in process.
Car safety

The standard safety equipment on the Outlander is impressive with features such as ESP, hill start assist and electronic brake force distribution all as standard. Some models come with impressive features such a 360-degree camera, active cruise control, forward collision mitigation and a new safety feature dubbed Unintended Acceleration Mitigation which is designed to prevent accidental acceleration from rest.
Driver appeal

While the Outlander PHEV is not intended to be a performance car Mitsubishi has nonetheless improved its acceleration from rest, cutting the acceleration time from rest to 25mph by two seconds. The seamless combination of electric and petrol power makes the Outlander an easy car to drive, and it requires very little effort to drive in an efficient manner. In fact there is some pleasure to be gained from the impressive fuel consumption figures appearing on the display.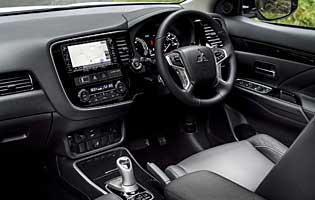 Upgraded interior includes better materials and more equipment
Family car appeal

Families will find the Outlander PHEV to be an ideal vehicle, with good space front and rear plus a useful boot. In addition the potential to run in pure EV mode means extra quiet running is also a useful option, while the cabin appears tough enough to cope with the trials of small children.
First car appeal

This version of the Outlander is unlikely to appeal to new drivers, and although the hybrid system isn't complicated to use it does add a level of complication that inexperienced drivers could well do without. Despite being good value it is also likely to be outside the budget of most younger drivers.
Quality and image

Mitsubishi is aware of the Outlander's perceived quality lagging a little behind some rivals and there's clear evidence of improvement in the quality of the materials. It feels more substantial than before and the redesigned centre console looks more expensive, boosting the perception of quality. Mitsubishi's image is grounded in its popular 4x4 vehicles but the recent success of the outgoing Outlander PHEV has brought in buyers to the brand who are eco-conscious and this has boosted the firm's image a great deal.
Accessibility

With a pair of large doors down each side and a sizeable tailgate, gaining access to the Outlander PHEV is very simple. The SUV ride height means a small step up, but little effort is required. The same goes for the boot area, with a large aperture and a loading lip set at a reasonable height although it is worth noting the boot floor itself is a little higher. GX4h models and above get an electric tailgate as standard.
Stereo and ICE (In car entertainment)
As with the previous generation Outlander there is a sizeable infotainment system mounted high in the centre console. Although it has something of an aftermarket feel it has a large and responsive touch-screen with supplementary controls on the steering wheel. It offers lots of features and is easy to use, although the sheer number of displays may take some getting used to.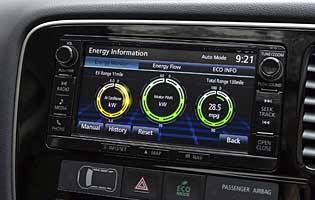 Multiple information screens allow the drive to monitor the operation of the hybrid system
Colours and trim
Unusually for a car of this size and shape the Outlander wears brighter shades well; it is one of the few SUVs that look good finished in white. In particular it contrasts well with black detailing around the nose. On the inside the cloth trim has been improved and the new centre console looks smarter than before.
Parking
Because of the Outlander's size some care is required when parking, although the high driving position does give a panoramic view out. Additionally GX2 models gain parking sensors while GX3 models and above also gain a reversing camera as standard.
Spare wheel
Emergency tyre repair kit supplied as standard.
Range information
Petrol engine options - 2.0-litre hybrid (200bhp). Diesel engine options - 2.3-litre (145bhp). Transmission options: Six-speed manual gearbox with diesel, CVT automatic on PHEV. Trim levels: Diesel - GX2, GX3, GX4. Hybrid - GX3h, GX4h, GX4hs.
Alternative cars
Nissan X-Trail Premium feel, spacious and comfortable though looks almost identical to Qashqai
Volvo XC90 Superbly executed inside and out, clever hybrid tech but expensive in comparison
Honda CR-V Spacious and refined SUV, no hybrid version available
Hyundai Santa Fe Attractive, modern design with good quality cabin but no hybrid available
Over 1,200 more car reviews online
All the reports since 1990 are available on this site, just search by make and model below.
Other products & services
Related information
November 2015