Used Vauxhall Crossland X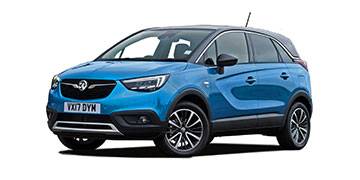 AA Cars works closely with thousands of UK used car dealers to bring you one of the largest selections of Vauxhall Crossland X cars on the market. You can also browse Vauxhall dealers to find a second hand car close to you today. All used Vauxhall Crossland X on the AA Cars website come with free 12 months breakdown cover.
Expert Opinion
As the second crossover SUV added to Vauxhall's range, a second hand Vauxhall Crossland X has a lot in common with the Mokka X while improving on some of its weaknesses. Designed as a more family-friendly SUV, it only went on sale for the first time in 2017 but you can find some great nearly new deals on Vauxhall Crossland X vehicles. Every used Vauxhall Crossland X is front-wheel drive with a choice of a 1.2-litre petrol or 1.6-litre diesel engine. Within these each is available with different power outputs, including 80 to 128bhp for the petrol models for example, depending on whether you want something that's merely punchy or powerful. There are five trim levels of the Vauxhall Crossland X cars for sale, starting with the entry level SE that includes a 7-inch colour touch screen infotainment system, cruise control, 16-inch alloy wheels and more as standard. At the top of the range the Elite Nav trims include an 8-inch touchscreen setup with a sat nav, 17-inch alloy wheels and a colour contrasting roof too. Accessibility and space on all Vauxhall Crossland X cars for sale is excellent (with 410 litres of boot space, 520 when the rear seats are folded down), while it offers a solid if unspectacular ride. With AA Cars you can discover the best deals on Vauxhall Crossland X SUVs.