Southwest England
Dancing Ledge
Durnford Drove, Langton Matravers, Swanage, Dorset BH19 3HG (grid ref SY997783)
This short stretch of the Jurassic Coast offers you almost everything: marvellous views over the English Channel whatever the weather, lots of wildlife, an adventurous scramble, an unexpected swimming site, some tasty forage and a dose of history.
What to see – seasonal highlights
Spring puffin, early spider orchid
Summer chalk plants, Lulworth skipper
Autumn whinchat, warblers
Winter stonechat, black redstart, gulls
All year raven, peregrine, shag
East Anglia and the Home Counties
Thatcham Reedbeds
Nature Discovery Centre, Muddy Lane, Lower Way, Thatcham, Berkshire RG19 3FU (grid ref SU506670)
This sumptuous site within spitting distance of Newbury is a perfect example of how busy towns and wildlife havens can live cheek by jowl. It's a terrific place for a very good variety of wildlife with reedbeds, open water, woodland edge, a river and a canal to boost the biodiversity.
What to see – seasonal highlights
Spring Cetti's warbler, sand martin, little ringed plover
Summer dragonflies, common meadow rue, moths
Autumn lapwing, gulls
Winter wildfowl, kingfisher, water rail
All year Desmoulin's whorl snail, great crested grebe, fish
Wales
Roundton Hill
Old Church Stoke, Montgomery, Montgomeryshire SY15 6EL (grid ref SO293946)
On Roundton Hill, a precious fragment of acid grassland has been preserved, and it hosts many rare and uncommon plants and fungi. This is what brings botanists and flower enthusiasts to this generally unheralded part of the country. Besides plants, you may well see rare birds, bats and polecats too.
What to see – seasonal highlights
Spring early forget-me-not, rare chickweeds, shepherd's cress
Summer linnet, rock stonecrop, bats
Autumn violet coral, pink waxcap, black spleenwort
Winter mosses, lichens, red fox
All year acid grassland, polecat, rabbit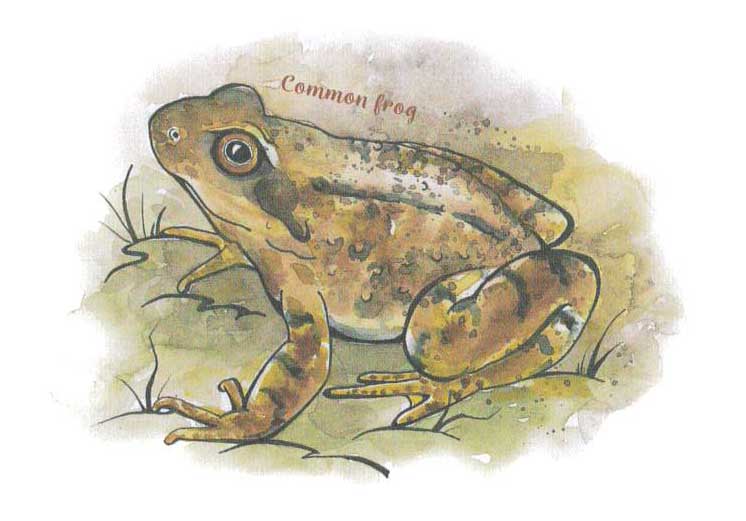 Image: common frog from Wild and Free (illustration by Elizabeth Baldin)
Northwest England
Dunsop Valley
Dunsop Bridge car park, Clitheroe, Lancashire BB7 3AZ (grid ref SD660501)
This is rugged country with a bleak and elemental beauty. The area receives very few visitors, and it can be difficult to see everything, with many private areas and comparatively few public footpaths, but for those who are enjoy wild walking there are fabulous views and rare wildlife to be seen.
What to see – seasonal highlights
Spring wheatear, common sandpiper, lapwing
Summer hen harrier, tree pipit, wheatear
Autumn purple heather, skylark, stonechat
Winter brambling, thrushes
All year peregrine, short-eared owl, merlin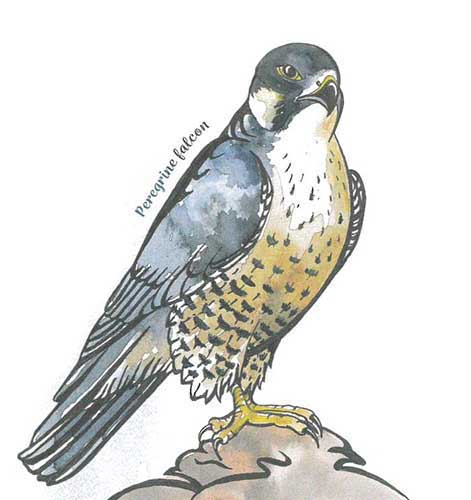 Image: peregrine falcon from Wild and Free (illustration by Elizabeth Baldin)
Scotland
Falls of Braan
Hermitage car park, Old Military Road, Dunkeld, Perthshire PH8 0HX (grid ref NO012421)
The Victorians knew a thing or two about designing curious and beautiful places. The Hermitage at Dunkeld, north of Perth, owned by the National Trust for Scotland, is just such a creation. A visitor here will be immersed in a largely artificial landscape which doesn't pretend to be wild or untouched; and yet somehow the place just 'works' as a wildlife location.
What to see – seasonal highlights
Spring dog's mercury, wood sorrel, wood anemone
Summer osprey, grey wagtail, ferns
Autumn salmon, black grouse, fungi
Winter goldcrest, crossbill, snowdrop
All year Douglas fir, red squirrel, pine marten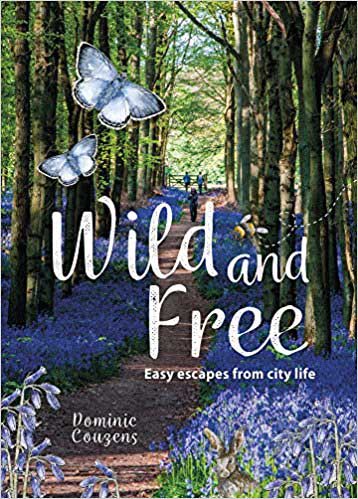 Discover another 95 locations in Dominic Couzens's Wild and Free available from all good bookshops and online.