Heating and boilers explained
There are two main types of gas boilers – combination and conventional. If you're not sure which one you need, our engineers will provide you with options during your survey. Alternatively, you can read our handy guide.
Combination boilers
Often called combi boilers, they don't need a cold water tank or hot water cylinder which means they're ideal for smaller houses and apartments. They produce hot water on demand, so you don't waste money heating up hot water you don't need.
There are some things you need to consider when getting a combi boiler. We'll need to test your mains cold water pressure to ensure it's powerful enough to meet your needs. Also, it takes a few seconds for the water to heat up.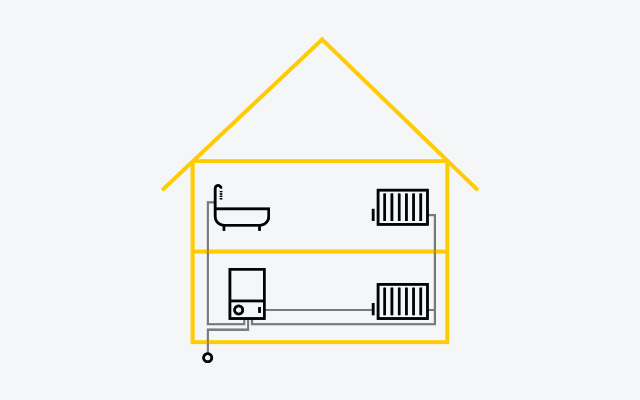 Conventional boilers
These work by heating hot water and storing it in a tank known as a hot water cylinder. You'll often find these in an airing cupboard. One of the big advantages of a conventional boiler is that you can provide hot water to more than one tap or shower at a time. This makes it ideal for larger properties or if there are lots of people under one roof. Another benefit is that you can fit an electric immersion heater to the hot water tank giving you backup should there be any issues with your boiler.
However, you need space for it in addition to a cold water tank – such as in an airing cupboard or in your loft. You'll also need controls so that the hot water is heated at the right time for your needs.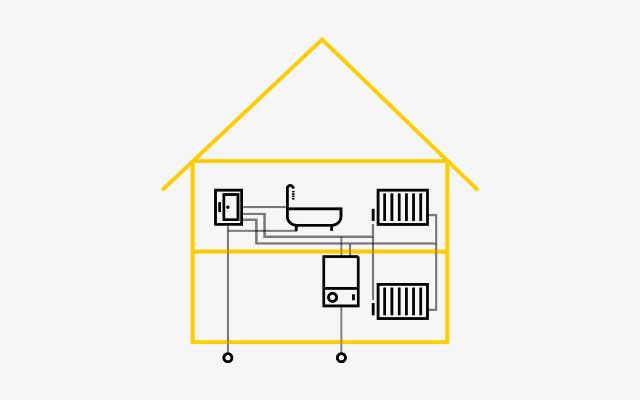 Save money with a new gas boiler
Energy efficient gas boilers mean you could save money on your energy bills. However, the savings you make each year will depend on how old and inefficient your existing boiler is. Here are some examples on the savings you could make by upgrading an old boiler without controls to a new energy efficient gas boiler:
Source: Energy Saving Trust
| | | | | | |
| --- | --- | --- | --- | --- | --- |
| Old boiler rating | Semi-detached house | Detached house | Detached bungalow | Mid-terrace house | Mid-floor flat |
| G (<70%) | £210 | £320 | £165 | £180 | £100 |
| F (70-74%) | £145 | £220 | £110 | £120 | £70 |
| E (74-78%) | £125 | £190 | £95 | £105 | £60 |
| D (78-82%) | £110 | £170 | £85 | £100 | £55 |
These are estimated figures based on installing a new A-rated condensing boiler with a programmer, room thermostat and thermostatic radiator valves (TRVs) in a gas heated home from an older boiler with a programmer and room thermostat. Savings will vary depending on the size and thermal performance of your home. Figures are based on fuel prices as of April 2017. For more examples, go to the Energy Saving Trust website.