McLaren 720S
Super fast with head-turning looks
August 2017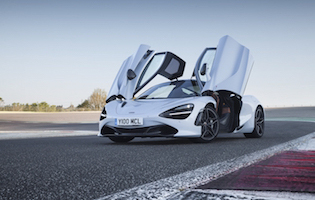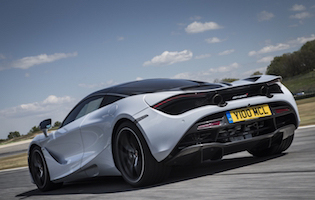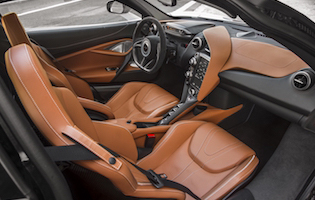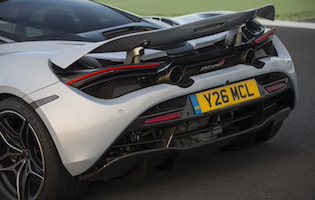 Overall rating
Likes:
Extrovert styling makes it looks like a race car
Uprated parts are all very high-spec and do a fantastic job
Addresses all of the standard car's grip issues
A worthy addition to BMW's lightweight track car legacy
Gripes:
A few technical niggles
Infotainment system is glitchy
Incredibly expensive to buy and run
Lacks character of rivals
Given the astonishing rate of progression, it's difficult to believe it's been just six years since McLaren released the 12C sports car. It had dabbled in road cars before, but this was the first of what turned out to be a full range of supercars. The McLaren 720S is the latest evolution, sporting new styling and loads of mechanical upgrades.
The first thing to note is just how ludicrously fast it is. It has 710bhp, making it much quicker than any of its rivals – that's about 50bhp more than a Ferrari 488. You'd think that would make it undriveable, spinning its wheels every time you pressed the throttle, but a sophisticated traction control system and fat rear tyres result in impressive grip.
Lift the wing-like doors and it's not as difficult to climb inside as some rivals. The latest version of McLaren's super-stiff carbon-fibre chassis has narrower sills than before, making the 720S easier to live with than its predecessors. The driving position is practically perfect – the steering wheel has lots of reach so it's easy to get into position.
Sitting low in the car, visibility is surprisingly good. The large windows mean that only rear visibility is a struggle. It's reassuring to drive because it's easy to place on the road and makes driving in town less stressful. Handling is excellent too, giving you the confidence to chuck the car into corners and really enjoy its performance.
The weak point is, by far, the infotainment system. It's buggy and not intuitive to use, though when it's working properly it looks great, at least. Overall reliability is questionable too – although nothing actually went wrong, we did getting warnings about brakes and suspension, and at one point it simply wouldn't turn on.
Our verdict on the McLaren 720S
The McLaren 720S is an incredible feat of engineering. It doesn't quite have the soul of a Ferrari largely because the noise it makes is functional rather than characterful, but it makes up for that with performance that takes your breath away. McLaren still has some minor infotainment issues to iron out, but overall this is simply a ridiculously capable supercar that's so quick it'll scare you.
---
Costs
All of that performance comes at a cost. The 720S starts at £208,600, making it £60k more than a Lamborghini Huracan. Whether it holds its value enough to be considered good value remains to be seen. Considering the performance on offer, running costs shouldn't be too bad – official economy figures are 26.4mpg, and in reality you should be able to see 20mpg if you're careful.
Space and practicality
Practicality is not at the forefront of the 720S's remit. However, it makes a good fist of offering something in the way of luggage space. There's a 'frunk' that can easily swallow a couple of weekend bags, while a shelf behind the driver is good for a few bags of shopping. There's even an optional luggage strap that's recommended for those who don't want their bags flying into the cabin every time they brake.
Controls and display
Most of the 720S's controls are within a tablet-like screen mounted in the centre of the dashboard. It's pretty responsive and has a few nice touches – such as the person on the climate control screen wearing a helmet – but it can be unintuitive to navigate through its menus and suffers a lot from glare. The instrument screen behind the wheel is better though, displaying information clearly.
Comfort
It's generally accepted that you can have a soft ride and poor handling, or a bone-jangling ride for racecar-like turn-in. However, McLaren's high-tech suspension system offers the best compromise in the business. A new set-up is used in the 720S, and while it doesn't offer limo levels of comfort it won't leave you battered and bruised on a long trip. However, if you opt for the Performance pack, the carbon-backed seats are very hard.
Car security
The 720S comes with a proximity alarm, remote central locking and automatic door locking you'd expect from a premium car. However, those looking for a little extra security can upgrade to a volumetric alarm that can register changes in pressure in the cabin and alert the owner if a door has been opened.
Car safety
The McLaren 720S has not been crash tested, however thanks to its carbon-fibre passenger shell it offers excellent protection in the event of a collision. Because the 'cage' around the driver is so strong it removes the need for reinforcement elsewhere, giving more room for crumple zones. McLaren says the carbon-fibre shell is "typically undamaged" in a crash.
Driver appeal
The McLaren's trump card is its driving appeal. From the moment you set eyes on it you want to get in and put your foot down. Even if you're used to driving fast cars, the 720S is on another level – but what's most impressive of all is that it's not intimidating. You quickly learn that the computer systems have your back if you get a bit over-confident, leaving you free to enjoy the kind of performance that leaves you grinning from ear to ear.
Family car appeal
If you're looking for a car that'll work as a family wagon the 720S is about as far from ideal as you're likely to get. For a start, there are only two seats, while you'd have to pack pretty light for a weekend away.
First car appeal
The McLaren 720S is in no way suitable for a first car. It might be surprisingly easy to drive but it takes a lot of experience to be able to manage a car with so much performance. Everything happens so much more quickly when accelerating that inexperienced drivers could panic if faced with a problem. Meanwhile, running costs and insurance would be prohibitive, particularly for younger drivers.
Quality and image
The McLaren's interior has a minimalist ethos, with most of the materials used throughout feeling of decent quality. However, some of the trim around smaller screens hadn't been sealed off properly, while the wing mirror adjustment button was broken. Minor issues, but worth noting on a car worth more than £200,000.
Accessibility
McLaren has worked hard to improve accessibility to its cars. Older models have a wide sill to clamber across, which is part of the lightweight carbon-fibre chassis – it's slimmer this time, and the door lifts a section of roof away allowing passengers to lower themselves in without too much difficulty. However, the seats are very low, which some may find awkward.
Stereo and ICE (In car entertainment)
The standard four-speaker system is decent enough, especially when most owners will be happy listening to the sound of that monstrous V8 thundering away behind their head. However, a car of this calibre deserves a top-spec audio system, so we'd recommend splashing out for the Bowers & Wilkins 12-speaker set-up, which offers a much better sound quality.
Colours and trim
The range of colours available really is as varied as your imagination allows. McLaren Special Operations will paint your car whatever colour you ask for – though it'll cost you. There are a range of suggested colours to pick from, too. There's a white, blue and grey available as standard, then there are various 'special' paints including an orange, deep red and various shades of black and grey. Elite colours include a vibrant yellow and the Glacier White our car was daubed in.
Parking
Visibility is excellent in the 720S, which makes parking easier than you might expect, though rear visibility is quite limited making reverse parking a bit trickier. Fortunately, our car was fitted with the optional 360-degree parking assistant, which we'd highly recommend if you're at all worried about kerbing those expensive alloy wheels.
Spare wheel
Emergency tyre repair kit supplied as standard.
Range information
Petrol engine options: 4.0-litre V8 (710bhp). Transmission options: Seven-speed automatic transmission. Trim levels: 720S, 720S Luxury, 720S Performance.
---
Alternative cars