Car Buyers Guide
Alfa Romeo Spider 3.2 JTS V6
March 2007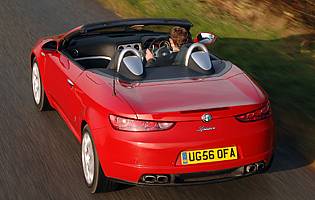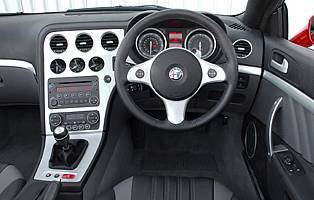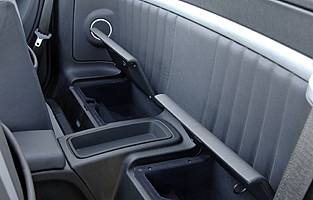 Overall rating

Likes:
Driver-focused interior is of excellent build quality
Classic Italian exterior styling is bound to attract attention
Firm yet comfortable ride
Automatic roof folds down into dedicated storage compartment so it doesn't steal boot capacity
Gripes:
Glare from brushed aluminium centre console
Some scuttle shake
Quiet V6 engine doesn't afford much driver feedback
Lack of passenger vanity mirror
Italian manufacturer Alfa Romeo has an illustrious history, having been building open-top cars since 1910. More recently however it has had had a troubled past in the UK, with criticism of its dealer network, car quality, reliability and residuals. Alfa Romeo is working hard to tackle these issues, and the latest reincarnation of its Spider benefits from these efforts.

It takes far more than fond memories to make a purchase from the GBP25,000-plus bracket, but Alfa's pricing policy suggests confidence in the 2007 Spider's lure, refusing to undercut its German rivals in the open-top car market.

The 2007 Alfa Spider's exterior design is both bold and graceful. The Alfa shield with horizontal chrome bars forms the nose at the front, with powerful bonnet lines flowing seamlessly off the top to form a steeply raked A-pillar. Three-lamp headlight clusters and the offset number plate concur that this is a unique, classic Alfa Romeo, derived from the award-winning Brera design.

As with all Alfa Romeos the interior of the two-seat convertible is focused on the driver, with particular emphasis on ergonomic functionality. The driver's position is slightly offset but both seat and steering wheel are fully adjustable, and the seat itself is exceptionally comfortable. Meanwhile high levels of standard equipment are fitted - the design of the cockpit and console being far more characterful than that of many of its rivals.

By pushing the electronic start button it is immediately evident that the 3.2-litre V6 engine is less tuneful than some of its Alfa forebears. While it is certainly very capable it boasts a relatively modest 0-62mph time of 7.0 seconds, making this a less likely purchase for sports car fans. That said the Spider is comfortable, stylish and more practical than some of its rivals, and the 2.4-litre diesel model's improved fuel consumption and emissions levels should prove popular with soft-top fans with an environmental conscience.


Our verdict on the Alfa Romeo Spider 3.2 JTS V6
The Alfa Romeo Spider is a convertible with an exterior and interior design that will appeal to those motorists already considering a roadster but are drawn by classic Italian styling. The Spider's charm lies in the fact that rather than being performance-driven, it offers sophisticated comfort and refinement that make it an ideal long-distance cruiser.