Vauxhall Corsa VXR
May 2015
Distinctive bonnet vent marks out the VXR from its Corsa siblings
Ratings
Overall rating
Value for money
Costs
Space and practicality
Controls and display
Comfort
Car security
Car safety
Likes
Potent and lively engine
Impressive ride and handling for a performance oriented car
Cabin feels a step above the standard car
Good value in both guises
Gripes
Looks potentially divisive
Rear seat access is poor
Hot Corsa image still somewhat tainted by 'boy racer' reputation
Not as refined as a regular Corsa when on the move
Vauxhall's refreshed Corsa is already wining plaudits thanks to its new engine options, sharpened driving experience and improved appearance. Now it is adding a high performance VXR version to the range, continuing from where the previous model left off in offering a stirring drive within a small and good value package.
The outgoing Corsa VXR was something of a trendsetter in that it set the template for the small hot hatch by using a small capacity turbocharged engine to provide the required performance. Now that its key rivals are using the same template the new version demonstrates the key improvements in areas beyond the engine bay.
One of the most notable changes for the new Corsa VXR is the adoption of new dampers with a new valve system within. The claim is that the valve means the dampers can compress more easily over bumps but still provide a high level of stiffness in order to reduce bodyroll, giving the kind of performance offered by electronically adjustable dampers but without the complexity and expense.
Another key element to the new Corsa VXR's package is the availability of a Performance Pack. Choosing this option brings with it larger diameter front brakes, unique suspension settings over the standard car and a Drexler limited slip differential, designed to give this powerful front-wheel-drive car good traction in all conditions.
Inside the VXR brings a more sporty take on the Corsa interior, the main change being the standard fitment of Recaro sports seats and a chunky flat-bottomed steering wheel. The three-door only layout means access to the rear can only be achieved by folding the front seats, which are bulkier than the standard versions.
Our verdict on the Vauxhall Corsa VXR
There are plenty of high quality rivals in the small hot hatch sector but the latest Corsa VXR stands comparison in many areas. Most importantly it is fast, but it also drives with the required amount of sharpness but also composure; the new specification dampers make it civlised for a car of this nature. It makes financial sense too with a good value package and relatively low running costs. As long as the potentially divisive looks appeal it is one of the strongest cars in the class.
Costs

With sensible driving the 1.6-litre turbo engine has the potential for reasonable fuel consumption, and given the specification and performance the purchase price is also respectable. Insurance costs are likely to be the most significant cost, alongside such consumable as tyres.
Space and practicality

An average-size boot for the class is big enough to reward the determined, in that with careful bag selection and considered packing you can squeeze far more into it than might be expected. Front seat passengers have good space, those in the rear have more restricted head and legroom although adults will fit. Getting on board can be a challenge however.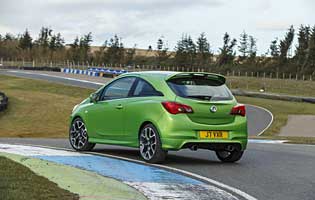 New rear inherited from standard car but VXR adds spoiler and exhaust pipes
Controls and display

The obvious centrepiece from a display point of view is the central touch-screen, which does a good job of relaying information but isn't especially sharp, renders blacks as mid-grey and at night is simply too bright no matter what you do with it. The basic car controls and ancillaries are chunky and feel robust enough in their actions.
Comfort

There are minor compromises required with the Corsa VXR in terms of ride quality and noise levels, although they are very slight compared to the standard car. The clever new dampers do an impressive job and minimise the ride compromises, while the standard Recaro sports seats are very supportive.
Car security

An alarm and immobiliser is essential on a car likely to gain this much attention and Vauxhall have the good sense to fit both. Although not on the options list a tracking device would be a worthwhile investment.
Car safety

There is a limit to how much of the very latest safety equipment manufacturers can add to superminis before their prices are pushed too high, but the Corsa squeezes an impressive amount in beneath its bodywork. Active stability control and braking assist systems are among the highlights, while a tyre pressure monitoring system is now standard.
Driver appeal

The VXR is clearly a car for the enthusiastic driver but it still manages to behave with decorum in normal driving. The turbocharged engine is torque and responsive, although a little car is required if the conditions are poor to avoid activating the traction control. But the key appeal of the Corsa VXR is the combination of performance and handling, which is both exciting and exploitable. For a car of this size and price it behaves with impressive maturity.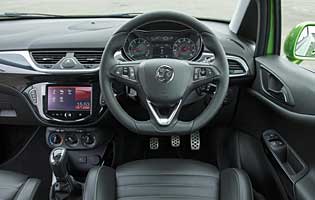 Smart cabin boosted by leather and bucket seats
Family car appeal

Many families run superminis as second cars, so this could be a natural contender to fill the spare space on the driveway. In three-door form it is very difficult to fit some kinds of child seat, though, and parents picking kids up from school or events might find themselves constantly having to get out to let passengers in and out.
First car appeal

It might well be high on the wish list for many new drivers but insurance costs are likely to put it well out of reach. Generally speaking however it would not present a newly-qualified driver with any particular problems.
Quality and image

Buyers are becoming ever more demanding in terms of quality even in the supermini class, but happily the Corsa VXR delivers. Inheriting the updated cabin from the standard car but with the addition of piano black and leather trim help to boost the quality feel. The VXR brand has been a definite success for Vauxhall although it is still relatively young compared to some key competitors. In VXR form the Corsa does also have to battle with its 'boy racer' image which while partly accurate doesn't mean it is anything other than a very capable and fun hot hatch.
Accessibility

Here the two passenger doors are very long, which is a good thing to allow rear passengers more room to step in past the forward-folded front seats. But it also means that getting such long doors open wide enough for a driver to get in can be tricky in itself when there is little room beside the car. The seat belts are located a long arm's reach away, which can be especially awkward for people who prefer to sit closer to the wheel.
Stereo and ICE (In car entertainment)
The audio system has been gifted a new lease of life by its various input options and a much-improved touch-screen interface. There are USB and auxiliary sockets through which MP3 players can be connected, as well as Bluetooth wireless connection capability. The small speakers are concentrated on locations towards the front of the cabin.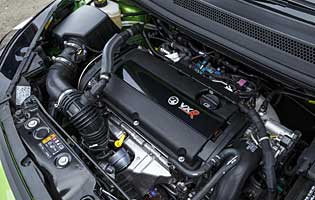 Feisty turbo engine is a pleasure to use
Colours and trim
In keeping with the VXR's more aggressive appearance to the standard Corsa is available in a wider range of colours, including an eye-catching Grasshopper Green. For some buyers this will be an obvious choice, but happily for more conservative owners there are more discreet options. On the inside the addition of leather trim helps to boost the quality feel, and the black fabrics are brightened by flashes of metal effect trim.
Parking
The Corsa has naturally light steering, which makes low-speed manoeuvres very easy. The view out is reasonably good, it is only the easily-damaged alloy wheels that require care when parking alongside a kerb.
Spare wheel
Emergency tyre repair kit supplied as standard.
Range information
Petrol engine options - 1.2-litre (69bhp); 1.4-litre (89bhp); 1.4-litre turbo (99bhp); 1.0-litre turbo (113bhp), 1.6-litre turbo (202bhp). Diesel engine options - 1.3-litre (74bhp, 94bhp). Transmission options: five and six-speed manual gearbox depending on model, plus six-speed auto gearbox (1.4-litre 89bhp petrol only). Trim levels: Excite, Sting, Sting R, SE, Design, SRi, SRi VX Line, Life, VXR.
Alternative cars
Ford Fiesta ST Key rival is fast, fun and good value too
Renault Clio Renaultsport 200 More practical with five doors, less aggressive than previous Clios and auto only
Peugeot 208 GTi Sparky and engaging small hot hatch, driving position may not suit all
Volkswagen Polo GTI Grown up choice is conservatively styled but good fun to drive
Over 1,200 more car reviews online
All the reports since 1990 are available on this site, just search by make and model below.
Other products & services
Related information
May 2015