Mercedes-Benz C-Class C 63S AMG
March 2015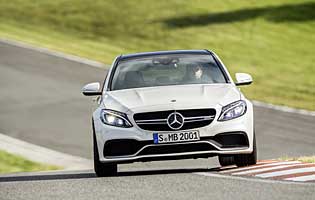 Deeper front air dam is the most obvious change for the C 63
Ratings
Overall rating
Value for money
Costs
Space and practicality
Controls and display
Comfort
Car security
Car safety
Likes
Terrific engine and gearbox combination
Superb performance, traction and handling
Equally at ease in traffic or on track
Comprehensive specification
Gripes
Occasional hesitation when pulling away
Interior is appealing but very similar to standard C-Class
Despite improved efficiency still relatively thirsty
Touch pad control is occasionally inaccurate
The current generation C-Class saloon and estate models are still fresh out of the box but that hasn't stopped Mercedes-Benz expanding the range still further. In fact it is the second product from the newly-formed Mercedes AMG stable; the C 63. Available in both saloon and estate as well as standard C 63 and higher-output C 63S form right from the beginning, the C 63 the most accessible AMG product to date.
The basics of the Mercedes AMG C 63 are clearly inherited from its more humble C-Class sibling, but that stands it in good stead. Benefitting from a more grown-up exterior appearance that is clearly influenced by the bigger S-Class, but in C 63 form it is significantly enhanced. All models wear large alloy wheels, and have a subtle but appealing bodykit.
Mechanically the C 63 is in principle similar to the standard C-Class, but in reality the changes are significant. Most important is the engine transplant, and for the first time in an AMG product of this size it uses twin turbochargers instead of natural aspiration. This is an inevitable result of the constant push for improved emissions and economy whilst still delivering the kind of performance required.
For the first time the C 63 is available in two forms; a standard C 63 and the C 63S. The latter benefits from higher power and torque outputs, larger alloy wheels as standard, the option of carbon ceramic brakes and has an additional mode in the dynamic menu too. Both versions have larger diameter brakes and uprated suspension as standard, while the retuned ESP system can be switched to track mode or off all together.
Anyone familiar with the standard C-Class will find the C 63 something of a revelation, as it not only provides a massive jump in terms of performance but also a significantly enhanced driving experience all round. Substantial retuning of the steering and suspension delivers more weight and accuracy to the wheel and a more composed ride, even though the set up is more aggressive than in the standard car.
Our verdict on the Mercedes-Benz C-Class C 63S AMG
Any doubts about the C 63 losing its appeal with the switch to turbocharged power can be dismissed immediately. The new powerplant is flexible and characterful as well as docile and very driveable at normal speeds, while the switchable driving modes make for a civilised drive when required. Although it still requires a substantial investment, the C 63 is arguably more capable and well-rounded than all of its rivals.
Costs

It costs a significant amount to buy, insurance ratings will be at the highest end of the scale and although the turbocharged engine is more efficient you can still expect to be filling it with fuel on a regular basis. This is not a cheap car to buy and maintain.
Space and practicality

As the C 63 shares its silhouette with the regular C-Class it benefits from the same growth in size. Passenger space is very good in front and is even pretty good in the rear seats. Bootspace is better still and easily capable of swallowing even the most oversized golf bags. Cabin oddment storage areas are sensibly located, too.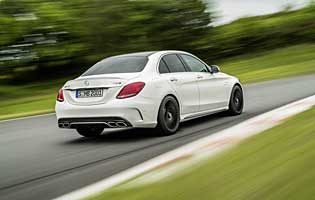 From some angles there are almost no indications that this is an AMG model
Controls and display

Unlike the digital offerings of more expensive models, The C 63's dials and instruments retain a largely conventional layout. And along with an easy to use rotary controller for accessing the car's main functions, Mercedes also provides some simple, clearly marked shortcut buttons for radio, sat-nav and other important features. The standard fit touchpad is a little hit and miss, and can prove fiddly to operate when on the move.
Comfort

Considering the fact that it runs on much larger wheels and tyres than the standard car, the C 63 continues to deliver impressive comfort levels. The ride quality remains excellent, in some circumstances dealing with bumps better than a standard C 63, while the standard sports seats are very supportive. Wind noise is quite prevalent at higher speeds, but this is less of an issue in the UK.
Car security

An alarm and immobiliser system is part of the package but an extra tracking system would be worthwhile for a car as desirable as the C 63.
Car safety

Mercedes has made a concerted effort to provide a comprehensive package for the C 63. The presence of crash-responsive head restraints and numerous airbags is welcome, as is the standard inclusion of a collision avoidance system complete with auto brake function plus rain sensing wipers, reversing camera and cruise control. Safety-biased options include active cruise control and a lane keep function.
Driver appeal

Even before you exercise the engine the C 63 has more weight and feel to its steering, a criticism which could be levelled at the standard car. Starting off in the Comfort or Eco settings the C 63 is remarkably benign, only the very generous torque and occasional exhaust rumble indicating the performance on offer. Switch it up into Sport or Race mode - available on C 63S only - and the car is transformed, feeling even more sharp and responsive. The acceleration is fierce, the brakes superb and the handling reassuring and sharp.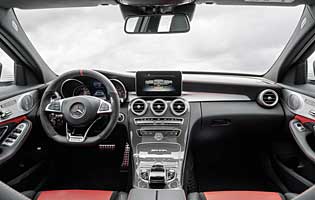 Cabin is high quality and largely a pleasure to use
Family car appeal

Whatever the car, a saloon body style is hardly the best choice for a growing family. Today there are much better options available, and within Mercedes it is cars such as the hatchback B-Class or GLA that would better serve a demanding family. However, the C 63 Estate does deliver the additional load space that would serve family buyers better.
First car appeal

It may be on the wish list for younger novices but the C 63 is too powerful and too expensive for the vast majority of newly qualified drivers.
Quality and image

Mercedes reputation for quality is well established and the C 63 delivers. Although much of the cabin is the same as less expensive C-Class models the standard of finish is good and everything feels well constructed. Mercedes-Benz has always been one of the most desirable premium brands, and the addition of the AMG tag simply takes this to an even higher level with a superb reputation for exciting high performance cars.
Accessibility

It may be a high performance saloon but there are no compromises compared to the standard car in terms of accessibility. Front seats occupants are well served, the rear door aperture remains a modest one, while access to the rear load space is straightforward.
Stereo and ICE (In car entertainment)
A much-improved system compared to the outgoing model, the C 63 has a new system with a touch pad and rotary control which makes navigation through the various systems much more straightforward. The standard specification also includes DAB, USB and auxiliary inputs as well as Bluetooth connectivity.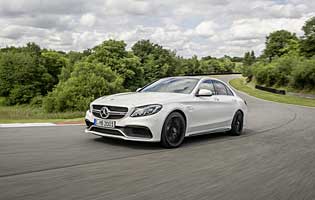 Carbon ceramic brake upgrade is available on more powerful C 63S
Colours and trim
Like most Mercedes the C 63 looks best in sober metallics and darker colours rather than the brighter options, although with dark alloy wheels the choice of white shades do suit it too. On the inside much of the cabin is the same as with the standard car, although there are additional material choices which provide more scope for personalistation.
Parking
The C 63 might not be a large car, but its rear window's lower edge and tailgate is quite high, so care still needs to be taken when reversing. Thankfully the parking sensors and camera system take the guesswork out of any manoeuvre
Spare wheel
Emergency tyre repair kit supplied as standard.
Range information
Petrol engine options - 1.6-litre (154bhp); 2.0-litre (181bhp); 2.0-litre hybrid (275bhp); 4.0-litre (469bhp, 503bhp). Diesel engine options - 1.6-litre (134bhp); 2.1-litre (168bhp 198bhp). Transmission options: six-speed manual transmission, seven-speed auto. Trim levels: SE, Sport, AMG line, AMG.
Alternative cars
BMW M3 Similar recipe as the C 63 but can't compete in a straight line
Lexus RC F More old-school approach with naturally aspirated V8, coupe only
Audi RS4 Available as an estate only but still offers plenty of thrills
Jaguar XFR Although a segment above, XFR is comfortable and entertaining
Over 1,200 more car reviews online
All the reports since 1990 are available on this site, just search by make and model below.
Other products & services
Related information
March 2015