Lamborghini Huracan LP 610-4
July 2014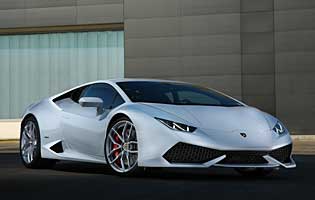 The Huracan's single-volume shape is sharpest at the front
Ratings
Overall rating
Value for money
Costs
Space and practicality
Controls and display
Comfort
Car security
Car safety
Likes
Slightly softened Lamborghini styling blends aggression and elegance
Addictive multi-layered sound from the V10 engine and quad exhausts
Perfectly tuned twin-clutch gearbox suits both the car's personalities
Impeccable low-speed behaviour makes driving through town more pleasant
Gripes
Tiny storage unit under the bonnet is little use for baggage
Very little visibility directly rearwards
Seats should offer more lateral support for cornering
Lacks some of the theatre of the Aventador
After 10 years production of the Huracan's predecessor, the Gallardo, finally came to an end to make way for its replacement. As the most successful car in the firm's history, the Gallardo has left a legacy that the Huracan has to live up to. To do that it brings new technology, more power and greater refinement.
Chief among the noteworthy changes in this all-new understudy to the larger Aventador is a power figure that begins with a six - the province of only the most elite hypercars only a few years ago. Speed, therefore, is something the Huracan can offer in glorious excess, with a top speed of more than 200mph the reward for prolonged straight-line bravery.
Secondly, the old automated manual gearbox, whose snatchy shifts and imprecise responses had become a crippling handicap by the end of the Gallardo's life, has been replaced with a much more advanced twin-clutch unit with the ability to shift faster and more naturally, which in turn is less disruptive to traction, especially if shifting mid-corner.
The Huracan is considerably cheaper than the brutish Aventador and is designed to fall short of that car in several areas: 10 cylinders instead of 12, normal doors instead of dramatic scissor types, a hybrid aluminium-carbon chassis instead of a full carbon unit and more besides. However, its decreased dimensions, lighter weight and smoother drive make it arguably more appealing.
Against rivals like the McLaren 650S, Ferrari 458 and Porsche 911 GT3 the Huracan strikes its own, distinct path and will appeal to buyers for unique reasons. It's more of an everyday supercar than any of its forebears and mixes an elegance into its looks that complements the ultra-aggressive cut of the single-volume shape. It's the first do-it-all Lamborghini.
Our verdict on the Lamborghini Huracan LP 610-4
Buyers interested in the Huracan need only know a handful of things. It's incredibly fast, clings to the road like a limpet to a rock and is as docile at low speed as a Volkswagen Golf. That it has depths of dynamic talent only accessibly by an elite few doesn't matter. Simply knowing that it's there will be enough for most owners. However it's driven, the Huracan is entirely satisfying.
Costs

If you can afford to buy it, running it should be no problem. That said, insurance will be into the thousands, fuel economy is best ignored and servicing will be a real stinger when it comes around. Owners are unlikely to mind. For the price, value for money is actually quite high.
Space and practicality

Clearly this is not a car designed for those with aspirations of transporting furniture, but the reality is that even for the class the Huracan is poorly equipped with luggage space. It's possible to shove thin items or slim, soft baggage behind the seats, but the compartment under the bonnet is very small because of the four wheel-drive system's intrusion into the bonnet area. Aside from a convenient mobile phone holder and a shallow central storage unit, practicality is non-existent.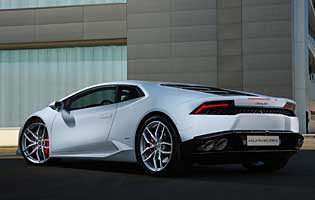 More conservative rear end hides raucous V10 engine
Controls and display

Lamborghini is not the first to employ a 12.3-inch colour screen instead of conventional dials, but its implementation is very good. A proper graphics accelerator card like those found in computers and games consoles allows the display to refresh at 60 frames per second - essential to allow the digital rev counter needle to keep up with the engine. It's sharp enough and the screen can be split across numerous different displays, like speed, navigation and music data. A traditional button-led centre console is the right choice for this car.
Comfort

The Huracan's standard seats are the more comfortable choice compared to the lightweight fixed-back units on the options sheet. They're still a little wide and will be best fitted to the larger driver, but either way they should really offer a little more bolstering for legs and bodies to make the fast cornering experience feel more secure. The suspension is firmer than the McLaren 650S's, but finds an excellent balance between control and suppleness.
Car security

Attention, both of the good and the bad kind, is sure to come whether it's asked for or not. Picking a silver shade might make it slightly less obvious, but not enough to see thieves missing it. The chief fear is that someone will simply run a sharp object down the paintwork. Remote central locking with deadlocks is a standard feature, however.
Car safety

Forget what the Highway Code says about stopping distances - the Huracan can chop them in half thanks to wide, grippy tyres and huge brakes. The tyres also contribute to extremely high cornering grip, while a unique stability control system features multiple sensors to assess the attitude of the car and correct it if necessary. The cabin is also lined with airbags.
Driver appeal

From the layered howl of the engine and exhausts to the tight body control, incredible grip and fast, accurate steering, the Huracan ticks all the boxes an adrenaline junkie could wish for. The bonus, which comes newly to the brand with this model, is that in town the Huracan is light, easy to manoeuvre and relaxed. Its mid-engined balance still has the potential to catch rough drivers out, but that's an essential part of a tremendously appealing driver's car.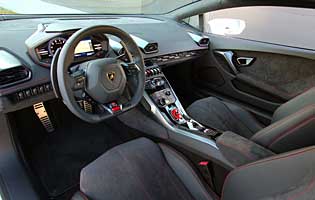 Colours and materials complement high-quality plastics
Family car appeal

If ever a fellow parent tries to justify the Huracan as a sensible or in any way logical family choice, ignore them. It might be possible to fit some types of rear-facing child seat into the passenger side of the cabin, and the passenger airbag can be switched off to allow this, but with such a low passenger cell there would be little temptation to do so. The lack of luggage space is a further nail in the 'family car' idea's coffin.
First car appeal

Doubtless the Huracan will fire Cupid's arrow through the hearts of millions of youngsters over its production span, but as much as they might aspire to own one someday, the chances of them being able to afford to buy and insure it as a novice driver are practically zero. With all that power on tap and the relatively tricky dimensions compared to a learner's supermini, the chances of the car making it through the first week unscathed would be just as slim.
Quality and image

Lamborghini's interior quality is some way ahead of its Italian rivals at Ferrari, with better fit and finish evident throughout when compared to a 458. The Lamborghini image is unimpeachable, too, and the Huracan seems to attract nothing but good feeling and positivity wherever it goes. The company is too low volume to register on common reliability indexes or ownership satisfaction surveys, but the complex nature of its cars makes niggling faults possible.
Accessibility

The Huracan's doors are of conventional design as opposed to the Aventador's scissor type. This is to help differentiate the two and keep the latter elevated at the top of the tree. The end result is that the Huracan is easier to get into, albeit with a low roof line and a lower seat that will rule out anyone without the full mobility of youth. The lightweight bonnet flips up with a flick of the wrist and shuts just as easily.
Stereo and ICE (In car entertainment)
Despite the V10 engine behind the two seats being among the more vocal and sweet-sounding engines out there, some people may still wish to listen to music. Six speakers spread throughout the compact cabin are connected to a CD and DVD player, a USB input, Bluetooth-compatible devices and a multi-band radio. Digital radio reception is standard. The stereo is controlled with a main wheel and a series of buttons, and after a minute's acclimatisation is fairly intuitive, displaying its data on the main screen ahead of the driver.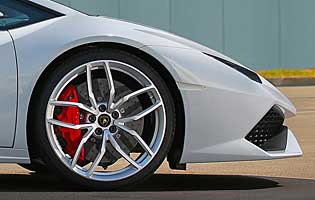 New alloys are larger but no heavier than Gallardo's
Colours and trim
A near-comprehensive spectrum of 19 exterior colours is offered at launch, encompassing gloss, metallic, pearl and matt finishes. Yellow, orange, green, blue and red are all brightly and boldly spoken for, alongside a whole range of blacks, greys, silvers and whites. Naturally, the boldest colours look best, with the lighter of two blues striking the best balance of impact and tastefulness. The interior trim is angular after the fashion of the Aventador's, but looks just as high quality in colours to complement the paint.
Parking
Parking a supercar is never the least anxious of occasions, and while the Huracan goes some way to reducing the problem thanks to an impressive turning circle and lightweight steering in the most street-biased of its three driving modes, it's still quite a wide machine and lacks meaningful rear visibility for reversing. Parking sensors and a reversing camera are therefore installed to take away the risk of any embarrassing parking accidents.
Spare wheel
Emergency tyre repair kit supplied as standard.
Range information
Petrol engine options - 5.2-litre (602bhp). Transmission options: Seven-speed dual-clutch automatic gearbox. Trim levels: LP 610-4.
Alternative cars
Porsche 911 GT3 One of the best driver's cars available and also a sensible investment
McLaren 650S Turbocharged V8 engine is incredible, but lacks the Huracan's exotic edge
Ferrari 458 In its twilight years, but for some is still top dog
Audi R8 Much cheaper and with many of the same parts, but lacks comparative desirability
Over 1,200 more car reviews online
All the reports since 1990 are available on this site, just search by make and model below.
Other products & services
Related information
July 2014