Mitsubishi Mirage 2 1.2
December 2013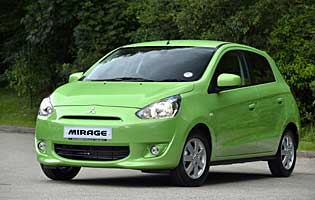 The Mirage has a modern, low-key design from the front
Ratings
Overall rating
Value for money
Costs
Space and practicality
Controls and display
Comfort
Car security
Car safety
Likes
Fuss-free, spacious cabin
Discreet exterior design
Very impressive efficiency
Some of the lowest running costs in the class
Gripes
Cabin feels sturdy but lacking in quality
Steering lacks feel and numbs the driving experience
No diesel option although petrols are very efficient
Higher specification versions over-priced compared to rivals
Japanese brand Mitsubishi is perhaps best known for its larger vehicles such as the Shogun, but its smaller cars such as the Colt supermini are actually one of its best-selling products. Now there is a new offering from the firm in the shape of the Mirage, intended to offer an ultra low cost approach to small car motoring.
The predecessor of the Mirage was based on a platform shared with Daimler Chrysler to give the Smart ForFour and the Mitsubishi Colt, which were designed to offer space and practicality in a small package. With the Mirage the approach is somewhat different, with the emphasis on simplicity, light weight and low running costs.
The design of the Mirage is more conventional compared to the MPV-like Colt, with a five-door only configuration. An emphasis on good aerodynamics boosts its efficiency, as does its impressively low weight; all versions of the Mirage are 865kg or less. Size-wise it is also a fraction smaller than a conventional B-segment supermini, and sits somewhere between that and an A-segment city car.
Mechanically the Mirage sticks to the usual conventions, with a transversely mounted engine in the front driving the front wheels. Rather more unusually the engine range is all petrol and both the options are three cylinder units, with manual and CVT automatic transmission options.
Mitsubishi makes bold claims for the Mirages performance, with the entire range offering 100g/km or less. This indicates that it has been designed as a high-value proposition, with no luxury or sporting models in the range line-up at launch.
Our verdict on the Mitsubishi Mirage 2 1.2
The Mitsubishi Mirage offers a pleasing alternative approach to small car motoring, giving cost the absolute priority which is a reality for many motorists. Its efficiency and ease of use are good and it offers a surprising amount of space for car of its size. The only disappointing aspects are numb steering and the cost of the higher specification versions.
Costs

The Mirage should offer very impressive running costs. Insurance costs should be very low indeed, fuel consumption is very impressive especially for a petrol car which means cheaper fuel than diesel too. The low emissions also mean almost all versions are exempt from vehicle excise duty. The only demerit is that the Mirage is no cheaper or more expensive than many key rivals.
Space and practicality

The Mirage makes the most of its compact dimensions and offers respectable space for both front and rear passengers, especially for a car in this class. The whole cabin layout is clearly designed to maximise space efficiency, with a slim dashboard and plenty of storage areas.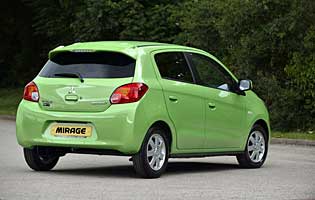 Big bumpers and rear spoiler contribute to good aerodynamic performance
Controls and display

The Mirage has a pleasingly fuss-free cabin with a simple layout that makes it easy to use. The instruments are big and clear, the electronic displays are easy to read and the few buttons that there are can be easily understood.
Comfort

For a car of this size the Mirage is respectably comfortable. Noise levels are decently low and even though the engine is perhaps at little more vocal than some the noise itself isnt unpleasant. The Mirage does a decent job of filtering out poor road surfaces too, although the drivers seat lacks a little back support.
Car security

Remote central locking and an immobiliser are standard across the range, but an alarm system is only available as an accessory fitment from dealerships. Privacy glass is also fitted on Mirage 2s and above.
Car safety

Even though it is light weight Mitsubishi claims that the Mirage has a very strong body thanks to the use of ultra-high tensile steels in its construction. In addition to this all Mirage models are fitted with stability and traction control, front, side and curtain airbags and brake assist.
Driver appeal

With a pleasingly thrummy three-cylinder unit up front rather than the typical four-cylinder offerings, driving the Mirage offers a little fun for drivers. The gearshift is very light weight and easy to use and the pedals are also very easy-going. The steering is light but relatively slow however and although not a huge problem it is less impressive than its rivals.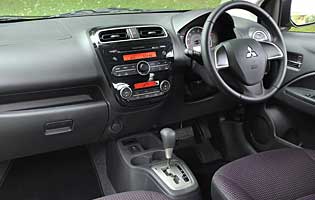 Simple interior offers clarity to the driver
Family car appeal

Depending on your size of family the Mirage could perform the role of family wagon. Theres space in the rear for three children although three full-size car seats may require a little bit of squeeze to get properly installed. The cabin also appears to be sufficiently hardy that it could stand up to trial by children.
First car appeal

The Mirage ticks many of the boxes that new drivers are looking to fill. It is easy to drive, cheap to run and compact, although it is not as cheap to buy in the first place as some competitors.
Quality and image

From the inside the Mirage delivers a reasonable level of quality with a clean and uncluttered cabin design and a robust design, although the materials used are of class-standard quality rather than exceptional. In terms of image the Mirage benefits from its Japanese origins and the rallying successes of the past.
Accessibility

The Mirage is an undeniably small car, but even so climbing aboard isnt as difficult as it could be. Front and rear occupants have doors that open sufficiently wide to make getting in straightforward, and in the rear there is a bench seat which makes it easier to slide across into the middle if required. The boot is understandably modest in size although access to it is also simple.
Stereo and ICE (In car entertainment)
The entry-level Mirage uses a simple AM/FM radio/CD player with two speakers, although it does have the bonus of USB input. Higher specification models add an additional pair of speakers, while controlling the system itself is very straightforward thanks to the large display and clearly-labelled buttons on the centre console.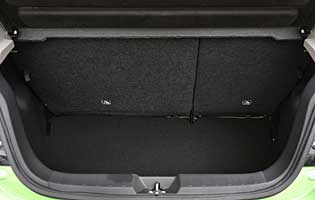 Boot space is modest but good for the class
Colours and trim
The available colour range on the Mirage is relatively modest, helping to keep the cost down, but thanks to its clean design with body-coloured bumpers it works well in brighter shades such as red and lime green as well as the more sober hues. On the inside it is mostly grey plastic, although the orange hue of the displays does offset this.
Parking
The Mirage is the ideal car when it comes to parking, as its diminutive dimensions means it will fit into the smallest possible spaces. Although power steering is standard and physical effort is reduced, the steering is still relatively slow and so requires a few more turns than is ideal.
Spare wheel
Tyre repair kit fitted as standard.
Range information
Petrol engine options - 1.0-litre (69bhp); 1.2-litre(79bhp). Transmission options: five speed manual gearbox plus CVT auto gearbox option(1.2-litre only). Trim levels: 1, 2, 3.
Alternative cars
Kia Picanto Low cost, well-equipped and reasonably fun to drive
Suzuki Splash One of the older contenders in the segment but still offers good value
Chevrolet Spark Fun to look at and to drive, ideal for younger drivers
Nissan Micra Manages to offer above-average quality whilst still delivering low costs
Over 1,200 more car reviews online
All the reports since 1990 are available on this site, just search by make and model below.
Other products & services
Related information
December 2013