Jeep Grand Cherokee SRT8
December 2012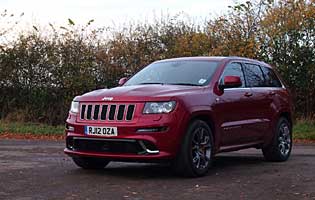 Muscular bumpers and body-coloured wheel arches define the SRT's exterior
Ratings
Overall rating
Value for money
Costs
Space and practicality
Controls and display
Comfort
Car security
Car safety
Likes
Loud and spirited engine provides epic performance and enjoyment
Surprisingly good ride quality copes with all manner of bumps
Unparalleled list of standard equipment provides supreme luxury
Individual charm and character make it satisfying to own
Gripes
Voracious thirst for petrol will force many visits to the pumps
Some interior plastics feel noticeably lower-rent than others
Large tyres are too eager to follow ruts and grooves in the road
Its sheer size can make parking in typical car parks difficult
Few would try to justify the Grand Cherokee SRT8 as a sensible choice of car. It's big, heavy, powerful and drinks its way through unleaded very quickly indeed, so fuel efficiency-mad Europe is arguably not its natural marketplace. However, it serves as a remarkable technological exercise and halo model for Jeep, so its value cannot wholly be measured in sales.
The SRT8, also known simply as the SRT, is the range-topping Grand Cherokee in every way, with more power, more style, more equipment and more technology than any of its cheaper brethren. It takes the chassis of the ubiquitous off-roader and mates it with a 6.4-litre V8 'Hemi' petrol engine, which gives the SRT unparalleled character among SUVs.
Producing mountains of power and torque, this engine is enough to make the SRT genuinely, crushingly fast despite its kerb weight of more than 2.3 tonnes. Further cementing its positioning as a driver's SUV, the big Jeep's handling can be controlled with selectable driving modes that can stiffen or soften the suspension as well as relaxing the traction control.
In the marketplace it competes with high-power diesel SUV equivalents from the European premium mainstream, and while it doesn't seem to undercut them by much on basic list price, large discounts are usually available and the wealth of standard equipment the one-trim SRT features is far in excess of the equivalent specification any of its rivals can offer.
Fuel economy is a concern. To specify a rival to the same level as the SRT would result in a considerably larger initial bill, but many people prefer to pay a higher purchase price for lower subsequent running costs. However, the SRT offers a uniquely satisfying ownership experience and that may be the deciding factor against somewhat dull-seeming alternatives.
Our verdict on the Jeep Grand Cherokee SRT8
For those who can afford to run a thirsty, V8-powered SUV, running costs are not the obstacle they are to ordinary motorists. In that event there is little that compares to the SRT's combination of driving engagement, charm, luxury and uniqueness. It's practical, spacious, imposing and brash in a singularly enjoyable way, but the economic climate and a general preference for diesel SUVs makes it largely unsuitable on these shores.
Costs

No one looking into this car would be under any illusions about how expensive it will be to run. It does not require high-octane unleaded fuel, but nonetheless it will still consume it at a significant rate. Insurance for such a beast will also be very costly, and perhaps the only thing in its favour is its purchase price, which, considering its breadth of standard equipment, is much lower than that of an equivalently-specified German rival.
Space and practicality

Space is spread evenly between passengers and luggage space, so up to five people can sit in comfort with significant boot space behind. Width is a particular asset of the Grand Cherokee's in this department. In the cabin there are several storage spaces including a double-layer one in the central bin between the front seats. Cup holders ensure that drinks are kept upright and only the bizarrely restrictive door pockets spoil things.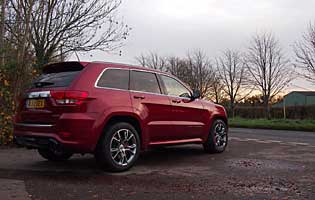 The wide, purposeful stance at the rear hides a large, practical boot
Controls and display

With expertly-placed dashes of colour on the instrument cluster the SRT's displays are modern, stylish and befitting of the car's performance capabilities. The large colour screen in the centre console is clear and bright, and although its resolution is not among the best its graphics are attractive and inviting. There is a mixture of fonts and styles throughout the displays, but all are clear and easily legible. The key controls are easy to find and intuitive to use.
Comfort

On its standard wheels the SRT rides more comfortably than many people may expect from such a performance-biased vehicle. It copes with bumps and potholes very well, and although the suspension takes care of most things it can't prevent some impacts being transferred through into the cabin. The seats are a strong point, being especially comfortable for backs while offering excellent grip from the suede facings.
Car security

Keyless entry is standard along with the alarm and immobiliser system. The boot can also be opened independently of the doors, so that luggage can be loaded into the car without fear that a thief could hop in and drive away. Privacy glass is fitted to the rear doors and around the boot. The rear windscreen can be opened independently to allow luggage to be dropped in without revealing anything of the existing cargo.
Car safety

High-performance Brembo brakes take care of stopping the leviathan SRT, and they are backed up by electronics that automatically detect rough, potentially less grippy road surfaces. A suitably capable stability control system is standard, as are multi-stage airbags, blind spot monitoring and forward collision warning. Tyre pressure monitoring is installed, and there is the facility to voice-operate the audio system to reduce the need to take hands off the steering wheel.
Driver appeal

This is the chief area that separates the SRT from the alternatives. Both brutal in acceleration and amazingly well controlled through corners for its size and weight, it's genuinely enjoyable to drive. The special large-capacity American V8 rumble is a big part of the SRT's charm and it's regularly audible for good reason. The sheer scale of the luxury on offer also contributes towards the SRT's driving appeal. The relatively heavy steering may deter some people though.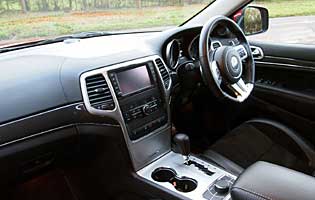 Myriad luxury equipment and grippy seats are highlights for occupants
Family car appeal

A high driving position, lots of interior space and a big boot are all key considerations for families and the SRT delivers on all three. The cost of running it, the potential damage young hands could do to some of the materials and the initial purchase price are all aspects that might not be so appealing. There are child seat mounting points as standard, though, for those that wish to use them, and plenty of safety equipment.
First car appeal

There is plenty to lust after within this car, making it a prime candidate for a freshly-qualified driver's bedroom wall or laptop wallpaper. But the points it wins for desirability are taken away tenfold by its purchase price, insurance rating and running costs. Only the most fortunate new drivers could possibly contemplate buying an SRT, and that's before considering the potential risks its size and weight present.
Quality and image

Jeep's brand image is one of rugged off-roaders, even if sometimes the cars are really more road-biased. Their reliability and build quality records are not fantastic and ownership satisfaction for past models, particularly diesels, has suffered in some surveys. The SRT is a breed apart though, with a charm and brutish appeal all of its own, and its unique anti-establishment stance gives it real old-school cool. In the main it feels substantial and well built in all respects.
Accessibility

Being so tall the SRT is very easy to get in and out of. Some people might prefer it to be a little lower to make sliding over the front seats' pronounced side bolsters easier. The doors are large and the roof line is high, so all five seats can be filled in moments with no obstructions. Luggage can be tossed into the boot through the independently-opening tailgate window, or the entire boot lid can be lifted to reveal a cavernous aperture with no load lip.
Stereo and ICE (In car entertainment)
The SRT features a new Harman Kardon stereo with 19 speakers and multi-channel surround sound capability. Music can be connected physically, via SD card, USB port or a 3.5mm plug, or wirelessly with Bluetooth. The Bluetooth is difficult to set up, however, and sometimes refuses to pair with phones, but if playing CDs or very high quality MP3s the system is powerful and clear.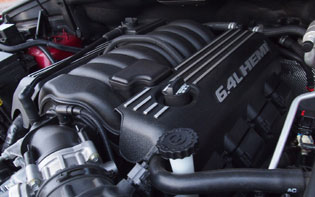 The hugely potent 6.4-litre Hemi V8 engine is a legend of its time
Colours and trim
Whereas black and grey provide the most attitude and silver seems to soften the SRT's character somewhat, it's red that looks the best on the big American car's body. Flattering to its size and shape, the deep cherry-red shade is perfect for the unique SRT's character. The interior trim is beautiful in parts, with the sculpted half-leather seats a highlight. Other parts, like the air vent surrounds, look cheaper, while the occasional hard plastics are unwelcome at this price.
Parking
A car of this size is never going to be easy to park, but a reversing camera is a handy addition to the spec sheet to make it easier to see behind. A problem comes as a result of dirt obscuring the camera lens in poor weather, but the technology is nonetheless there. The turning circle is disappointing though, owing to the relatively long wheelbase and thick suspension components that prevent tighter turning angles.
Spare wheel
Full-size spare wheel supplied.
Range information
Petrol engine options - 6.4-litre (461bhp). Diesel engine options - 3.0-litre (237bhp). Transmission options: five-speed automatic gearbox only. Trim levels: Limited, S Limited, Overland, Overland Summit, SRT.
Alternative cars
Audi Q7 Large, practical and stable platform with a muscular diesel engine
BMW X6 Oddball M Division version boasts performance but a high price
Porsche Cayenne Great on-road manners come at a cost with this prestige SUV
Mercedes ML A good cruiser with limitless customisation from an expansive options list
Over 1,200 more car reviews online
All the reports since 1990 are available on this site, just search by make and model below.
Other products & services
Related information
December 2012