Mini Countryman Cooper D
July 2011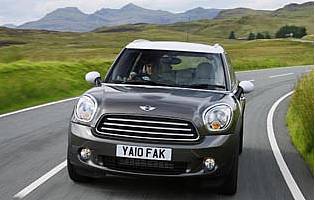 Steering is still sharp, if not quite as direct as the hatch
Ratings
Overall rating
Value for money
Costs
Space and practicality
Controls and display
Comfort
Car security
Car safety
Likes
More space inside than a regular Mini
Optional rear two-seat arrangement is attractive
The various audio and web-connected options are impressive
Performance from two-wheel drive car is sufficient for everyday motoring
Gripes
It's larger than you think
Not as agile as the regular, three-door hatch
Other more conventional rivals still have the edge in overall space and versatility
It's very easy to get carried away with the options list
It's impossible to ignore the success of the Mini. It has captured the imagination of thousands of buyers who are tempted by the engaging drive, cheeky looks and high degree of personalisation. The Countryman improves on this winning formula for many with the addition of more space for families.
The Countryman sits somewhere between an SUV and an MPV. In terms of size it is the largest Mini, and is just a few centimetres shorter than a BMW 1 Series. Its exterior appearance is a clear blend of the family Mini styling cues combined with a high-riding profile designed to align it with smaller SUVs.
Unlike the smaller models, the Countryman is a genuine five-seater, although buyers are given a choice of a rear bench seat or a pair of individual seats with a storage system between the two. The boot space is larger than on both the hatchback and Clubman models, at last turning it into a viable family car.
Along with a four-wheel drive option - new for the Mini line-up - there's a conventional front-wheel drive range for buyers who like the SUV looks but won't be straying from the Tarmac. The payoff is a reduction in consumption and CO2, which will likely be a better deal for urban dwelling owners.
If that all sounds conventional then the Countryman's cabin will also be familiar to fans of the Mini. The car has a mix of new and carried over elements from the three-door Mini and the quality has improved yet again. As you'd expect there's no shortage of cost options available, with plenty of scope to personalise a car to your own taste.
Our verdict on the Mini Countryman Cooper D
Although an inevitable addition to the Mini range, the Countryman offers a choice for buyers that was previously not available to them. Anyone seeking more space or with a small family will appreciate the extra practicality the Countryman brings. It's not as feisty to drive as a regular Mini, but that's because the Countryman is a 'grown-up' car. As an alternative to all the other compact SUVs it's an attractive proposition.
Costs

If you want to drive down the cost of Countryman ownership, the diesel variant pretty much selects itself. Although all the various engine combinations are much improved over previous iterations, the diesel's tax-friendly, low CO2 rating is hard to beat. Of course, it also requires self restraint when it comes to the options list.
Space and practicality

Family buyers can now rejoice at the appearance of the Countryman. For many there's finally a Mini that can cope with decent amounts of luggage and full-sized adults in the rear. Storage space is not exceptional, but the rear storage system is useful and the various seating options allows the amount of luggage space to be fully optimised.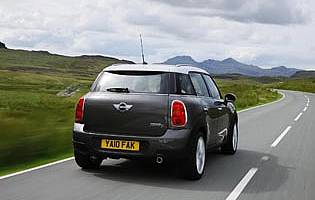 A Mini that really can perform as a family car
Controls and display

Boasting a largely familiar layout, the Countryman's controls are on the whole familiar. The trademark giant central speedometer is central to this, and boasts an information screen and sat-nav in the centre. This has relegated the actual speed information to the outside of the dial, making the auxiliary readout essential.
Comfort

It's obvious even from the first few miles that the Countryman is set-up to be a little softer than its more feisty cousins. Certainly, wind and tyre noise is a little reduced. There's definitely a 'big car' feel to the way it drives and there's no question that the extra cabin space is a contributing factor.
Car security

As you would expect from the high standards already set by Mini, all Countryman models come with an alarm and immobiliser as standard, while an electronic key and remote central locking ensure a high level of security.
Car safety

Even if you leave out the car's four-wheel drive system, there's still the standard ESP, a strong safety cell and numerous airbags. Isofix mounting points in the back complete its family-friendly credentials.
Driver appeal

Mini executives have always been keen to stress the driver enjoyment element the various cars. The Countryman is no different, although it's extra size, weight and greater practicality means it will never directly challenge the conventional three-door car. The steering is still sharp, if not quite as direct as the hatchback, and all the major controls respond keenly to inputs. It is far from hyperactive though, and is happy to trickle through traffic. And in reality the lack of all-wheel drive is barely noticeable in the real world.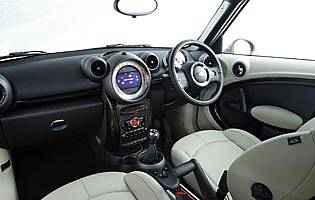 Controls are on the whole familiar
Family car appeal

With the extra room and improved versatility, the Countryman is a Mini that really can perform as a family car, with enough space to cope with at least an average brood. It also has the kind of visual appeal and kudos to be a hit with children. In diesel form it's also a great long distance car, making it ideal for cost-conscious driving holidays.
First car appeal

In Cooper S form the Countryman is a relatively expensive car but the cheaper versions such as the Cooper D would make an excellent first car, thanks to the modest running costs, good all-round visibility and easy to use controls.
Quality and image

It goes without saying that the Mini's image is almost untouchable. Recalling the original 1960s Mini but offering modern convenience and reliability, the high degree of personalisation also allows buyers to create a car that feels individual. Furthermore, perceived and actual quality has always been a strong point with Mini.
Accessibility

Unlike the three-door hatch, the Countryman boasts four, good-size doors, access to the cabin is straightforward for occupants fore and aft. The enhanced headroom is another helpful feature. It's the same story for the boot, with its good sized tailgate and low loading lip.
Stereo and ICE (In car entertainment)
With the base offering - a radio/CD unit - as standard, there's no shortage of quality music available. The main controls aren't immediately intuitive but it's never a struggle. Steering wheel mounts controls are easier to understand, however. Predictably, upgraded systems are available and include MP3 player connectivity plus a web-enabled service tied to mobile phones over Bluetooth for Internet radio and much more.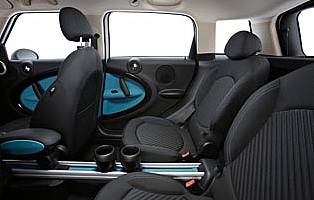 Countryman adds more space for families
Colours and trim
As you've come to expect from Mini, there's a wide choice of bright and more subdued exterior colours to choose from to help the car stand out. Inside, the vast majority of the plastics and fabrics feel sturdy and hardwearing, while the mix of chrome and black plastic works well.
Parking
The combination of the Countryman's lofty driving position and generally taller stance makes it easy to park despite the larger dimensions, and the addition of parking sensors removes all the stress of getting into a space. The car's light but accurate steering helps, also.
Spare wheel
A mobility system is fitted as standard, mounted in the boot, in addition to run-flat tyres.
Range information
Petrol engine options: 1.6-litre (98bhp, 122bhp and 184bhp). Diesel engine options - 1.6-litre (90bhp and 112bhp) and 2.0-litre (143bhp). Transmission options: six-speed manual gearbox, sequential automatic. Trim levels: One, Cooper, Cooper S, Cooper S ALL4, One D, Cooper D, Cooper D ALL4, Cooper SD, Cooper SD ALL4
Alternative cars
Nissan Qashqai Slightly bigger crossover, very competent and good value
Kia Soul Characterful inside and out but not the sharpest steer
Skoda Yeti Practical, usable and good to drive if not something that will please keen drivers
Ford Focus A conventional rival that can do almost as much as the Mini but without the glamour
Over 1,200 more car reviews online
All the reports since 1990 are available on this site, just search by make and model below.
Other products & services
Related information
July 2011