Jeep Grand Cherokee 3.0 CRD Overland
June 2011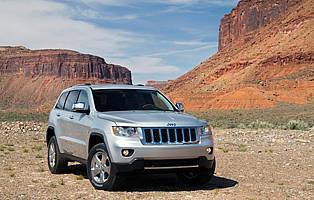 Revised looks help position the car further up the premium ladder
Ratings
Overall rating
Value for money
Costs
Space and practicality
Controls and display
Comfort
Car security
Car safety
Likes
Ride and handling now better than its predecessor
Improved diesel V6 engine suits the Jeep perfectly
Capable off road with easy to master controls
Equipment levels are high
Gripes
Quality of the cabin materials remains a step behind European rivals
Suspension still not as sophisticated as certain rivals
Overall quality levels don't reflect the premium asking prices
Despite size, only average amount of rear occupant space available
Jeep's Grand Cherokee has been a popular choice for buyers seeking an affordable alternative to the likes of BMW's X5 and Mercedes' ML-Class. Unlike its rivals it has never been the most refined of vehicles on the road - where many 4x4s spend most of their time. This variant boasts a more polished performance plus numerous comfort and mechanical improvements.
Since its UK debut Jeep's Grand Cherokee has made many friends. For some it was a welcome alternative to the German opposition, while for others it gave them an opportunity to buy into modern-day American car culture. Unfortunately, compared to European offerings, the big Jeep lacked an added layer of sophistication. Interior trim quality was less than impressive, as was the calibre of some of the standard equipment and the space available - despite the car's considerable size. It didn't handle too well on road, either.
For all its faults, it has sold in substantial numbers, proving that image counts for a lot in the SUV market. Cleverly priced to undercut models from the likes of BMW and Mercedes, the Grand Cherokee has always been promoted as a good value for money 'posh-roader'.
With this latest model now part of the 'new' Jeep under the stewardship of Fiat, it's clear that more attention has been made to enhancing the cabin ambience, boosting equipment levels and polishing the car's on-road performance. As an added bonus, it remains more talented than many of its rivals when the going gets tough away from city streets.
Building on the old car's strengths, the mechanical revisions have certainly raised the car's on-road performance a notch or two. The V6 diesel is now much improved, although European rivals still offer cleaner and more tax-friendly alternatives. Improved suspension and steering, along with a longer wheelbase, revised transmission and that diesel engine have all conspired to make the Grand Cherokee a more enjoyable and rewarding car to drive.
Our verdict on the Jeep Grand Cherokee 3.0 CRD Overland
Manufacturers often claim to have improved one of their models, with the end result usually little more than a nip and tuck job. This Grand Cherokee is different; apart from the welcome modern styling, the way the car drives is a significant improvement. It still has a way to go before seriously challenging its European rivals on the road, but under Fiat's guiding hand Jeep is moving in the right direction.
Costs

Save for routine maintenance, fuel and insurance will probably be the biggest costs. With 4x4s always popular among the criminal fraternity, don't be surprised if you get charged a premium for the privilege of owning one. On a positive note, Grand Cherokees have always been popular, so you're unlikely to see residual values plummet anytime soon.
Space and practicality

This model might be a little more streamlined than its predecessors but its cabin is plenty roomy enough in terms of head and legroom and width at the front. The rear seats will split 60/40 and fold almost flat, while access to the boot is straightforward. Elsewhere there are plenty of storage spaces and cup holders dotted around the cabin.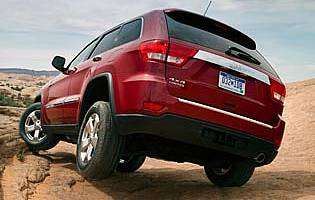 Off-road ability remains intact
Controls and display

Despite the efforts made for this revision, the various controls look a little dated and the materials used fail to do justice to the car's asking price. Everything's where you'd expect it to be, though, with the upright fascia housing the ventilation and audio/sat-nav equipment. It's all very easy to use, just not as stylish as the car's exterior.
Comfort

The slight increase in overall size is obvious; rear seat passengers have more room over previous Grand Cherokees for instance. The seats are distinctly un-American in the sense that they are firm and supportive, while noise levels have been kept to a pleasing minimum.
Car security

Standard fit is remote central locking plus an immobiliser. With posh off-roaders always popular with the criminal fraternity, it might also be worth investing in a third-party tracking device in a bid to thwart opportunist thieves.
Car safety

You get all manner of safety kit as, predictably, some of it performs a dual role of keeping you out of trouble off road as well as on. Along with ABS you get traction control and an electronic stability system. Given the car's lofty stance, there's also an anti-rollover system. Everything else - airbags, Isofix provision - mirrors that of a regular family car.
Driver appeal

While older cars were ponderous and slow-witted on Tarmac, this model is better, more composed and more willing to change direction. The thorough reworking, including revised suspension and steering, has boosted the car's appeal. It still lags behind the likes of Land Rover's Discovery 3 and BMW's X5 on the road. Off-roading ability is as good as ever and, and the beefy 3.0-litre diesel delivers a willing performance.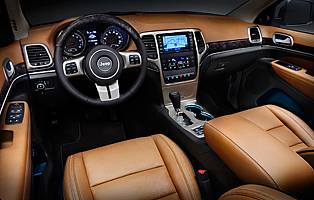 Revised car boasts improved, more polished interior
Family car appeal

The Grand Cherokee is a rugged-looking, spacious holdall boasting plenty of cabin space and a go-anywhere personality - whether you choose to get its wheels dirty on not. In-car entertainment is generous, as are the number of storage spaces in the cabin. The Jeep's boot rivals that of a conventional estate car with the split/fold rear seats down. Even if you don't venture off road, the Jeep will make a stable and powerful towcar.
First car appeal

It's unlikely that the Grand Cherokee will be your first car. It's big, powerful and requires some skill to park. Once acclimatised it's easier than you might think to drive, but there's no getting away from the fact that there are better first cars out there.
Quality and image

The Grand Cherokee possess a strong and healthy image in the eyes of enthusiastic followers. Seen as an alternative to the likes of BMW's X5 but at a slightly reduced cost, these distinctly American-styled cars are just as desirable to some as the German rivals. Sadly, the car's physical build quality can't match that of the competition, as trim plastics, switchgear and seat coverings could be better.
Accessibility

Although you have to climb up and into the Grand Cherokee, the distance isn't great but the less agile might find this a chore over time. Once inside there's a decent amount of room up front, thanks in part to the cabin's generous width. Access to the rear is reasonable, and once seated there's enough legroom even for adults. The car's tailgate opens with little effort but does need a firm pull to close it.
Stereo and ICE (In car entertainment)
Standard fit is a radio plus CD system. The unit is located near the top of the fascia, making it easy to access the controls. The sat-nav option includes a large colour touchscreen. While useful, the unit's controls could be more intuitive. At least the steering wheel mounted audio controls compensate for this shortcoming.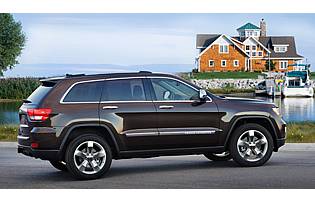 Dual purpose but likely to spend most time on the road
Colours and trim
Dark and light exterior hues suit the Grand Cherokee, accentuating its styling details. Inside, the cabin is reasonably light and airy. The mid-tone colours used for the trim and modest use of dark wood trim help boost the cabin's appeal. And just like its predecessor, this Grand Cherokee's leather seats fail to impart a sense of genuine luxury.
Parking
Although not a small vehicle, parking is made relatively easy thanks to the car's big side mirrors and the lofty driving position. The automatic gearbox makes manoeuvring at slow speeds straightforward, as does the accurate power steering and rear parking sensors.
Spare wheel
Standard size wheel is fitted to all models.
Range information
Diesel engine options - 3.0-litre (237bhp). All variants come with six-speed automatic gearbox, complete with low range a suite of electronic systems to aid off-roading. Trim levels: Limited, Overland.
Alternative cars
Land Rover Discovery 3 More talented but a more costly car
Nissan Pathfinder A solid performer but not without a few rough edges
BMW X5 Stunning on road but expensive and can't match the Jeep's off road abilities
Mercedes-Benz ML-Class ML a vast improvement on predecessor but costly to buy and equip
Over 1,200 more car reviews online
All the reports since 1990 are available on this site, just search by make and model below.
Other products & services
Related information
June 2011