Porsche Cayenne Cayenne S
April 2010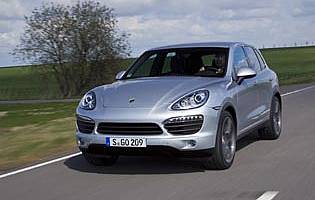 Restyled Cayenne now looks more compact and agile - even when standing still
Ratings
Overall rating
Value for money
Costs
Space and practicality
Controls and display
Comfort
Car security
Car safety
Likes
V8 engines are reasonably frugal yet immensely powerful
Hybrid model performs well and never feels like a compromise option
Cabin quality and ambience greatly enhanced
Better looking and even better to drive
Gripes
Looks will always remain a matter of taste
Adoption of Panamera-like switchgear is a mixed blessing in ergonomics terms - too many buttons
Image still not on par with traditional Porsche products
Even with the improvements, running costs likely to remain high
The launch of the first Cayenne divided opinion. Traditional Porsche fans recoiled in horror, while those with more liberal minds instantly saw the value of a four-seat, performance orientated SUV. This all-new version rights many of the first car's perceived wrongs, and makes tangible progress in many important areas.
Although the Cayenne family tree is closely related to Volkswagen's Touareg, the two cars couldn't be more different. The latter is very much a premium, luxury offering while the Cayenne has been a performance SUV right from the start. This time Porsche's designers and engineers have created a more curvaceous and compact-looking car, and one that has the potential to give a conventional sports car a hard time on the road.
This evolution of the Cayenne also marks the appearance of a hybrid version. The petrol electric model boasts a full electric mode for speeds up to 30mph, a 'sailing' mode where the car will coast without engine power at speeds up to 156kph plus a 'boost' function where the electric motor assisted the petrol engine for, say, overtaking.
Porsche traditionalists will be pleased top know that the S and Turbo models have been retained, along with a more powerful entry-level V6 and an uprated diesel. As a range, the Cayenne is now a more rounded proposition; there's something for everyone and detailed improvements have led meaningful fuel consumption and emissions reductions.
There are more tangible improvements inside the Cayenne, with the car adopting the general theme first seen in the Panamera. The improved build quality, use of better materials and the overall look has greatly enhanced the cabin ambience and does much to promote a premium feel.
Our verdict on the Porsche Cayenne Cayenne S
With its streamlined looks and greatly enhanced performance, this latest generation Cayenne is now a more rounded product. Enjoyable to drive slow or fast on the road, it will also impress off the road. They Hybrid variant offers real world economy gains yet stays true to Porsche's performance philosophy.
Costs

Great strides have been made regarding engine efficiency, making the car's more economical and cleaner in terms of emissions. This should mean lower fuel and tax bills, but remember that it's all relative in a car like the Cayenne. For some the hybrid variant offers a good compromise if a lot of your driving is in town - the ability to run in full electric mode at low speeds shouldn't be underestimated.
Space and practicality

With a cabin easily able to accommodate four or five adults, the Cayenne is very family friendly. There is plenty of oddment storage in the cabin, plus the car's boot is a good size. Rear seats can be moved fore and aft, while head and legroom is good - even in the back.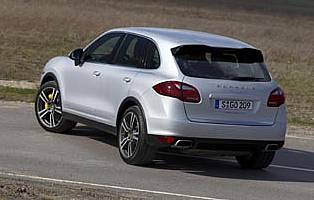 More streamlined rear
Controls and display

The Cayenne's various controls and displays should be familiar to Porsche fans. As with the rest of the family, everything is logical and easy to read. The centre console is initially intimidating thanks to the bank of buttons, but you soon learn where everything is. The off-road controls are easy to understand, and due to their layout give you an instant status update for the suspension and transmission settings.
Comfort

Despite claims of only minor changes, the perception when behind the wheel is that you're sitting lower now. This chimes well with the enhanced performance focus. And with plenty of adjustment, the seats are both supportive and comfortable. Road and wind noise is well suppressed for a car of this size running on large, low profile tyres.
Car security

Being a desirable car, there's an immobiliser and alarm is fitted as standard. In addition, UK-sourced cars are fitted with a tracking system as standard which is an impressive and welcome feature.
Car safety

With all the airbags and electronic stability systems you could ever need, the Cayenne is well equipped in this department. The car's all-wheel drive system is, obviously, a major asset. Cars fitted with the active system (not the V6 or hybrid models) offer a sophisticated system that directs up to 100 per cent of the power to the required wheels.
Driver appeal

This is where the Cayenne will surprise you; although a conventional SUV with the ability to keep a Range Rover Sport honest in all but the most extreme conditions, it's on road where the car really shines. With a more obvious focus on agility, the Cayenne demonstrates a willingness to change direction that would shame even some genuine performance cars. The Turbo is, predictably, mightily impressive and corners flat and rides well over broken tarmac. Even the S impresses, while the hybrid variant demonstrates Prius-like frugality without any hint of a compromise.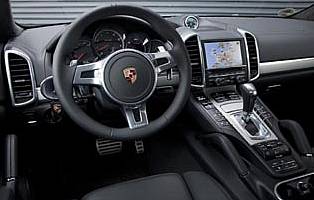 Welcome leap in quality and Panamera-themed design
Family car appeal

For all the Cayenne's performance credentials, the car is also a great addition to the family. Offering generous accommodation and high levels of comfort, the added bonus is that the Cayenne is fun to drive when the whole family is not aboard. That said, with its plush interior it's not a car for sticky-fingered toddlers.
First car appeal

It might be an easy car to drive at modest speeds, but the Cayenne is not hardly an appropriate first car, due in the main to its performance and running costs.
Quality and image

The Cayenne brand has had its ups and downs over the years. Its looks divided opinion from launch, although a mid-life facelift greatly improved things. There's no question over the car's abilities on or off-road, though. And there's the badge, which still carries a lot of weight today. There's an obvious uplift in cabin quality too, which should also silence the critics.
Accessibility

Being one of the more low-slung SUVs on the market, cabin access should be straightforward for most agile people - even accessing the rear seats is easy. Opt for a car with a powered tailgate and all your problems are solved if you're of short stature, otherwise it'll be a bit of stretch.
Stereo and ICE (In car entertainment)
With the car's central colour display dominating the fascia, all the car's major infotainment features are easily accessible through the touchscreen, although some of the unit's functions are buried deep in the menu system. Audio quality is good, however, and the connectivity options - phone, MP3 player, iPod - work well.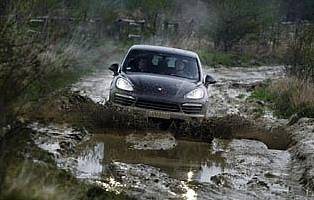 Capable both on and off road
Colours and trim
As with the rest of the Porsche family, the Cayenne can be selected in a wide variety of exterior and interior colour combinations. Surprisingly, both dark and light exterior hues work well - the car no longer looks big in the conventional sense. Inside the Panamera-style cabin looks good in black, helping to boost the already impressive quality levels.
Parking
Despite the car's size, it proves an easy vehicle to manoeuvre. There's ample assistance from the steering, while the parking sensors help enormously. And even though the car's exterior mirrors look small, their position and size are fine for when parking.
Spare wheel
Spare fitted beneath the boot floor -S Hybrid equipped with tyre inflation kit.
Range information
Petrol engine options: 3.6-litre (300bhp); 3.3-litre hybrid (308bhp combined); 4.8-litre (400bhp and 500bhp turbocharged). Diesel engine options: 3.0-litre (240bhp). Six-speed manual for base Cayenne and eight-speed automatic for other variants. Trim levels are base, S, S Hybrid and Turbo with equipment determined by engine output.
Alternative cars
Mercedes ML-Class In AMG trim the car is quick but lacks the Cayenne's sophistication and polish
Range Rover Sport Supercharged Sport is a desirable and capable performance SUV
BMW X5 M-badged model is impressive but can't match the Cayenne off road
Audi Q7 Conservative styling and good engine range, but built more for refinement than outright speed
Over 1,200 more car reviews online
All the reports since 1990 are available on this site, just search by make and model below.
Other products & services
Related information
April 2010