Porsche Panamera 4S
July 2009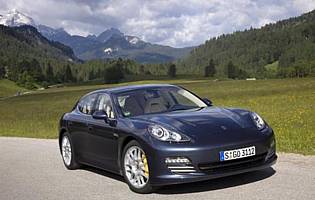 Familiar Porsche design cues are present in the Panamera
Ratings
Overall rating
Value for money
Costs
Space and practicality
Controls and display
Comfort
Car security
Car safety
Likes
Porsche purists will warm to the car's familiar exterior
Rear headroom is adequate despite the car's sloping roof
Base V8 variant offers more than enough real world performance
Surprisingly agile and responsive for a car of this size
Gripes
Styling won't appeal to everyone
Supercar performance matched by supercar thirst
Physical size can be a barrier to making progress on country roads
Dual clutch gearbox not always as smooth as a conventional auto unit
Thanks to the Cayenne, the idea of a four-door Porsche is no longer a new one. That car - or, rather SUV - did upset the purists, though. The Panamera is intended to be a more conventional four-door offering, and one that will satisfy fans of Porsche's benchmark supercar, the 911.
At almost five metres long, the Panamera is not a small car. It's also not something that does the supercar 'thing' by half measures. At launch, power comes from a regular and turbocharged 4.8-litre petrol V8 engine with 400 and 500 horsepower respectively. And, save for the base 'S' model, the two other variants boast all-wheel drive and Porsche's acclaimed seven-speed PDK double clutch gearbox.
On paper, then, Porsche has succeeded in delivering a 911-like experience for those who want a conventional sports coupe, but one that's more practical than the usual two-door coupe format. With its four-door hatchback layout, the Panamera offers families the chance to have the best of both worlds.
Given the Panamera's asking price, this is a car for the more mature family. All that plush leather is unlikely to resist the advances of a mucky toddler. And the Panamera is a strict four-seater in the same vein as the CLS from Mercedes. Unlike the CLS, the four-door Porsche offers a level of performance on a par with pricier AMG versions of popular Mercedes models.
And it's the Panamera's performance that helps the car shine. With 400 or 500 horsepower on tap whether it's the regular or turbo V8 engine, progress can be as rapid as you want. The car displays an exceptional talent for corners, too - more so than its four-door layout and size would suggest. Factor in an exceptional driving position, slick PDK gearbox (complete with eco-friendly stop-start function) and intelligent damping system and the Panamera is a surprisingly rounded package.
Our verdict on the Porsche Panamera 4S
Maserati and Mercedes, in particular, are masters of the high performance sporting saloon. With Aston Martin joining the club, Porsche and its Panamera has some serious competition. In practice the concept works well; it's rapid, comfortable, versatile and enjoyable to drive. Build quality is exceptional and it's a genuine four-seater for adults and a reasonable amount of luggage. For some it's easier on the eye than Porsche's other four-seater (the Cayenne), and it delivers an engaging mix of performance and practicality.
Costs

There's no escaping the fact that the Panamera is not a cheap car to run. With no diesel variant you can forget making any sizeable tax or fuel consumption savings. It performs like a supercar so will cost as much as one to run, after all. Servicing, fuel, insurance and tax will all be comparable to a high-end 911, something the Panamera equals in terms of the performance.
Space and practicality

Beneath the hatchback tailgate of the Panamera is a good-size boot with enough space for suitcases, shopping or golfing equipment. Folding rear seats increase the car's carrying capacity, while the cabin offers plenty of space to store oddments, mobile phones and the like. Rear headroom in the strict four-seater is surprisingly good considering the car's sloping roof.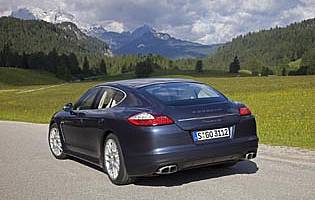 Similarities with iconic 911
Controls and display

Dominating the car's cabin is the button-filled centre console. It looks worse than it is, despite illustrating Porsche's mantra that there should be a button for every major function. The main display screen located above the console plus the driver's main instruments are an object lesson in clarity. The manual gearshift is slick, while the PDK 'auto' lever is intuitive - not something you can say about the corresponding steering wheel gearshift paddles.
Comfort

Despite the Panamera's high performance underpinnings, ride comfort is surprisingly good - especially on poorly surfaced motorways. It will never be as quiet as a Mercedes S-Class but that's part of the car's appeal - it's a four-seat thoroughbred machine. The spacious cabin will please occupants though, with its ability to allow you to relax in comfort.
Car security

As you would expect, the usual combination of remote locking and keyless start is available for such a premium-level car like the Panamera. Whether recommended or insisted on by your insurer, a tracking system would make a sensible addition to the car's defenses.
Car safety

With a host of electronic aids at your disposal, when the driving conditions get tricky the Panamera has been designed to keep you safe when traveling at speed. Of course the car's all-wheel drive system is another noteworthy addition, as are the many airbags in the cabin.
Driver appeal

At its heart the Panamera is a sports car, and this is most obvious when in the driving seat. The S model is the purist experience thanks to its manual gearbox and rear-wheel drive layout. The 400 horsepower V8 should prove ample for most buyers and the car displays a level of agility that's disproportionate to its size and weight. The 4S is the smarter choice for all-weather travel and comes with Porsche's acclaimed PDK dual clutch gearbox for more relaxed urban driving. The Turbo's ballistic performance is a real eye-opener, but in the real world the 4S delivers a more balanced experience.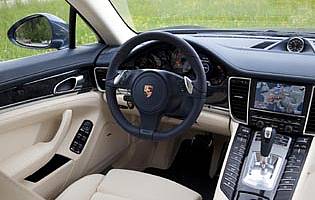 Driving position offers plenty of adjustment
Family car appeal

If Porsche's Cayenne doesn't appeal, the Panamera is likely to have the opposite effect. Although strictly a four-seater and lacking the SUV's go anywhere abilities, the Panamera is a practical and spacious four-door Porsche - if it's a Porsche you must have. The car's cabin isn't for mucky toddlers though, as the various trim materials are too good for such potential messy outcomes.
First car appeal

If you have the money it would be hard to say no. The Panamera is, however, a seriously rapid machine - a four-door 911 would be an appropriate description. As such, any novice would likely be overwhelmed by the car's potential despite the ease at which the big Porsche can be driven. Something smaller and less powerful - or advanced tuition - is recommended.
Quality and image

Synonymous with high-end performance cars, Porsche's reputation for building high quality machines is a long-held one. The move into the family sector (Cayenne) was met with initial resistance by some, but the Panamera's more conventional layout is unlikely to generate a similar level of controversy.
Accessibility

Being a large saloon, it's easy to get in and out of the Panamera's cabin. Front seat occupants fare the best, thanks in part to the car's wide opening doors. The low seating position - unsurprising for a sports car - shouldn't prove a problem for the average, agile adult. Predictably you are compromised slightly at the rear, but it's no worse despite the car's sloping roof than the Panamera's rivals.
Stereo and ICE (In car entertainment)
A feature-rich audio unit is the default option, and it's backed up by an easy to use central, touch screen display. Moving up to satellite navigation, the large screen is a welcome bonus. Factor in a Bluetooth phone connection for the complete business class experience.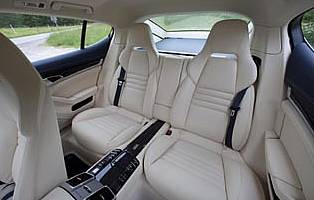 Adults will fit just fine in luxurious rear seats
Colours and trim
Big cars like the Panamera are often colour sensitive, but in this case the wide choice of colours offered all appear to compliment the car's shape and size. Darker hues are, predictably, the most flattering. Inside the choice of trim materials is a wide one with some more successful than others, namely darker upholstery and light trim accents.
Parking
The Panamera's size might appear initially daunting but the car's light but accurate steering and the presence of parking sensors make life a little easier, as does the reversing camera where fitted. The low driving position does impact on rearward visibility though, as does the car's thick rear pillars.
Spare wheel
Spare wheel fitted as standard.
Range information
Petrol engine options - 4.8-litre V8 (400bhp); 4.8-litre V8 Turbo (500bhp). Transmission options: six-speed manual gearbox, seven-speed PDK dual clutch gearbox with a switchable fully auto mode (optional on S variant). Trim levels: S (rear-wheel drive only), 4S, Turbo.
Alternative cars
Maserati Quattroporte Similar concept but dynamic qualities can't match the more polished Panamera
Mercedes S-Class AMG model is powerful, rapid and plush but the Porsche is a better car for keen drivers
Audi A8 S8 variant is no slouch and spacious but can't match the Panamera for its handling qualities
Jaguar XF High performance R model is smaller but offers greater agility
Over 1,200 more car reviews online
All the reports since 1990 are available on this site, just search by make and model below.
Other products & services
Related information
July 2009