BMW Z4 sDrive23i
May 2009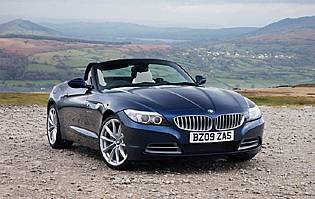 New styling is familiar but sharper than before
Ratings
Overall rating
Value for money
Costs
Space and practicality
Controls and display
Comfort
Car security
Car safety
Likes
Powered roof retracts quickly and doesn't impact on the modest boot space
Uncluttered cabin is stylish yet functional
Impressive blend of performance and economy
Revised suspension provides excellent ride and handling compromise
Gripes
Entry-level 2.5-litre engine feels underpowered despite performance figures
Big wheels essential to make most of the exterior design
Limited storage space in cabin
Extremely long bonnet can be difficult to place
The Z4 is BMW's wheeled homage to the roadsters in its back catalogue, and since 2003 its unusual design and sharp handling has seen it compete with the likes of the Porsche Boxster. Now there is a new version which aims to move the game on still further, without compromising its pure sports car roots.
Rather than a simple makeover, BMW has revised the Z4 from top to bottom with the aim of improving performance and response as well as comfort and desirability. The exterior looks sharper and has clearly undergone substantial change, yet remains unmistakably linked to earlier Z4s. Like many BMWs it needs a wise colour choice and looks best on larger alloy wheels, but what was original criticised as being controversial is now sleeker and less controversial.
The latest Z4 also combines the roles of what was previously two models: the Z4 Coupe and Roadster. All Z4s are now fitted with a electrically-folding hard top, which can be raised or lowered in 20 seconds. The result is the handsome coupe looks with the roof up, as well as increased security, but with all the freedom of a proper roadster with the roof folded.
The cabin of the Z4 has also received a major overhaul, and thanks to the increased dimensions of the car itself, more room has been liberated for occupants and oddments. Swapping a conventional handbrake lever for an electronic one gives a centre console with increased storage space, as well as a 10-litre compartment between the seat backs. A new dashboard layout is also an improvement on the previous set up.
There are significant mechanical changes too, as the Z4 now has a choice of three engines, two gearboxes and two suspension set-ups. As well as offering greater choice, the Z4 also makes use of BMWs Efficient Dynamics programme, which aims to increase efficiency and reduce fuel consumption and emissions.
Our verdict on the BMW Z4 sDrive23i
BMW has done a comprehensive job on a car that was still competitive, and turned it into a coupe-cabriolet with more to offer. The revised suspension makes it a more comfortable proposition without sacrificing its sporty edge - particularly when fitted with the M Sport suspension. Choosing the right engine is paramount, but the revised Z4 has taken a big leap forward from its predecessor.
Costs

Choose the smaller-engined version and the Z4 offers remarkable economy as well as reasonable purchase costs, but the more exciting models do tend to rack up the costs too.
Space and practicality

Improvements in this area mean that, although still less capacious than a hatchback, most drivers will find enough space to use the Z4 regularly. One demerit is the cupholders, which in moving from the fascia to the armrest have become too shallow to hold bigger drinks.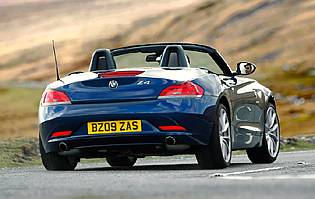 Large alloys suit the exterior design
Controls and display

BMW is famed for the clarity of its instruments, and the Z4 continues this trend. The car's main dials are easy to read, while the centre console switchgear (climate controls and audio unit) is thoughtfully laid out and intuitive.
Comfort

A big improvement over the old car, the latest Z4 is more comfortable in terms of ride quality. Whilst still being relatively firm and sporty, road bumps no longer disturb the occupants. Wind and road noise are also better suppressed thanks to the metal roof.
Car security

Remote central locking plus a comprehensive alarm and immobiliser package comes as standard on all models, while the switch to a metal roof has obvious benefits in terms of security.
Car safety

The usual items of safety kit are present in the Z4: twin front and side airbags plus fixed roll hoops and traction and stability controls. The standard fitment of run-flats also means that the prospect of a blow-out at speed is less of a potential hazard.
Driver appeal

The Z4 has all the right ingredients to be an enjoyable drive, and it does not disappoint. The responsive steering is a pleasure to use whether in town or on the open road, the gearshift and pedals are well-weighted and the suspension offers a better compromise than before. The 2.5-litre sDrive23i promises quite rapid performance, but the reality is it sometimes feels strained and requires a lot of revs to make decent progress.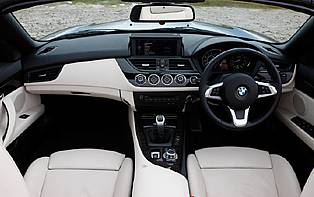 Re-designed cabin is better to look at and to use
Family car appeal

The Z4 can't perform family duties as it has only two seats and a modest boot. You can disable the passenger airbag however, which does mean it can carry a child seat in the front.
First car appeal

It might seem like a dream car for the novice driver, but the Z4 is probably not the best starter option. Parking requires a fair bit of skill and the performance on offer will put it out of reach thanks to the insurance premiums.
Quality and image

The long-standing reputation of quality is maintained in the Z4, with all the materials feeling robust and of good quality, while everything appears to have been constructed with care. In image terms the Z4 doesn't suffer the 'rep-hack' stigma that affects some of its saloon products, and as such garners respect.
Accessibility

Like many roadsters, you have to sit down low in the Z4. Getting in and out is made easier with the roof down, although the roof's curved profile means that only really tall people will need to take care. The Z4's long doors make life a little easier, although space is required to open them fully.
Stereo and ICE (In car entertainment)
The standard combined radio and single CD player set-up performs well, and is powerful enough even with the roof down. The unit itself is located high up on the Z4's fascia, and the steering wheel remote controls make life easier.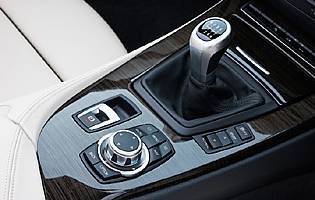 Electronic handbrake saves cabin space
Colours and trim
Metallics suit the Z4's complex shape better than bold, solid colours, whilst on the inside lighter hues help to increase the feeling of space. Only the base model comes with cloth trim, though an upgrade to leather is worth the money.
Parking
You sit low down in the Z4, which means care should be taken when parking it. The car's long bonnet is vulnerable without experience, but with the roof down judging distances is easier. Parking sensors are available as an option and are a big help.
Spare wheel
Run flat tyres and tyre deflation warning system fitted as standard on all models.
Range information
Petrol engine options - 2.5-litre (201bhp); 3.0-litre (254bhp and 302bhp). Transmission options: six-speed manual gearbox, six-speed automatic automatic, seven speed dual-clutch automatic gearbox. Trim levels: sDrive23i, sDrive30i, sDrive35i.
Alternative cars
Alfa Romeo Spider Good engine range, handsome but better for posing than driving
Mercedes-Benz SLK Handsome and well-built, better to drive than before
Porsche Boxster Class-leading dynamically, fussy interior
Audi TT Roadster Suitable for fashion victims and driving enthusiasts
Over 1,200 more car reviews online
All the reports since 1990 are available on this site, just search by make and model below.
Other products & services
Related information
May 2009