Mazda MX-5 Roadster Coupe 2.0 6-speed manual
February 2009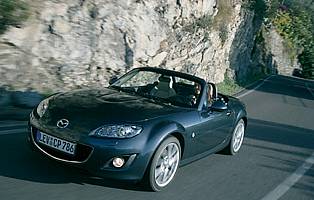 Familiar shape of the MX-5 is a pleasing sight
Ratings
Overall rating
Value for money
Costs
Space and practicality
Controls and display
Comfort
Car security
Car safety
Likes
Extra refinement from solid roof
Extremely quick folding mechanism
Boot space constant roof up or down
Excellent handling qualities
Gripes
Cabin space is tight
Interior quality still lacking in places
Harsher ride on larger wheels
Roadster Coupe slightly slower than the soft top
Now in its third generation and more popular than ever, Mazda's MX-5 has come in for a mid-cycle refresh. Exterior, interior and mechanical tweaks to the traditional soft-top and Roadster Coupe hard-top models are all intended to increase the convertible's appeal, as is the addition of an automatic transmission to the UK model line-up for the first time.
When first introduced in 1989 as a reasonably priced, reliable, basic but supremely entertaining two-seater roadster package, Mazda's original MX-5 created a template that has remained largely unchanged for more than two decades. The third generation of the hugely successful model was launched in 2005 in traditional soft-top form, before being hastily followed by a Roadster Coupe hard-top version that offered greater refinement and security in 2006. Both versions have been refreshed for 2009, with exterior, interior and power train modifications.
Perhaps the biggest change for UK customers is the availability of an automatic transmission for the first time. Traditionally a manual market, particularly where sports cars are concerned, Mazda has waited until now to make an auto box available to UK customers, suggesting it feels the six-speed Powershift unit is capable of offering the same level of involvement as the manual without detracting from the driving experience. Available only with the 2.0-litre unit, the system operates as either a standard automatic or a sequential manual, using wheel-mounted paddles.
The 2.0-litre engine has seen the majority of the revisions with material changes at the top and bottom end to improve reliability and refinement. The rev limit has been increased and the exhaust systems for the 2.0-litre and 1.8-litre have been modified to produce a sportier note. Five and six-speed manual boxes are available; the six-speed box has been tweaked to offer sharper and smoother shifts.
Bodywork changes focus on giving the MX-5 a more modern exterior in keeping with newly launched products in the Mazda range. Styling changes have also improved aerodynamics, aiding refinement in the cabin and helping to lower fuel consumption by as much as seven per cent with the two-litre, six-speed manual combination.
Our verdict on the Mazda MX-5 Roadster Coupe 2.0 6-speed manual
The mid-cycle changes to the MX-5 line-up are limited, but that's a real positive as it means the core elements that have made the MX-5 so popular over three generations remain intact. The exterior changes give it more kerb appeal and, while the mechanical changes to the two-litre engine are subtle, they are of benefit to the enthusiastic driver. Increased refinement and efficiency benefits all.
Costs

The asking price is more than the soft-top's but is justified. All generations of MX-5 have boasted excellent reliability and the simplicity and lightness of the folding roof mechanism should mean there are few problems. Running costs are reasonable with slight improvements in fuel consumption.
Space and practicality

Unusually for this class of car, the roof mechanism does not eat up any bootspace because it folds away into the body of the car by means of a clever hinge, not the boot. Bootspace is limited but still impressive for a car of this nature.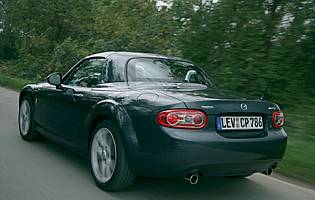 New rear light clusters are more aerodynamic
Controls and display

The simple but attractive instrument binnacle has been revised, now offering easier to read graphics spaced further apart. There's also a wider red band on the rev counter for the two-litre model and the single LCD display features red backlighting. The changes work well, and the displays communicate information quickly to the driver with minimal fuss.
Comfort

Tall drivers fare better than they do in some rivals, largely thanks to the low seating position, but the MX-5 is still very cramped meaning it won't be a car for everyone. Noise levels were already much better in the Roadster Coupe than in the soft-top, but increased sound-proofing and improved aerodynamics mean that it's now a significantly more pleasant experience on the motorway. The ride is firm and proves more comfortable on the smaller diameter wheels. With the roof down, the small deflector does an excellent job of reducing buffeting and the redesigned Recaro seats are exceptionally supportive.
Car security

Central locking, alarm and immobiliser are all standard features. For security, the Roadster Coupe is clearly an improvement on the soft-top. It'll take considerably more than a sharp knife to get in. There's additional covered storage behind the seats.
Car safety

The revised model benefits from the addition of two-chamber side airbags to the front driver and passenger airbags while traction control and stability control are also now standard equipment. A tyre pressure monitoring system is also available, and an external temperature gauge warns drivers of potentially icy conditions outside.
Driver appeal

The Roadster Coupe carries a few extra pounds over its soft-top equivalent, making it marginally slower away from the lights. However, the pin sharp handling and excellent balance and poise of the chassis will more than make up for it once on the move. The two-litre engine has been tweaked to offer a higher rev limit in conjunction with the five or six speed manual gearbox, meaning drivers can safely hang on to gears for longer when exploiting the MX-5's B-road potential. Manual shift and steering are carefully engineered to offer precision and plenty of feedback. The MX-5 remains a great car to drive quickly.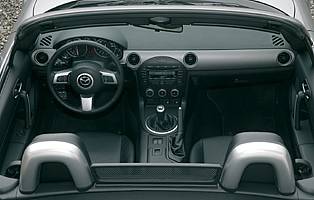 Space is at a premium inside
Family car appeal

With just two seats, the MX-5 Roadster Coupe doesn't really have a family function. The passenger airbag can be switched off to accommodate a child seat, but this is likely to be out of necessity rather than choice.
First car appeal

It's unusual to be able to recommend a sports car as a first car, but the MX-5 just about passes muster. It's not so powerful that novice drivers will come unstuck unless they are particularly reckless, yet the excellent traction control system will stay discreetly out of the way until it is truly needed. With much more feel and sense of balance than a hatchback, this is a good place to pick up lifelong driving skills. The less powerful 1.8-litre version might be a smarter choice, however.
Quality and image

The MX-5 has suffered from a reputation as a 'hairdresser's car' in the past, but the Roadster Coupe version has gone a little way to bolstering the image. Revisions to the exterior styling also improve the unisex appeal. Some interior plastics are a little cheap, but build quality is high and the MX-5 shows all the signs of being a very well thought through vehicle.
Accessibility

The Roadster Coupe retains the MX-5's traditional low-slung stance, so some drivers will have trouble getting settled in the seats. The boot lip is high too, which rather restricts access to what is otherwise a decently-sized effort. The roof still has to be manually unlatched before the roof can be lowered electrically, which is a minor annoyance.
Stereo and ICE (In car entertainment)
Using the latest version of Mazda's factory installed head unit tidies the centre console a little and a seven speaker Bose sound system improves sound quality, aided by the slightly quieter cabin. Audio controls are mounted on the steering wheel for greater comfort and an auxiliary input is present for using MP3 players. Bluetooth phone preparation is also available for extra convenience.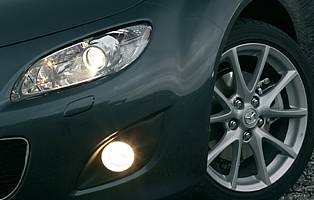 New front lights and fogs sharpen up the exterior
Colours and trim
There's a choice of seven body colours to pick from in the refreshed MX-5 line-up, and the Roadster Coupe naturally comes with a roof in the same shade. Inside there's a change of colour from piano black to dark silver for the coloured element of the dash. Elsewhere, black plastic remains, although there are new coordinated silver rings for the centre stack, knobs and doors.
Parking
The revised MX-5 retains the same compact shape that makes it very easy to judge the car's dimensions. Rear visibility is good even with the roof up. Roof down, it's as easy to drive backwards as it is forwards.
Spare wheel
Puncture repair kit fitted as standard.
Range information
Petrol engine options - 1.8-litre (124bhp); 2.0-litre (158bhp). Transmission options: five-speed manual gearbox, six-speed manual gearbox, six-speed Powershift automatic gearbox with paddle shift. Trim levels: MX-5, MX-5 Roadster Coupe, MX-5 Roadster Coupe Sport.
Alternative cars
Daihatsu Copen Considerably smaller but excellent value
Mini Convertible Looks great and drives well
Peugeot 207 CC Refined and decent value
Vauxhall Tigra Sharp styling and diesel engine option
Over 1,200 more car reviews online
All the reports since 1990 are available on this site, just search by make and model below.
Other products & services
Related information
February 2009