Hyundai Tucson 2.0 CRDi 16v Style 2WD
June 2009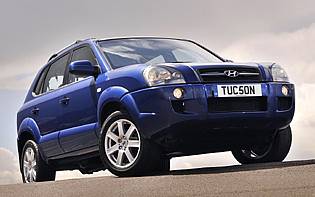 Stylish and composed Tucson is good value and practical
Ratings
Overall rating
Value for money
Costs
Space and practicality
Controls and display
Comfort
Car security
Car safety
Likes
Well equipped as standard
Practical load space ideal for family motoring
Long and confidence-inspiring warranty
Good-looking alternative to the European opposition
Gripes
Cabin quality still lags behind European rivals
Petrol all-wheel drive variants can prove thirsty
Lacks clout of premium badged opposition
Load space cover could be better designed
They may not attract the same level of attention as their European counterparts, but SUVs from the Far East deserve to be given more credit than they receive from the critics. Hyundai's Tucson is a good example of a competent, if modestly styled, SUV that doubles as an affordable family car.
As well as being competitively priced and offering a smart choice of two competent engines, the Tucson comes complete with Hyundai's major attraction - an above average warranty and the reputation for building durable, reliable cars.
The Tucson is not alone in offering buyers the ability to acquire a low cost SUV. Other rivals from the same region compete with the Tucson but, crucially, the Tucson projects a more attractive image thanks to its refreshed exterior and appealing interior layout.
You can't have it all, though. It's obvious that the Tucson can't compete with the likes of Ford or Volkswagen in the quality department. The Tucson's cabin is practical but not plush. However, that might be a good thing if the car ends up as a hard-worked family conveyance.
And there's every reason to make the most of the Tucson's abilities. Competent on road and off, it easily matches the best from Europe. There's even a two-wheel drive option for town-centric drivers who want the look of an SUV but without the all-wheel drive baggage.
Our verdict on the Hyundai Tucson 2.0 CRDi 16v Style 2WD
Any detailed criticism of Hyundai's Tucson evaporates once you consider the car's price and modest running costs. It's also a surprisingly competent performer on Tarmac and more challenging terrain. In isolation and as an affordable family car alternative, the Tucson is worth a serious look.
Costs

When you consider value for money, good levels of standard equipment and potentially modest running costs, there's a lot to like about the Tucson. Opt for the diesel variant and, if you off-road or tow a lot, you'll see the savings at the pump, too.
Space and practicality

There's good news for families: the rear seats fold completely flat and the Tucson's count of useful cabin storage areas is high. With the seats collapsed, a large load area is created. The rear load cover can prove fiddly to use, however.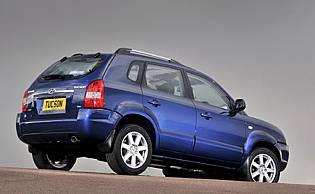 large load space makes it ideal for busy families
Controls and display

It's fair to say that there's nothing radical in the Tucson's cabin, although what there is works well and is easy to understand. Quality of materials isn't quite up to Volkswagen levels, but the car's no-nonsense character is reflected in how things just work - which is more than can be said for some rivals.
Comfort

The Tucson's compliant, sophisticated ride makes all journeys enjoyable. Then spacious cabin allows adults to stretch out, while road and engine noise is minimal at all speeds.
Car security

There are no surprises here - remote central locking is backed up by an alarm and immobiliser - although it's good to see all the bases covered even at the lower end of the cost scale. Covered storage space in the cabin is adequate, while the rear load cover also does its job well.
Car safety

Like the rest of the car's performance, the Tucson successfully covers all the bases in the safety department. Twin front and side airbags plus ant-lock brakes are standard across the range, although ESP is only available on Premium grade cars. And remember, opting for all-wheel drive will make a difference in slippery conditions.
Driver appeal

You've got a choice with the Tucson - two or four-wheel drive. If you want the SUV looks but don't need the complexity than opt for the former. For general duties it's not going to matter much. The latter is preferable if you are going off-road or regularly towing something. And the diesel option makes the most sense if you're a heavy user.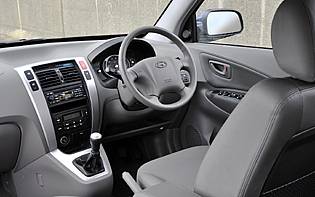 Light/airy cabin and raised driving position
Family car appeal

There's no doubt that the Tucson is a family-friendly car. It certainly looks the part and boasts plenty of cabin and load carrying space. Low cost of ownership will also play a part in the buying decision.
First car appeal

Ignoring the car's size for a moment, the Tucson is surprisingly easy to drive. You also get a lengthy warranty and overall ownership costs are modest. And if you like the SUV look but don't need all the kit, there are always the two-wheel drive variants.
Quality and image

As with many fashionable sectors of the market, an SUV purchase is often an image-led decision. However, value for money is an increasingly important consideration, and this where Hyundai and the Tucson score well. Quality has also improved, although any criticism must be balanced against the car's modest screen price.
Accessibility

Most agile adults and children shouldn't have a problem with the Tucson. With five doors that open wide the car offers excellent accessibility. At the rear the tailgate requires little effort to open and close, plus the ability to open either the whole door or just the glass panel is welcome.
Stereo and ICE (In car entertainment)
The usual radio/CD unit is present here, and the unit proves easy to use and delivers a decent quality performance. A multimedia system can be selected from the optional extra list, as can a CD changer to boost the car's family-friendly appeal.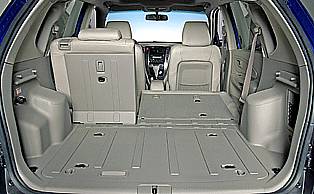 Rear seats fold flat to extend the Tucson's capacity
Colours and trim
In keeping with Hyundai's newfound rise in status, metallic hues work best with the Tucson. The contrast with the car's external trim makes the car stand out in a positive way. The Tucson's cabin is more traditional Hyundai - hard, grey plastics and a dash of chrome-effect trim.
Parking
Soft-roaders like the Tucson are rarely the easiest to park, but Hyundai makes the process easier than most thanks to light and accurate steering. In the main visibility is good, also.
Spare wheel
Full size spare wheel is provided
Range information
Petrol engine options - 2.0-litre (139bhp). Diesel engine options - 2.0-litre (148bhp). Transmission options: five-speed manual gearbox (petrol), six-speed manual (diesel) and four-speed auto option for 2WD diesel. Trim levels: Comfort, Style, Premium.
Alternative cars
Toyota RAV4 Solid performer and an increasingly stylish one, too
Honda CR-V High quality offering but heavily biased towards on-road performance
Subaru Forester Underrated, left field alternative
Kia Sportage Similar formula but lacks the Hyundai's flair
Over 1,200 more car reviews online
All the reports since 1990 are available on this site, just search by make and model below.
Other products & services
Related information
June 2009