Ferrari F430 F1
September 2008
Unmistakable nose echoes Ferraris of the past
Ratings
Overall rating
Value for money
Costs
Space and practicality
Controls and display
Comfort
Car security
Car safety
Likes
Spectacular performance
F1 gearbox is rapid and easy to use
Clever manettino switch ideal for varying conditions
Strong sense of style inside and out
Gripes
Expensive to buy, run and maintain
Small front boot is the extent of luggage space
Exterior design means greater risk of parking damage
Fiddly stereo and navigation system
Few manufacturers can match the kudos and impact of Ferrari, a marque which has an illustrious history of road and racing cars to draw upon. The F430 represents the first stepping stone of the range, and while it may be the least expensive Ferrari, this is a relative term. The F430 is a supercar by any measure and therefore is designed to offer a unique experience.
No supercar worth its name can do without a visually arresting exterior, and the F430 is no exception. The design has clear links with Ferraris of old, and shows the influence of aerodynamics and pure style. The front air intakes take inspiration from Ferrari racers of the 1960s, while the rear has the raised taillights and vented engine cover that echo the Enzo road car.
Inside the F430 combines more racing overtones with touches of luxury, highlighting that it has the capability to be used as an everyday car. Depending on the owner's choice, the cabin can be swathed in fine leather to give a luxurious feel, with brushed aluminium dotted throughout. The view ahead is dominated by the heavily sculpted steering wheel and the large, centrally mounted rev counter, hinting at the performance on offer.
That performance is delivered by an all-new 4.3-litre V8 with few technical compromises in the quest for high power and torque. Unlike most multi-cylinder engines, the F430's V8 uses a flat-plane crankshaft, which means it operates in effect like two four-cylinder units. Although naturally aspirated, it produces a remarkable 114bhp per litre and its redline is set at a stratospheric 8,500rpm, underlining the car's high performance nature.
There are further mechanical innovations beneath the F430's skin. Alongside a conventional six-speed manual gearbox the F430 can be specified with the F1 transmission, which is an automated version of the six-speed manual allowing fully automatic or paddle-operated gearchanges as fast as 150 milliseconds.
Our verdict on the Ferrari F430 F1
The F430 has a lot to live up to, wearing one of the most illustrious badges in motoring, but it more than delivers. Its stunning looks, searing performance and athletic handling are matched by a surprising degree of user-friendliness and a robust feeling. The only downsides are preceded by pound signs, but for the lucky few who can afford it the F430 will provide huge thrills and satisfaction.
Costs

Any F430 owner must be prepared for huge financial costs. Even after the large initial outlay, fuelling, servicing and insuring it will represent a major commitment. One plus is that the restricted supply and high demand means that the F430 tends to retain its value very well.
Space and practicality

The F430 is inevitably compromised in terms of practicality, although the front seat occupants are not short of head or legroom. Storage space is relatively limited, with door pockets which will just hold a couple of small bottles and a slim glovebox. The luggage compartment in the nose of the car can cope with two medium-sized bags, but is not suitable for a suitcase.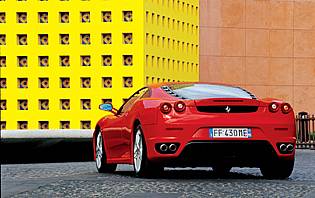 Exposed taillights are a nod to Enzo supercar
Controls and display

The layout of the F430 is surprisingly uncluttered with a relatively simple instrument display and centre console. The transmission tunnel carries three buttons for reverse, the launch control system and the automatic mode. One disappointment is the audio and navigation, which has small buttons and a limited monochrome display.
Comfort

The F430 is by no means the most comfortable car money can buy, but given its sporting credentials it does a good job. Long motorway journeys are not out of the question, although on poorer surfaces road noise may become obtrusive. The seats are supportive and comfortable, but the combination of stiff suspension and heavy pedals may be too much for some.
Car security

Reassuringly, the F430 is packed with security equipment as standard. As well as remote central locking and an alarm an immobiliser system it comes with vehicle tracking as standard, using a driver identification card which must be in the car when it is on the move.
Car safety

For a car with this performance, safety is of great importance and the F430 is not lacking in technology. Carbon ceramic brakes offer better braking performance than conventional steel discs, while the adjustable ESP, suspension and gearbox systems mean the car can be tamed for more difficult driving conditions.
Driver appeal

The F430 is clearly a car to be enjoyed and it is at its best when driven with enthusiasm. The engine sings with delight at high revs, the snappy F1 gearshift is incredibly rapid and the steering and suspension are rewarding and secure. In normal driving the F430 is respectably refined and, while there is more road and engine noise plus a firmer ride than a conventional sporting car, it is certainly not unacceptable. The manettino switch, mounted on the steering wheel like the Formula 1 racing car, allows the driver to switch between ESP, gearshift and suspension settings with ease, which is a useful tool to get the best from the car in all conditions.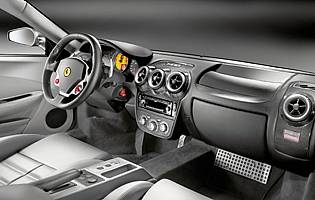 Cabin is attractive and easy to use
Family car appeal

The F430 is not suitable for family use, lacking rear seats or a sizeable boot. It does however come with the option of passenger airbag deactivation, enabling a child seat to be carried.
First car appeal

The F430 may well be on the wishlist of those looking for their first car, but the purchase and running costs are way in excess of the normal budget and few insurers would consider an inexperienced driver with a car of this nature.
Quality and image

The F430 displays a level of quality you might expect from a car costing in excess of GBP100,000, although it could not be described as completely faultless. However, the crucial bits are clearly engineered to a very high standard. Image is something of a love/hate issue for the F430: people either love it or hate it, but it's hard not to be taken in by the glamour of the Ferrari badge.
Accessibility

As you might expect, getting into the F430 can be a little tricky for some, thanks to the bucket seats and low ride height. Access to the engine and luggage compartments is straightforward however, and the small door handles are neat and unobtrusive.
Stereo and ICE (In car entertainment)
The F430 has a single DIN-sized audio unit that's a little fiddly to operate thanks to small buttons and a monochrome display. The sound quality, especially with the Bose upgrade is very good, but for much of the time the engine note provides a more engaging soundtrack.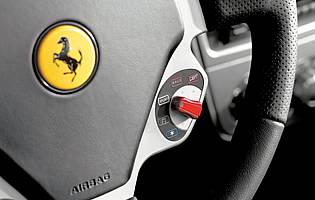 Manettino switch helps to maximise the car's performance
Colours and trim
The exterior colour of a Ferrari is a particularly sensitive area: a choice of traditional reds are likely to be most popular, but less common hues are also suitable, vivid colours less so. The cabin of the F430 can be endlessly tailored to a buyer's individual taste: leather, carbon fibre and Alcantara are available while the colour choice is huge.
Parking
The F430 is not the easiest car to park, thanks to reduced visibility and the sensitivity of the automated clutch when fitted with the F1 transmission. However, front and rear parking sensors are available which do make life easier, although they are an expensive option.
Spare wheel
A tyre inflation kit is fitted as standard, although both run flat tyres and a space saver spare wheel are available as options.
Range information
Petrol engine options: 4.3-litre (490bhp and 510bhp). Transmission options: Six-speed manual gearbox, automated six-speed manual gearbox. Trim levels: F430, F430 Scuderia.
Alternative cars
Lamborghini Gallardo Spectacular looks and equally stunning performance
Porsche 911 Turbo All-weather supercar but engine lacks character if not power
Mercedes-Benz CLK Black Expensive for a Mercedes but focused and raw
Aston Martin DBS Stunning to look at and to drive, more road-biased than Ferrari
Over 1,200 more car reviews online
All the reports since 1990 are available on this site, just search by make and model below.
Other products & services
Related information
September 2008