Nissan Murano 3.5 V6
September 2008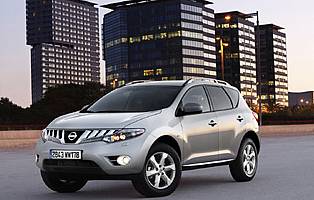 The new Murano has changes to every panel
Ratings
Overall rating
Value for money
Costs
Space and practicality
Controls and display
Comfort
Car security
Car safety
Likes
Masses of road presence
Very refined once up to speed
Extremely comfortable interior
Very well specced
Gripes
CVT transmission noisy under heavy acceleration
Soft suspension equates to poor cornering
High boot floor hinders practicality
Performance crossover is no longer a unique proposition
Never originally intended for the UK market, the Nissan Murano SUV was something of an anomaly when it did arrive in 2004. Since then, the 'crossover' sector has heated up, inspiring Nissan to bring the Murano up-market to compete.
It might look roughly the same, but Nissan has changed the platform and every exterior panel on the new Murano. The Japanese manufacturer lays claim to kick-starting the crossover segment in the UK with the boldly styled performance SUV, and now other manufacturers are bringing their 'best of both worlds' products to the market place, too. As far as performance crossovers such as the Murano go, it's a relatively small market place. Nissan doesn't expect big sales figures from the model, instead seeing it as a premium model to top its expanding range of crossover vehicles.
The original model was intended primarily for the American market and that hasn't changed with the new model. The US influence is easy to spot in the striking looks, large size, big petrol engine and super soft ride. Overseas markets, more used to vehicles of this nature, will see a range of Muranos on offer. In the UK, as with the previous version, only one highly specced version will be available - aimed at a specific type of car buyer.
For those falling into that category the Murano features a host of incentives. The exterior has been revised with a change to the large and brash grille - to one that's equally large and brash - and the new platform means the car is longer. Head and tail-lights are revised to give an angular and more modern appearance but Nissan has endeavoured to maintain the four-door coupe body shape of the original.
Under the bonnet, both the 3.5-litre V6 engine and CVT transmission have been revised to offer more power and performance at reduced fuel cost. But the biggest changes are inside where the interior has been stepped up a notch to offer even more equipment, higher levels of comfort and a greater degree of refinement than before.
Our verdict on the Nissan Murano 3.5 V6
It's an awkward time to be trying to sell large, petrol powered SUVs, but for those who fly in the face of high fuel prices and growing anti-four-wheel drive sentiment, the Murano continues to offer a large amount of car and kit for a relatively meagre investment. While the looks and handling are arguably still 'too American' to prove greatly popular in the UK, the new Murano is an excellent cruiser that retains the ability to turn heads and makes a real statement.
Costs

Although the CVT transmission helps keep costs down and fuel efficiency has been improved by 12 per cent, the Murano's 3.5-litre V6 engine is always going to be costly to run. As a well specced and powerful vehicle that's expected to sell in limited numbers, insurance won't be cheap either. Nissan promises that respraying in the special paint won't be an issue and expects it to increase residual values, but the Murano won't prove a cheap car to own and run.
Space and practicality

The interior is spacious in proportion with its large exterior dimensions, with the rear in particular offering a generous amount of legroom. Head room is also in good supply. Five adults can ride in the Murano in comfort. A one touch folding mechanism for the seats is complimented by a power function that means they can return themselves to the upright position but, despite that neat addition, practicality is still hindered by the high boot sill. Four-wheel drive adds an additional practical element, but the Nissan isn't pretending the Murano has any real off-road potential.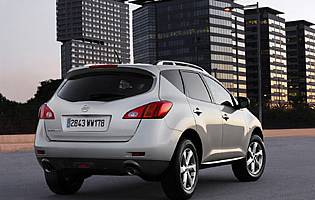 New taillights adorn the rear
Controls and display

Clearly designed with the efficiency obsessed business user in mind, the Murano's cabin features easy to use control systems and conveniently located buttons. All are large and clearly marked and knobs turn with a fluid quality. Audio and cruise control buttons are to be found on the thick, leather-bound steering wheel and a stop-start button accompanies the keyless ignition. The dials are a pleasing design, with a large and colourfully lit speedometer dominating the instruments.
Comfort

The Murano is as comfortable a vehicle as you'll find in any segment. Soft leather seats are fully adjustable and the rear passengers can alter the reclining angle of their seat backs, too. A spectacular standard equipment list means there's no shortage of toys and low friction seatbelts are designed to be more comfortable to wear. The only bug-bear is the short length of the seat bases, which may leave those longer in the leg feeling unsupported.
Car security

Alarmed, immobilised and featuring remote central locking, the Murano should remain secure on the driveway. It also has tinted rear windows as standard to heighten privacy and an intelligent key that allows the car to automatically revert to individual user settings once on board.
Car safety

Thankfully, considering its size, roly-poly suspension and powerful engine, the Murano comes with stability control as standard. Traction control assists the four-wheel drive system and airbags - dual-stage in the front - are included. The Murano's new body is designed with front and rear crumple zones to protect occupants.
Driver appeal

The 3.5-litre V6 unit is an excellent engine offering a decent turn of speed and impressive all round pulling power, but the Murano's sporty pretensions are somewhat let down by the soft suspension that leads to tyre squealing under-steer and the CVT transmission that, although smooth and economical, makes the brisk acceleration seem a little flat. That said, for wafting around town or along the motorway the Murano is an admirable performer offering a refined and relaxing ride. The engine can be raucous under acceleration but is wonderfully quiet when cruising and the light steering defies the model's considerable bulk.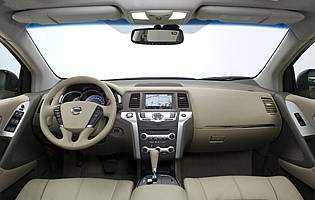 Leather interior is very comfortable
Family car appeal

An ideal candidate for the desk-hopping role of family and business vehicle, the Murano ought to serve those small families well. The rear will accommodate three children effortlessly and its roomy interior and decent height should make it easy to get small children in and out. The full length sunroof will keep kids entertained and parents will also feel comfortable with their children on board thanks to the safety offered by four-wheel drive and sheer bulk.
First car appeal

The Murano is probably too expensive for most first-time buyers and, although made easy to drive and live with by a myriad of clever systems, the model's sheer size and reasonably high performance will put most inexperienced drivers off.
Quality and image

The Nissan badge is not one that's necessarily associated with premium vehicles, so the Murano is something of a fish out of water in the line-up. Badge snobbery aside, it's a well built and admirably luxurious vehicle that is certainly a left-field choice. Masses of road presence means it's sure to get noticed and it's still a vehicle that turns heads even after several years on the market.
Accessibility

For a four-wheel drive model the Murano sits very near to the ground. The exhaust in particular hangs treacherously low. This means it's simple to access though, with four large passenger doors helping, too. A self-opening and closing boot door is among the many high-end features on the Murano, but it doesn't stop the boot floor being quite high, which may make lifting heavy objects into it something of a chore.
Stereo and ICE (In car entertainment)
A premium sound system is included as standard in the Murano. Eleven Bose speakers mean the quality of sound reproduction rivals the best. A fold down screen for the rear passengers can be added, but front passengers get their own screen to relay sat-nav and audio information as well as providing a picture from the reversing and side-view cameras. Simple to operate, the entertainment and info systems are top notch.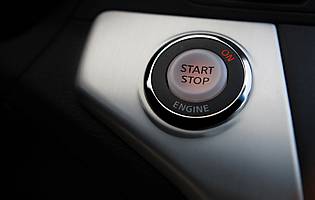 An engine start button is among the upmarket features
Colours and trim
As you might expect from a car aimed at the executive market the Murano can be had in range of smart paint choices. Colours aside, among the most interesting features is the addition of 'scratch shield paint' that automatically heals itself when heat is applied. Inside, the seats are swathed in top quality leather, carpets are thick and the detailing is excellent with plenty of shiny metal to ensure owners feel suitably rewarded.
Parking
Parking sensors, a reversing camera and two additional side mounted cameras to help the driver keep an eye on the kerbs mean there are very few excuses for biffing the Murano. It's a large vehicle, so spaces need to be selected with discretion, but it poses no real problems in the parking stakes.
Spare wheel
Space saver fitted as standard.
Range information
Petrol engine options - 3.5-litre (252bhp). Transmission options: Five-speed CVT automatic gearbox with manual sequential over-ride. Trim levels: Single trim level only.
Alternative cars
BMW X6 Hulking crossover equals the Murano's road presence
Lexus RX Luxury SUV is pricey but well-respected
Porsche Cayenne Expensive, but sports handling shames the competition
Volvo XC90 Standard SUV configuration is less exciting but more practical
Over 1,200 more car reviews online
All the reports since 1990 are available on this site, just search by make and model below.
Other products & services
Related information
September 2008