Mercedes-Benz CLC-Class CLC 180 Kompressor SE
September 2008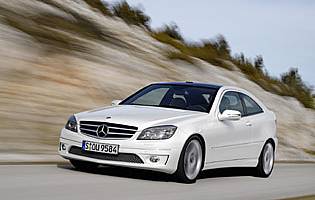 Bold-looking CLC is an attractive sight from the front
Ratings
Overall rating
Value for money
Costs
Space and practicality
Controls and display
Comfort
Car security
Car safety
Likes
Elegant-looking three-door hatchback
Cabin now up to the same standard as the larger C-Class
Good range of engines to choose from
Revised car delivers a much improved driving experience
Gripes
Cynics will remain unconvinced - in their eyes the entry-level car remains the C-Class
Foot operated parking brake and manual transmission can prove a clumsy combination
Despite the existence of rear seats, adults won't feel at home in the back
New tailgate design looks unresolved when the car is chosen in a light colour
In recent years the C-Class Sports Coupe has been the entry-level vehicle in the Mercedes range. Cynically some would say that a small, three-door hatchback isn't worthy of the three-pointed star. Other, more pragmatic observers have noted that, for buyers with modest means wishing to get on the first rung of the Mercedes ladder, the car was a well judged and attractive proposition. With the German firm's line-up now more thrusting and dynamically styled, the Sports Coupe is now the CLC.
To be fair, the CLC is a pretty good car. Forget the detractors for a moment, for they don't inhabit the real world. With the C-Class - the traditional entry-level Mercedes - now a more dynamic car in looks and character, it was only a matter of time before the first generation C-Class Sport Coupe was brought into line.
It's no surprise that, from the front, the CLC shares the new family look with the C-Class. Stylistically that close association is important; Mercedes wants you to trade up not defect to another brand so keeping close ties with aspirational models is key to the firm's success. The rear of the CLC has also changed, but it's not as pleasing to the eye as its predecessor. The tailgate has been remodelled, but the modifications over the Sports Coupe have drawn praise and criticism in equal measure. Dark exterior colours are best if you want to flatter the CLC's rump.
Thankfully consistency reigns in the CLC's cabin. Although more evolution than revolution, fans of the Sports Coupe and previous generation C-Class will feel right at home. The car's fascia has not been plucked from the new C-Class and, perversely, is all the better for it as the new car boasts too much plastic and not enough brightwork - the opposite of the CLC experience. Space up front is more than acceptable while adults who manage to get into the back probably won't want to stay there for long. Critics might call the CLC a three-door hatch, but the cabin dimensions and sloping roof really are closer to that of an upmarket coupe.
One thing the old Sports Coupe wasn't famous for was its performance; think of it more as a boulevard cruiser. Mercedes claims that the CLC is sharper and more rewarding, and a claim that proves correct on the open road. Improved responses all-round, and especially from the steering, make the CLC a surprisingly enjoyable car to drive. The combination of the foot operated parking brake manual gearbox isn't ideal, but history shows that many buyers opt for an optional auto unit anyway. With six engines - diesel and petrol - available, affordability and performance is easily accessible.
Our verdict on the Mercedes-Benz CLC-Class CLC 180 Kompressor SE
Successfully moving the game on from the Sports Coupe, the CLC delivers a pleasant, enjoyable and suitably upmarket experience. Although not adverse to having some fun, it's more likely that CLC buyers will be more interested in the car's looks, perceived elevated status and refinement. On all counts the car should succeed in putting a smile on your face. Whether you class yourself as single, a young coupe or empty nesters, Mercedes' coupe is an affordable premium car worth investigating.
Costs

As far as the Mercedes line-up goes, the CLC is a surprisingly affordable model. Granted, this is only true of modestly equipped cars powered by the smaller engines, but it's still an affordable way to getting the three-pointed star outside your house. Tax and VED expenditure will be directly linked to engine choice, although it's good to know that the smaller units are perfectly acceptable. Servicing costs will err on the premium side, though. You will, after all, be dealing with the same outlet that services cars costing close to six-figures.
Space and practicality

The CLC is not a rounded family car, nor is it cut-price executive motor. Therefore, don't expect it to be the most versatile example in the Mercedes range. What it can do is accommodate two adults up front and, at a push, two in the rear. Cockpit oddment space is good, with a spacious centre armrest cubby and good size door bins. The optional CD disc changer will dominate the glovebox, but there's no problem with the CLC's boot, which is surprisingly capacious.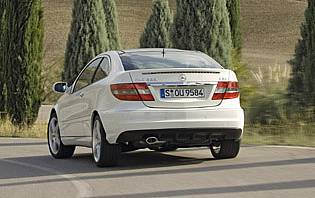 The CLC's sharpened up rear looks better in darker, more sombre colours
Controls and display

Mercedes has a long history of designing good quality instrumentation, and the CLC is a good example of how to do it right. With the car's fascia mirroring that of the previous generation C-Class, not only should it be familiar to fans of the marque but it's also easy to use. The main dials are easy to read, the major controls intuitive and the in-dash display extremely useful. The basic audio unit's display can be hard to read in direst sunlight, but the manual gearshift is slick and precise - not something that could have been said a few years ago.
Comfort

For front seat occupants there's very little to complain about. It is worth noting that the seats are on the firm side and include side bolsters, so be warned if you prefer a softer experience. Overall space is acceptable for a car of this size, and when driving normally it's rare for engine and road noise to intrude into the cabin.
Car security

A desirable car, it's good to see that the anti-theft immobiliser package is present on the CLC. The expected inclusion of remote central locking is also welcome. The one-press on the key fob to open the boot is a useful feature, and the anti-highjack lock doors that active once you start driving is another reassuring feature.
Car safety

Mercedes has a reputation to maintain in this area, and it should come as no surprise to learn that all the essential aspects are covered. Airbags and electronic stability aids are present, which in the case of the latter is doubly important as the CLC is rear-wheel drive. Although not a major issue, not everyone trading up from a mainstream front-wheel drive hatchback will have experienced this, making the inclusion of ESP a welcome one especially in the wet.
Driver appeal

The old C-Class Sports Coupe was never, despite its name, promoted as a sports car, and that was certainly evident in its abilities. The CLC is still not going to have keen drivers raving, but it's a much improved car. Influenced by the C-Class saloon, the CLC steers and rides the bumps with more conviction, and can be hustled along twisty roads with confidence. The manual gearshift is slick and precise, while the auto option is what most Mercedes buyers will be more comfortable with. All the engines are willing and capable, with the 180 Kompressor and 220 CDI worthy of a special mention.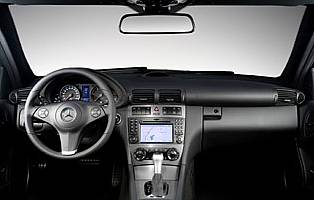 No gripes about the familiar cabin - the simple and effective approach works well
Family car appeal

There's little point recommending the CLC as a family car. Three door hatchbacks, and coupes, don't fair well when you need to accommodate small people, adults, shopping and pushchairs. The CLC's boot is actually big enough for most loads, but repeatedly trying to secure a child in one of the rear seats could prove tiresome - there's not a lot of room, while in general the car's plush interior might not be the right place for a child with chocolate covered fingers.
First car appeal

With its modest size, the CLC could easily be seen as an ideal car for the novice driver - at least, if you can afford its premium price tag. Price aside, the CLC is an easy car to drive and there's isn't a really quick version that would otherwise get you into trouble. The car's foot operated parking brake might cause some initial confusion, though, especially when paired with the manual gearbox.
Quality and image

There's no question the famous three pointed star badge is a huge draw for buyers. Critics often dismissed the CLC's predecessor as not being a proper Mercedes - too small, too cheap-looking and lacking in quality. Size aside, the CLC has addressed these issues. And for buyers seeking to downsize, the CLC is attractive. Thanks to the various revisions, it's easily able to stand up to scrutiny.
Accessibility

Being a three-door coupe, access to the all-important front seats is easy. You sit a little lower than you would in a conventional hatch or executive saloon, though. Those big doors can be a curse if you park too close to another car, or someone else does it to you - you might struggle to open the door sufficiently to get in or out without a squeeze. At the back, the CLC's hatch tailgate opens wide with little effort to reveal a boot space with a modest load lip.
Stereo and ICE (In car entertainment)
The basic audio provision will be familiar to Mercedes fans. Located centrally within the fascia, it's easy to reach and the display is easy to read - except in strong, direct sunlight. Fortunately a basic display is available between the car's main dials, while the steering wheel controls are a welcome addition. Moving up, a phone cradle, sat nav and disc changer can be selected as options.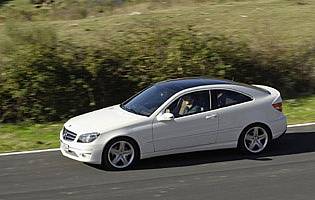 While no sports car, on the move the CLC is an enjoyable car to drive
Colours and trim
With the CLC purporting to be a premium class coupe, it's to be expected that it looks its best in dark, sombre colours. For all the marketing references towards younger buyers, light and bright colours aren't as flattering. Inside it is typical Mercedes, though. Dark fabrics, plastics and headlining dominate, which can make the cabin feel a little small. At least the fascia can be had with a generous helping of silver trim to brighten up the interior.
Parking
A compact car by executive standards, it's not difficult to park the CLC. Where fitted, parking sensors make life easier, especially as the distance indicators are located above the fascia and in the rear headlining for maximum visibility. The car's external mirrors are a good size, although the raised boot lid can make reversing little challenging until you're familiar with it.
Spare wheel
Space saver fitted as standard.
Range information
Petrol engine options - 180 Kompressor (120bhp); 200 Kompressor (181bhp); 230 (201bhp); 350 (268bhp). Diesel engine options ? 200 CDI (120bhp); 220 CDI (148bhp). Transmission options: six-speed manual gearbox on all models bar CLC 350, which comes with a seven-speed auto gearbox (optional on CLC 230). All other cars can be selected with an optional five-speed auto gearbox. Trim levels: SE, Sport.
Alternative cars
BMW 1 Series Coupe Unusual styling masks a competent, entertaining and potentially more frugal alternative
Audi A3 Attractive looks, peerless build quality and a huge options list make the A3 a popular choice
Volvo C30 Left-field Swedish alternative is good to drive and an affordable proposition
Vauxhall Astra Sporthatch Mainstream alternative is a good all-rounder but lacks the prestige of the assembled opposition
Over 1,200 more car reviews online
All the reports since 1990 are available on this site, just search by make and model below.
Other products & services
Related information
September 2008