Skoda Fabia Estate 2 1.9 TDi
January 2008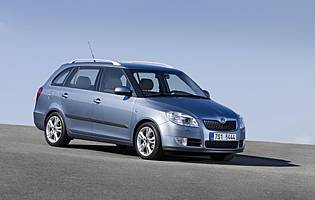 Not a lot of style but plenty of substance
Ratings
Overall rating
Value for money
Costs
Space and practicality
Controls and display
Comfort
Car security
Car safety
Likes
Its spacious interior is balanced by a relatively compact size
The pulling power of the 1.9 diesel engine
Overall ease of use makes for a compelling ownership experience
Gripes
Some of the hard plastics used in the cabin
The noisy nature of the diesel engine when pushed hard
Only the top spec cars get the full safety provision
The car's ride is on the firm side
Estate versions of superminis are not a common occurrence. Most manufacturers see little reason to make an estate version of their supermini which would provide more room but hardly enough to justify the extra outlay, for both the customer and the manufacturer. However the Skoda Fabia Estate is an exception, because it is more space-efficient than the norm and provides a practical, spacious boot with the rear seats up, let alone when they are folded down.
Powered by the most powerful diesel engine, the Fabia Estate is no slouch. Its oil burning unit provides plenty of pull from low revs and it performs just as well higher up the rev range when it's fully laden thanks to its ample torque. Its performance figures suggest it's a bit of a slow coach off the line, but it certainly doesn't feel like it when sat behind the wheel. Ad like all diesels, the accelerative benefits really kick in when once on the move.
The estate has a slightly firmer suspension than its hatchback equivalent, which delivers good body control and composure through tight corners or on the motorways, whether carrying passengers or fully loaded. The firm ride means poor road surfaces equate to a slightly jarring ride, however refinement is good and noise levels entering the cabin remain low and unobtrusive. The same can't be said of the engine however, whose tone penetrates the calm of the cabin when worked hard.
Skoda has fitted an electro-hydraulic steering system, as opposed to a fully electric one, with the intention of giving high levels of feel and to save fuel when the car is travelling straight. Consequently there are decent levels of feedback and the light nature of the steering makes for a car that's easy to manoeuvre when parking.
Equipment levels are decent, with occupant safety and vehicle security generally well catered for, although only the top spec model comes with the full safety kit. The engineers have employed a clever design strategy, giving it a taller silhouette than the average estate, which produces generous passenger space. The downside is that it gives the estate a slightly lanky and gauche appearance.
The huge boot offers plenty of storage potential
Our verdict on the Skoda Fabia Estate 2 1.9 TDi
Skoda is a manufacturer that has managed to get the mix between practicality and price just right. Powered by the torquey 1.9 diesel, the Skoda Fabia Estate is a hugely capable workhorse; eager and willing in nature, and delivering a pleasant and predictable drive that's big on practicality. Its size is big by class standards but not so much that it detracts from its versatility as a city car, as such it should suit a wide variety of buyers and their respective needs.
Costs

The good news is that running costs should be low for the average family budget. Opting for a diesel variant, especially if you travel many thousands of miles per year, should see healthy savings at the pumps thanks to the car's excellent fuel economy. Looking further ahead, demand from Skoda's loyal customers also means that the Fabia should enjoy stronger-than-average resale values.
Space and practicality

Motorists may very well be surprised by the amount of space and versatility on offer in the estate, which is after all an extended supermini. Its boot provides 480 litres of space with the 60/40 split seats up, and an enormous 1460 litres with them down. It can even carry a payload of just over half a tonne. Storage options abound in the cabin, with useful sized cubbyholes stashed about nearly everywhere you look.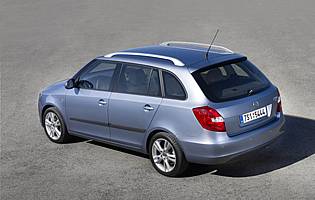 Impressive boot space for what is a compact class car
Controls and display

At the front of the cabin, the interior of the estate version is no different to the hatchback. It's a nice touch for Fabia supermini owners who will upgrade to the estate version and benefit from the familiarity of the layout. Similarly, like the hatch, the controls are laid out in a logical and convenient order, with minimal fuss, but addressing all the essentials nonetheless. The switchgear is sturdy while the instrument displays are clean and easy to read.
Comfort

Getting comfortable in the driver's seat poses no problem, with the height adjustable seat and reach and rake adjustable steering wheel helping matters. The seats are supportive and comfortable although the firm ride means occupants will be aware of the road surface below them. Both legroom and headroom have been increased throughout the cabin over the old model, with rear passengers benefiting from an extra 42mm of space above their heads.
Car security

The estate benefits from remote central locking and also has an immobiliser. The amount of cabin storage available means there is no excuse for leaving valuables in view. Standard equipment on the 2 adds an alarm with tilt sensor and anti-theft locking wheel bolts on the alloys. The estate's modest looks should be viewed as an attribute, especially if you don't want you car to catch the eye of the casual thief.
Car safety

All models come with four airbags as standard, twin front and side airbags, but only the top-trim car adds rear curtain airbags. The hatch has performed well in crash tests and there's no reason to assume the estate won't follow. Skoda has improved the Fabia's energy absorbing properties and deformation zones to give occupants greater protection in the event of an impact while pedestrian safety has also been addressed.
Driver appeal

Thanks to the willing nature of the diesel engine tested, the Fabia Estate delivers an engaging drive that can honestly be described as athletic. The set up of the suspension and chassis means that it handles in a sure-footed and tidy manner, confident and capable on cross-country roads as well as motorways. The engine line-up means there will be a powerplant to suit most motorists, but for versatility and economy, the diesels are best.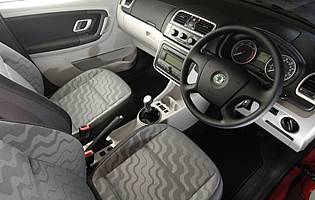 The simple and straightforward layout of the controls is refreshing
Family car appeal

It's an affordable option for the average family that should tick all of the boxes as a main means of transport. The roomy cabin will accomodate a family of five comfortably, while the large boot means pets will be able to join in on family days out. It should see a family through all of its needs over a number of years from carrying buggies in the back right through to packing a student off to university.
First car appeal

Normally first time drivers are warned off thinking about anything other than a supermini and certainly not an estate car. However the Fabia's compact dimensions and easy driving dynamics, coupled with low running costs, make this a contender for any new driver who needs more space and practicality.
Quality and image

Skoda calls itself the manufacturer of happy drivers and why not? Since Volkswagen took over, Skoda now delivers consistently on durability and reliability, not to mention polished cars that manage to be practical and refined. The Fabia Estate won't win any awards for style but should win the respect of other manufacturers and road users for succeeding in offering a versatile and budget-friendly estate supermini where others have failed.
Accessibility

The access to the boot, and the space provided, is one of the best attributes of the Fabia estate. The tailgate requires little effort to open and the load lip is low providing easy access to an extremely useful area. An internal grab handle fitted to the tailgate allows you to keep your hands clean when closing the boot. All passenger doors open wide so access to the front and rear seats is more than reasonable.
Stereo and ICE (In car entertainment)
Standard fit across the range is an integrated CD player featuring a jack socket input for iPods and other MP3 players. The stereo is centrally located and thanks to its simple and straightforward design together with its large controls, is easy to use and read. The Fabia Estaten2 adds four additional speakers to deliver excellent sound quality.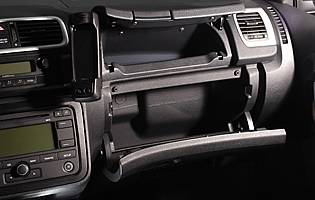 Cabin storage space is plentiful
Colours and trim
Available in four solid colours, including vivid yellow, and a wide range of metallic colours, the estate looks good in all of the shades with the exception of the sombre Highland Green which doesn't do much to compliment the car's slightly gawky styling. Although sturdily built, the hard plastics used in the cabin are a little disappointing.
Parking
Despite it being an estate car, the Fabia's compact size means it is easy to manoeuvre in small spaces and is not cumbersome to drive in the urban environment, allowing drivers to negotiate their way around city centre multi-storey car parks with confidence. Slim A pillars provide the driver with good visibility while acoustic rear parking sensors, standard on the top spec model, are also available as an option.
Spare wheel
Full size steel wheel supplied as standard.
Range information
Petrol engine options - 1.2-litre (70bhp); 1.4-litre (85bhp); 1.6-litre (105bhp). Diesel engine options - 1.4-litre (70bhp); 1.4-litre (80bhp) 1.9-litre (105bhp). Transmission options: five-speed manual gearbox, six-gear Tiptronic transmission available as option on 1.6 petrol version. Trim levels: 1, 2 and 3.
Alternative cars
Peugeot 207 SW Estate A spacious boot and supple suspension almost make up for the les than ideal driving position
Renault Clio Sport Tourer A stylish example of a small estate
Skoda Roomster A supermini MPV with plenty of substance - a possible rival to the Fabia?
Ford Fusion The Fusion is more sensible than its youth orientated name suggests
Over 1,200 more car reviews online
All the reports since 1990 are available on this site, just search by make and model below.
Other products & services
Related information
January 2008