Kia Cee'd 1.6 CRDi LS
December 2006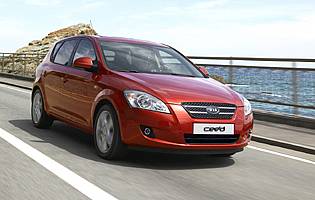 New design is a step forward for Kia
Ratings
Overall rating
Value for money
Costs
Space and practicality
Controls and display
Comfort
Car security
Car safety
Likes
Cabin design and quality is impressive
Good level of standard specification
Diesel engines are quick and economical
Seven-year warranty is desirable
Gripes
Firm ride can be harsh on certain surfaces
Exterior lacks final touch of distinctiveness
Petrol engines are average
Thick rear pillar harms visibility
With a plan to increase its market share dramatically over the next ten years, Kia's most important car is its C-segment challenger, the Cee'd. Designed to take on some of the best selling cars in the market, it has to meet ever-increasing standards in the most competitive segment. The Cee'd also represents the first of a new generation of cars designed with European buyers in mind.
One of the key factors of the Cee'd is that it was designed in Europe with Europeans in mind, and is also built in a new European factory. This illustrates how determined Kia is to have a car that can match up to the market leaders, which are almost always from European manufacturers. The Cee'd unusual name is also an abbreviation reflecting the car's European focus and factory location.
The Cee'd's exterior appearance is clean and fresh. It also represents a clear step forward in the design of Kia, as it could easily be mistaken for a Japanese rival. Although a little conservative, it is not so radical as to alienate potential buyers. Models with larger alloy wheels fitted as standard are the most appealing visually.
Inside, the cabin of the Cee'd is of a significantly improved quality over other models in the Kia range, and buyers of competitive cars will be impressed by the standard of materials and build quality. A further impressive feature is the design itself: the instruments are lit with a universal orange glow, while connections for an MP3 player and a USB stick are fitted to many models, a useful advantage over rival cars.
Mechanically the Cee'd sticks to a familiar formula for cars in this class, with a transversely-mounted engine up front with front-wheel drive. Kia also used independent suspension front and rear, which is now finding favour with many manufacturers to give high levels of ride quality and handling.
Our verdict on the Kia Cee'd 1.6 CRDi LS
Compared to previous Kia offerings, the Cee'd is a big step forward. It is a strong rival for the best cars in the class, and although it is not class leader on quality, ride or handling, it offers impressive build quality, good equipment levels and a good driving experience. It should also offer good value, which will be enough to sway a large number of buyers.
Costs

Running costs are likely to be very competitive, with a good initial purchase price backed up by insurance and running costs in line with most of its rivals. The seven-year warranty may also help residual values as the car ages.
Space and practicality

The Cee'd scores highly for practicality, making the most of its interior space. Head and legroom is impressive both front and rear, while the boot space is also generous. There are also plenty of useful storage areas throughout the cabin.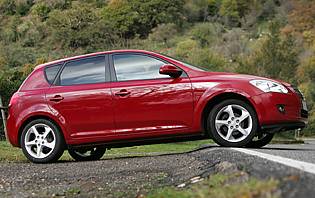 Rear is attractively styled
Controls and display

The interior layout of the Cee'd is impressive, with a well designed centre console, housing clearly labelled buttons and switches. The instruments have an appealing orange illumination and features like the steering wheel audio controls make it easy to use the car's various features.
Comfort

Comfort levels within the Cee'd are generally good. Wind noise is well contained, as is tyre noise. The engines are muted unless revved hard, but even then they are well up to class standard. The seats are also comfortable. Only the firm ride counts against it, sometimes feeling too firm when the road surface is poor.
Car security

A high level of security is offered by the standard engine immobiliser which is Thatcham approved, while remote central locking and an alarm system is standard on TS and LS models.
Car safety

The Cee'd comes with six airbags as standard, higher specification models also get active front head restraints and a seat belt warning indicator, both of which are uncommon amongst cars in this sector.
Driver appeal

The Cee'd is likely to appeal to a broad spectrum of buyers thanks to its all-round competence. It is undemanding to drive, with consistent controls and responses, yet when driven with enthusiasm it does not disappoint. The diesel engines are the most impressive, delivering surprisingly rapid acceleration with good economy. The ride quality may be more of an issue, as its firm set up may make it a little uncomfortable on poor road surfaces.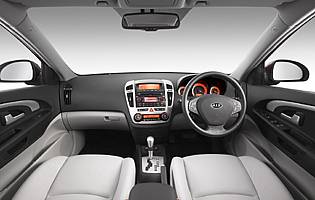 Impressive cabin is well designed
Family car appeal

The Cee'd would fulfil this role very well, with sufficient interior space to cope with a family of five. The audio system will also help to keep a larger family entertained.
First car appeal

Although a little larger than many first time buyers would require, the Cee'd would make a very good first car, with the audio system and long warranty likely to prove attractive to those buying their first car.
Quality and image

This is an area where Kia has caught up with much of the competition. The Cee'd feels up to European standards inside, and the increase in quality over some low cost rivals may well influence buyers in their purchasing decisions. The Cee'd image is more broadly in line with other Kia models, although its European influences may well change Kia's image considerably over time.
Accessibility

The Cee'd is easily accessible for all, with wide opening doors front and rear and a large tailgate. There are also chunky grab handles and generous footwells, making entry and exit simple.
Stereo and ICE (In car entertainment)
A big benefit on the Cee'd is the availability of an MP3-enabled CD/tuner as standard on all models, with the addition of an auxiliary and USB connections on TS and LS models. The sound quality is good too, aided by the use of good quality speakers. Audio controls are mounted on the steering wheel on all models.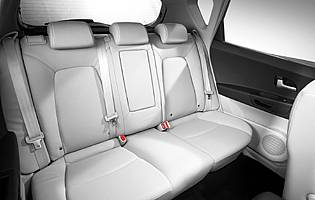 Rear seat space is impressive
Colours and trim
The cabin is available in greater range of colours and finishes than in some rivals, and although the majority of the cabin is finished in black, this does provide a lift and makes the interior more welcoming. The quality of the trim is also generally good, with only a few minor areas showing signs of cheaper materials.
Parking
The Cee'd is an easy car to park, thanks to its decent visibility and well-weighted controls. One minor demerit is the thick rear pillar, which can obscure the driver's view.
Spare wheel
Space saver spare fitted beneath the boot floor.
Range information
Petrol engine options: 1.4-litre (108bhp), 1.6-litre (120bhp). Diesel engine options: 1.6-litre (113bhp and 89bhp), 2.0-litre (138bhp). Five and six-speed manual transmissions offered, plus four-speed automatic. Trim levels are GS, LS and TS, with highest spec models featuring the higher output engines.
Alternative cars
Ford Focus Class leader, great to drive, conservative exterior
Volkswagen Golf No longer highest quality, but satisfying to own and drive
Renault Megane Revised version much improved, excellent diesels. Bias is towards comfort
Mazda 3 Looks similar to Cee'd, better to drive
Over 1,200 more car reviews online
All the reports since 1990 are available on this site, just search by make and model below.
Other products & services
Related information
December 2006