Porsche 911 Carrera S
November 2004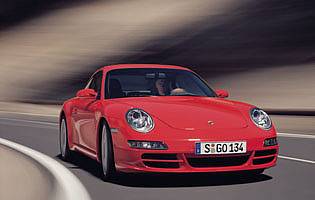 Modern-day Porsche 911 can wear its badge with pride
Ratings
Overall rating
Value for money
Costs
Space and practicality
Controls and display
Comfort
Car security
Car safety
Likes
Involving driving experience
Represents a sound investment
Hand-crafted finish is of highest quality
Surprisingly practical for everyday use
Gripes
One looks like another to untutored eyes
Needs very secure nightly parking
High insurance and running costs
Can provoke adverse reaction in others
People who drone on endlessly about how wonderful the Porsche 911 is might be tedious to listen to, but even a hardened sceptic will admit they've got a point after a spell behind the wheel.
The 997-model 911 is the product of more than 40 years of development. This is a car fully deserving of its classic status, able to out-muscle muscle cars and out-handle sports cars at the same time, while retaining more real-world usability than might be expected.
Because it has its engine slung out behind the rear axle, the 911 handles quite unlike any other vehicle. While it opens the door to huge driving enjoyment, it can also create problems for novices, so some professional expert tuition off the public highway is strongly recommended before exploring the performance potential.
If driven sensibly, a 911 can make unexpectedly viable everyday transport, as a quick glance at the driveways of wealthy residential areas will confirm. Speed bumps and narrow city streets present minor problems, but provided care is taken no costly dings or scratches should result. More of a problem is likely to be the attitude of a proportion of your fellow motorists, who will delight in overtaking you for no real reason and ignoring you when two lanes of traffic filter into each other.
Our verdict on the Porsche 911 Carrera S
The definitive driver's car, the 911 has lost none of its appeal. Buyers are likely to know if they want one or not without too much head scratching, but even well-heeled potential purchasers should ask if they really need - and are prepared to pay for on a day-to-day basis - what the 911 has to offer and demands in return.
Costs

No-one could claim that buying a Porsche 911 is caused by a need to economise. By the standards of most other cars, it's expensive to run and any visits to the garage for remedial work are likely to be wallet-lightening experiences. However, judged by the standards of luxury limousines and high-end 4x4s the 911 compares more favourably, with similar levels of carbon dioxide emissions and superior fuel economy. It should also prove reliable and there's a hungry market for used examples. In fact, it consistently holds its value better than any other car.
Space and practicality

Theoretically, there are two rear seats, but realistically they act as little more than a low-level parcel shelf. Still, that's more than you get in two-seat coupes and indeed the 911 offers superior loadspace to virtually all of its rivals. Glovebox and side pockets are reasonably sized, the front 'boot' will swallow two or three weekend bags with no problems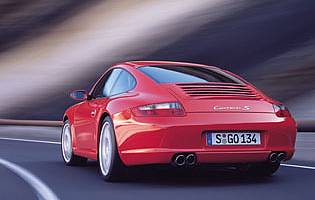 Rear profile is sublime, and new rear lights look the part
Controls and display

Redesigned dials and instruments have helped to make information more easily readable than in the previous-generation 911. It's a welcome improvement in a car that requires the driver to keep a close eye on his speed as well as maintaining a watching brief on engine temperature and other sensor-related information. The traditional racing stopwatch mounted atop the dash is a very nice touch, even if it is unlikely to see much use.
Comfort

The long-overdue arrival of a steering wheel that adjusts for reach as well as rake makes a significant contribution to improved comfort, proving that it really is the small things that matter. Front seats are wonderfully supportive and crafted from highest-grade leather, but not even they can prevent a few shudders and judders when the 'Sports' suspension mode is activated. Unlike some other vehicles, pressing the button makes an immediate and noticeable difference.
Car security

The 911's almost irresistible appeal makes it a dream target for serious car criminals. Forget about joyriders - the sort of thieves who steal cars to order and come equipped with the equipment for the job are the ones to worry about. Porsche provides some counteractive equipment of its own in the form of a standard fit alarm and immobiliser, though buyers might like to consider some form of tracking system as well. Leave a 911 on the street and don't be surprised if it falls victim to some superficial damage from jealous passers-by. A secure, alarmed garage is essential, and the car can be fitted with sensors to open and shut security gates automatically.
Car safety

In a performance car, the most important safety features - apart from a well-trained driver - are effective brakes. Porsche's are pretty much the best in the business, offering unbelievable stopping power while allowing the driver to retain steering control. An exceptionally tough body shell is another plus. And there's also an unusual side head airbag located in the front seat backrest bringing the airbag total to six.
Driver appeal

To many motor enthusiasts, the 911 offers a driving experience that is second to none, even in its more basic iterations. With the Carrera S, owners get a feature more commonly associated with 4x4s - the ability to switch between 'comfort' and 'sporting' suspension set-ups. In this case though, the description would more accurately be 'very sporting' and 'extremely sporting'. Happily, the electronic sophistication does not detract from the sense of being directly connected to the car.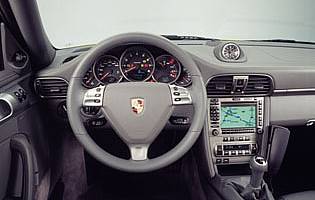 At last the steering wheel adjusts for reach
Family car appeal

While a single child would love to tell his friends what it's like to ride in a 911, such a proposition is rarely likely to occur - particularly as the seats and belts are intended for adult use only.
First car appeal

The 911 is the antithesis of the ideal first car - which is just as well given that even experienced drivers need to take care behind the wheel. It's not dangerous, but it does demand respect and finesse often understandably lacking in new drivers. Oh, and it is far, far too expensive for them.
Quality and image

Apart from a brief period in the 1980s when Porsche drivers were identified as 'yuppies', the 911's stock has always been high. Less 'showy' than a Ferrari or Lamborghini, the high number of new and used 911s you can see on the streets actually counts in its favour, ensuring that everyone can see the car's long and distinguished lineage. Be prepared to answer plenty of questions from interested passers-by.
Accessibility

Low-slung seats may present difficulties to less mobile drivers, but doors open wide and operate with ease. Getting in isn't as much of a problem as getting out, and women wearing skirts or dresses will have to remember all of their finishing school or grandma's advice in order to attain a suitably demure exit. Whatever the opposite of 'escapologist' is, you need to be one in order to access the rear seats.
Stereo and ICE (In car entertainment)
Occasionally, you might tire of the German Romantic symphonic soundtrack permanently provided by the engine and instead listen to the audio system. The standard-fit BOSE unit is good but not quite the mind-blowing experience one might expect. Music lovers might like to consider an upgrade including investing in the optional multifunctional steering wheel, as manually changing CDs or radio stations while on the move in such a potent car can be dangerous.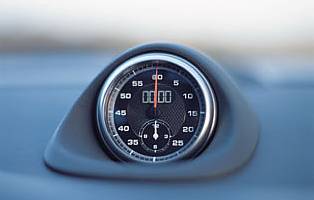 Chrono stopwatch adds a nice detail to the cabin
Colours and trim
With only two models to choose from, you might have thought picking what you want would be straightforward, but the 911's list of optional extras is among the longest in the motoring world, including numerous individual items and bespoke interior treatments to choose from. There is almost no limit to the possible specification.
Parking
Parking sensors ruin the car's rump aesthetically, though they could be cost effective, as it takes a little more than a panel beater and a hammer to smooth out dented body parts.
Spare wheel
A temporary inflatable support system - a can of foam in other words - is tucked neatly under the front boot.
Range information
There are two versions of the '997' design 911. The standard Carrera coupe has a 3.6-litre flat six engine (325bhp), while the more expensive Carrera S has a 3.8-litre V8 (355bhp). All models have a six-speed manual gearbox, though a Tiptronic automatic system is available.
Alternative cars
Ferrari F430 Lithe and lissom, but not quite as classic as the 911
Lamborghini Gallardo Explosive modern Italian with German influence
Aston Martin DB9 More of a rangy GT than a sports car
Porsche Boxster Plenty of Porsche fun for much less money
Over 1,200 more car reviews online
All the reports since 1990 are available on this site, just search by make and model below.
Other products & services
Related information
November 2004