AA History
from 1905 to the present
1905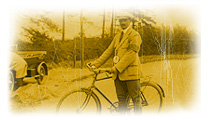 A group of motoring enthusiasts met at the Trocadero restaurant in London's West End on 29 June to form the Automobile Association (the AA) – a body initially intended to help motorists avoid police speed traps. As motoring became more popular, so did we – the AA's 100 members in 1905 grew to 83,000 by 1914. As AA membership expanded, so did our activities.
1906
In 1906 we began erecting the country's first effective danger and warning signs and the AA has been committed to promoting road safety ever since.
We continued to be responsible for all signposting until the early 1930s, when it became a local authority responsibility. AA Signs distinctive yellow and black colouring for special events remains a familiar sight at the roadside.
To cater for the increased popularity of touring by car, we appointed agents and repairers throughout the UK, listing them all in the AA Members' Special Handbook, which first appeared in 1908.
In 1909 we introduced a free legal system for drivers summoned to appear in magistrates courts.
1910s
We introduced the first AA routes around 1910 with handwritten details, and by 1929 we were issuing 239,000 routes a year. Since then, we have produced routes and travel guides.
From 1912 we started inspecting hotels, and those receiving our famous AA star classification were included in subsequent editions of the Members' Handbook. To date, we have inspected and rated more than 4,000 hotels and reviewed almost 2,000 restaurants and we publish the results in a series of annual guides.
1920s–1950s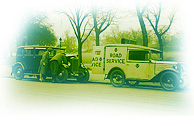 By 1939, 2 million cars were on UK roads and 725,000 motorists had joined the AA.
After the Second World War, we led the protest against petrol rationing, which was finally lifted in 1950. It was a campaign that reflected our traditional role of championing motorists' rights.
Since that time we have led a number of major campaigns, including the compulsory wearing of seatbelts, which became law in 1983, and the introduction of lead-free petrol.

In recent years, we have lobbied successive governments over unfair motoring taxes and the lack of investment in transport.
We've always been innovative in harnessing new technology. The introduction of two-way radio after the second world war saw the 1949 launch of a night-time breakdown service in the London area. This was gradually extended to cover most of Britain.
The AA computer system 'Command and Control' started to replace paper-based operations from 1986. The system's award-winning successor, AAHELP, together with automatic vehicle-location technology, using global positioning satellites, has been key to achieving our current speed of response at the roadside.
1960s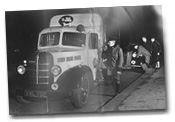 We established our AA Insurance broking service in 1967. After a number of cut-price companies had crashed in the 1960s, motorists wanted motor insurance cover from an organisation that they could trust, and they turned to us in their thousands. Today, AA Insurance – which also sells home, travel and other specialist cover – is the UK's largest home and car insurance broker.
Loans and instalment payment facilities are available to members and customers through AA Financial Services.
1970s
AA Roadwatch, came into being in 1973 with the advent of commercial radio in the UK. Fast and accurate collation of road and traffic information is universally recognised as key to the future of motoring.
Motorcycle combinations for AA patrols – introduced from 1920 together with roadside telephones - were replaced by four-wheeled vehicles by 1968. But solo motorcycles were re-introduced in 1972 to combat urban congestion.
In October 1973, AA Relay was launched, guaranteeing to transport any seriously broken-down vehicle – together with driver, passengers, luggage and trailer or caravan – to any destination in Britain.
1973 was also the year we moved our headquarters from London's Leicester Square – the AA had moved to the area in 1908 and occupied premises in New Coventry Street in 1929 – to Fanum House in Basingstoke, Hampshire.
1990s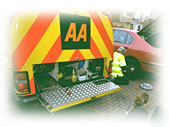 The AA expanded its publishing activities during the 1990s, producing a growing range of maps, atlases and travel guides to worldwide destinations as well as many British titles. Many AA books have been available in up to 28 languages in addition to English.
In 1992, the AA driving school was launched. It is the only national body to use fully qualified instructors, and today operates a network of more than 1,800 franchised instructors.
1992 was also the year the AA launched itself as the 4th Emergency Service, advertising hard to help recruit new members and retain existing members in an increasingly competitive market place.
In November 1994 AA membership reached 8 million.
The AA was a founder member of the independent European New Car Assessment Programme (Euro NCAP) and helped launch it in 1997 when the results of crash tests on six superminis were published. More than 300 new car models have been tested and rated since by Euro NCAP which has had a significant influence on the safety of the cars we now buy.
In 1999, we set a new standard for the breakdown and recovery industry and came first in the annual JD Power survey of UK roadside assistance providers.
Also in 1999 the AA sponsored the National Air Ambulance Association (NAAAS) with a £13m pledge to help establish a network of air ambulances in the UK. This was achieved within three years and was a further demonstration of the AA's commitment to helping motorists – around 50% of air ambulance deployments are to road traffic accidents.
The AA also helped to establish and launch the European Road Assessment Programme (EuroRAP) which has since grown to provide an independent, consistent system to measure the safety of Europe's roads and to track how quickly effective improvements are being implemented.
Later in 1999, AA members voted overwhelmingly in favour of the AA demutualising and joining the Centrica group in a £1.1 billion acquisition.
2000
We confirmed our pre-eminence at the roadside in 2000 when JD Power named us the UK's top-ranked roadside assistance provider for the second year running.
In 2002 the AA was ranked top roadside assistance provider by both JD Power and a 'Which?' Consumers' Association survey of breakdown organisations.
2003
In 2003, all AA patrols were issued with state-of-the-art roadside diagnostic equipment. The laptop computer allows patrols to plug into a car's electronics to diagnose the cause of a breakdown as well as access to the AA's wealth of technical support information and breakdown deployment details. Later that year the innovation won 'Autocar's' idea of the year award.
This year also saw us come top of the JD Power roadside assistance survey for the fourth time in five years.
2004
In 2004 our online Route Planner, introduced street-level detail on all routes for Britain.
Also online, we launched the AA Car Buyer's Guide, which provided a one-stop shop for AA advice, products and services that removed much of the risk associated with buying a new or second-hand car.
The year saw our biggest publishing launch in 15 years, with a new travel series called Key Guides covering 12 popular destinations.
Also in 2004, JD Power showed that our roadside service had improved by 11 points since the 2003 survey, with AA assistance arriving at the scene of a breakdown five minutes faster than its nearest competitor.
In July we introduced our industry-leading AA Telephone Savings Account.
On 1 October 2004 the AA left the Centrica group, following its acquisition for £1.75 billion by two leading European private equity firms, CVC and Permira.
2005
In 2005 the Direct Lending team launched the Internet Savings Account, the Guaranteed Equity Bond, the One–Year Fixed Rate Savings Account, and a free six–month AA warranty with every Car Loan. In September the team also launched the No Early Settlement Fee Loan, which enables customers to repay their loan early without a penalty.
The AA won two Fleet News awards and, in May, was named the UK's number one provider of roadside assistance by JD Power and Associates, for the fifth time in the survey's eight–year history.
In the same month the AA launched its 'Tales from the Roadside' advertising campaign, highlighting real–life patrol stories in a series of TV adverts supported by radio, outdoor posters, press, online and direct marketing activity.
And the 'AA Team' was unleashed on the nation, to promote motor insurance
In June, AA Ireland won a contract to classify all hospitality establishments on behalf of Failte Ireland – the Irish tourist board.
On 29 June 2005 the AA celebrated its centenary with a black–tie dinner in London for motoring industry executives, business partners, journalists and selected employees.
TheAA.com passed a major landmark when it produced 2 million routes in a single week.
2006
The year opened with the launch of a range of new insurance products – Motorcycle Insurance, Cherished Car Insurance, Pet Insurance, Business Insurance, and several commercial policies for small–to–medium enterprises.
In March the AA celebrated the signing of its millionth motor insurance customer, and in June it bought insurance broker Direct Choice and launched Commercial Vehicle Insurance.
AA Publishing launched an online AA bookshop on Amazon.co.uk and became the first publisher in the UK to highlight the locations of all fixed speed cameras in its 2006 atlases. Patrolman Pete children's books and merchandise were unveiled too.
AA driving school had a busy year, launching refresher courses for older drivers with Help the Aged, before Driving Instructor Training went live in October.
The AA won two Fleet Excellence awards – 'Best Service Supplier' and 'Best Vehicle Recovery''– and was named 'Best Breakdown Service' at the Fleet News awards, for the fourth year in a row.
In February AA Visa was named 'Best Known Credit Card Co– brand' at the national Credit Card Awards, and in April the AA was named 'Best Breakdown Recovery Service' by readers of Scottish Auto Trader. Reader's Digest magazine named the AA the 'Most Trusted Brand' in UK motoring in the same month.
In February we unveiled our new–look patrol vehicles and completed a major revamp of theAA.com.
In March we launched AA Members Club – a package of discounts and incentives available exclusively to our members.
Publishing unveiled AA Car Essentials – 25 motoring products with key links to safety and touring – and launched a new range of travel guides – the Weekend Escapes series.
The AA joined the Nectar loyalty programme in June, enabling customers to earn points when they buy certain breakdown products.
In July, the AA's became the first national driving school to launch in Northern Ireland, and the Human Resources (HR) team won two categories at the HR Excellence Awards.
The AA entered the legal products market in the summer, with the launch of will–writing and conveyancing services.
2007
The AA was voted 'Best buy' in the Which? consumer survey, and for the fifth year running, the Fleet News awards named the AA 'Best Breakdown Service Company'.
Southampton patrol Scott Illman attended the AA's 100 millionth breakdown. The member, Crystal Walter was presented with a commemorative historical badge to mark the occasion and was also given a year's free membership cover.
AA driving school implemented AAdvance, a new system to improve the customer experience for both driving instructors and pupils. In March, Driving School achieved a record number of pupils signed up in a single week.
AA Signs widened its services , offering banner printing and exhibition stands as well as completely updating its production processes making road sign production simpler and quicker.
In March AA insurance acquired Drakefield Insurance Services Ltd which offers travel insurance online through the Go Travel Insurance and 1 Stop Travel Insurance brands.
In May AA insurance celebrated its 40th anniversary.
Following an initial announcement in June, the the AA and Saga officialy merged in September to create parent company Acromas Holdings.
Also in September AA Fuel Assist was launched offering dedicated assistance to members and others who put the wrong fuel in their vehicles.
For the first time the AA Hospitality awards, usually a lunchtime affair, was hosted as an evening dinner attended by some of the world's most renowned chefs, hoteliers and hospitality gurus.
AA Publishing launched the first 'Landscape Photographer of the year' competition in association with the Sunday Times Magazine. the competition culminated in a six-week-long exhibition at the National Theatre, London. A book was published too featuring the winning entries.
In December Edmund King joined the AA from the RAC Foundation to take up the role of AA President. Edmund leads the AA's Public Affairs and campaigning efforts on behalf of motorists.
2008
In April the AA reintroduced patrols on two-wheels. The 'bike patrols', operating initially in the London area, will target 'quick fix' breakdowns such as flat batteries, wheel changes and simple electrical faults. The new bikes - which include environment friendly zero-emission electric scooters - are expected to cut up to 25 per cent from peak time breakdown wait times.
Also in April AA Public Affairs and the market research company Populus launched the AA/Populus panel - the biggest dedicated motoring panel in the UK. Monthly online surveys are used to help develop polices and campaigns on important transport issues.
In June, in a return to our century-old roots, the AA launched a new team of cycle-based breakdown patrols to tackle traffic chaos at big events. Initially seen at Wimbledon the bikes will cut through busy car parks to target hard-to-reach breakdowns at sports events, concerts and festivals throughout the summer.
The AA is took to the racetrack this summer as it launched its first Caterham Roadsport Challenge team with cars driven by Steve Ives, the AA's manager of Road Operations Public Sector Development and Scott Illman, an AA patrol from Southampton. Both are novice racing drivers.
Other products & services
Related information