Train with the AA

To join any Approved
Driving Instructor (ADI) course you need to have held a valid driving licence for at least three and a half years, be over 21 and able to read a number plate from 27.5m (90ft).
You also need a commitment to learning, a desire to work with others, and the ability to keep calm, maintain control and inspire trust.
The ADI exams
The ADI exams are in three parts:
computer-based theory and hazard perception tests
practical test of driving ability
practical test of instructional ability
You must pass each part before the next exam can be taken, and you must complete all three parts within two years of passing the first part.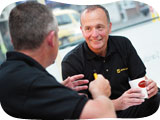 Be one of the best
The AA course is about more than helping you pass. It aims to make you an excellent driving instructor and prepare you to run a successful franchise. As an AA-trained ADI, you'll be one of the best.
Our training has been researched, developed and designed by training professionals. It consists of a combination of learning techniques and styles, including:
home study
practice sessions
1:1 support
in-car training with a driving instructor trainer
The course is an easy to follow modular structure so that you can fit your training around your life. The course should take between six and eighteen months to complete. Parts 1 and 2 (theory and driving ability) can be studied together to reduce the time it takes to finish the course.
You can choose to pay for all three parts up front and receive fantastic discounts or spread the cost by purchasing each part as you progress.
Theory (DSA* part one)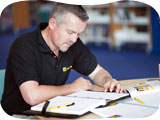 Working at home using your theory course workbook, CDs and manuals supplied by the AA you will work through the course and arrange the test when you are ready. The test has 100 multiple-choice questions, of which you need to get at least 85 right.
You will also need to achieve minimum marks of 80% in four areas:
road procedure
traffic signs and signals, car control, pedestrians, mechanical knowledge
driving test, disabilities, law
publications, instructional techniques
Hazard perception test
As part of the theory test, you will be shown 14 video clips, each containing at least one developing hazard. One of the clips will have two hazards to identify. You need to get 57 out of a maximum of 75 marks to pass.
We're here to help
You may be working at home but you are not alone. Advice and help will be on hand from your trainer when you need it.
Practical ability (DSA* part two)
This part of the course consists of 15 hours of 1:1 in-car training to bring your personal standard of driving to the high level required by the DSA. Our Driving Ability workbook will also help you through your course.
Instructional ability (DSA* part three)
So far you will have shown you are a very good driver. Now you'll need to show you can teach others.
You will receive 40 hours of in-car training to prepare you for the final test: two half-hour driving lessons where the examiner acts as a pupil. The course programme for this part is outlined in the Instructional Ability workbook.
After you've passed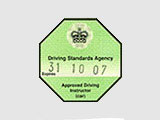 Once you become a fully qualified driving instructor with the AA, and receive your coveted DSA green badge*, we guarantee you the option of taking up an AA driving school franchise**.
Call 0800 316 0331 today to launch your new career.
* DVTA in Northern Ireland

** Subject to separate terms and conditions of the guaranteed franchise application