Driving Instructor Franchise
As an AA instructor
you make the decisions
you're in control
you choose how and when you work
As an AA instructor you're in control
You make the decisions, you choose how and when you want to work. And you'll be able to count on us to support your business when you need it.
When you start with the AA, you'll have a great team of people behind you, and you'll have all the kudos and respect of the AA brand. We'll be your supporting network and help you handle every one of your major business decisions.
Dedicated advice and support
We'll assign you a dedicated adviser for your first few months and arrange meetings with your local instructor coach. You'll also be invited to road shows and seminars where you can meet the management team and other instructors and build up a support network.
Our instructor communications systems allow you to manage your workload and diary easily – by phone, or with our online diary system.
You'll start with a comprehensive two-day induction course, and drive away in your new
tuition car.
Your earnings
Control how much you work and how much you earn. You'll have our support in finding new pupils. Our pupil introduction scheme benefits from vast national marketing and advertising campaigns. Or, if you prefer to find your own pupils, we'll support you with professional materials and guidance.
Continuing development
And we'll support you with our own courses for Continuing Professional Development, to enhance your skills and maximise your income potential.
Mobile phone
We'll supply a low business rate mobile phone with no fixed contract. Depending on your usage, the mobile could save you an estimated £200 to £500 a year.
Car insurance
We'll take care of the car insurance for private use. Named driver cover for your partner is included (subject to acceptance).
Professonal indemnity
You'll also get cover for professional indemnity with the AA.
You'll be entitled to savings on AA products:
franchise fee discounts
franchise-free periods
free sickness and accident cover
personal breakdown cover
free branded clothing
access to all member benefit savings
savings on AA products and services
Loyalty rewards
The longer you're an AA driving instructor, the better it gets. Loyalty rewards include free sickness and accident cover, breakdown cover, substantial discounts on your franchise fee, franchise-free periods and free branded clothing.
A new tuition car – for your business and personal use
1.6 Ford Focus or 1.4 Ford Fiesta
64 mpg (Focus diesel)
5-star Euro NCap safety rating
five doors
dual controls
power steering
driver and passenger airbags
full-size spare wheel
air conditioning
electric door mirror adjustment
electric windows
heated front and rear screens
Your support
AA Driving School livery
road tax
motor insurance
breakdown and recovery assistance
maintenance and servicing including tyres and glass
replacement vehicle within 48 hours
Your choice – optional extras
automatic transmission
diesel fuel
bluetooth and voice control systems
low-cost second car for your family
roof box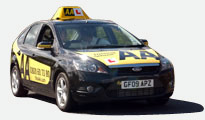 Car-only option – AA Solo
If you're a driving instructor who wants a great-value car for your learn-to-drive business, find out more about our car-only package – AA Solo for independent instructors.
Help finding new pupils
We actively encourage you to recruit your own pupils, as this will help you keep down the cost of running your franchise.
But if you like we can help provide pupils for you while you get established. We successfully generate thousands of new pupils, which are handled 362 days a year through our award-winning call centre in Cardiff. Pupil introductions are on a pay per use basis – the low cost is covered with the first two hours of tuition, and you can opt to have a supply of new pupils whenever you need it.
If you've asked us for new pupils, as soon as we have a new pupil for you we'll be able to notify you quickly by SMS on your mobile.
Advertising and publicity
To help generate pupils for your business, we run extensive marketing and advertising campaigns throughout the year covering every area of the country. We also provide you with access to a selection of professional marketing materials which you can personalise to attract your own pupils locally.
Professional development
As a driving instructor, you'll want to keep your skills up to date, and you might also be interested in diversifying to increase your income potential. We always encourage this, and provide opportunities for Continuing Professional Development (CPD).
Instructor for BTEC in Driving Science
As part of our commitment to help reduce accidents involving newly qualified drivers, we can now offer your the chance to become an accredited BTEC trainer in Driving Science. This is the world's first academic qualification in novice driver training, and your chance to pioneer a revolution in young driver training.
Police Diversionary Schemes (Driver Improvement and Speed Awareness)
AA instructors can train to take advantage of the increased demand for post-test training aimed at lowering accidents due to driver error, attitudes and behaviour. Typically this training is offered following careless driving or speeding offences. This training also counts towards your CPD.
Corporate Driver Training
Our B2B teams are active in securing contracts with corporate clients to deliver driver training to company car and van drivers. By upgrading your qualifications with our corporate driver training course, you could provide assessments and training to industry fleet managers.
Find out more
If you'd like to find out more about our driving instructor franchise, call us on 0800 587 0086, or follow the link below for more information.