Try to check the oil level on the dipstick every couple of weeks and before any long journey. If you need to top up then make sure you use oil of the right grade and specification.
The choices in the garage or car accessory shop can be quite bewildering, so here's what you need to know.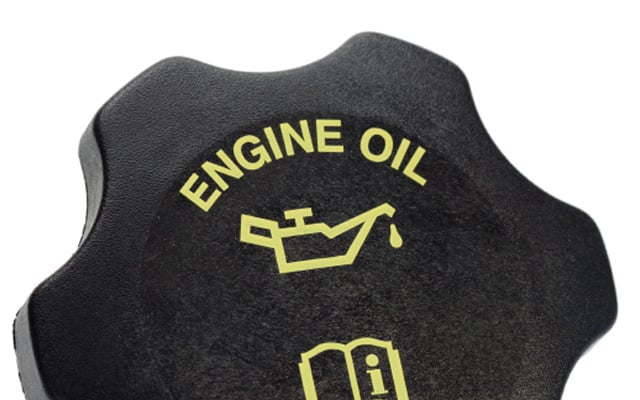 ---
Lubricating oil prevents moving metal components seizing or bonding with each other. Modern car engines need oils that are really durable, and last for many thousands of miles between services.
The fact that modern engines can often achieve 200,000 miles without any major work is largely because of improvements in the quality and durability of engine oils.
Modern oils protect against corrosion and sludge formation, and contain detergent additives to keep the engine clean.
The oil also holds the by-products of combustion, like soot particles, in suspension so they don't clog up the engine.
Some vehicles have longer intervals between services. Car makers select a particular oil grade and specification to match the needs of the engine and protect it for those extra miles.
Check your oil
It's never been more important to check oil level regularly.
Extended service intervals, smaller capacity sumps, turbo chargers and the use of lower viscosity synthetic oils can all add up to higher oil usage.
With a smaller sump capacity, letting the oil level drop in a modern engine is more likely to increase engine wear – reduced volume means that oil will spend less 'recovery time' in the sump cooling down before circulating around the engine again. Hotter oil will breakdown and oxidise more rapidly.
Oil grade (viscosity)
Engine oils are graded according to their viscosity – basically how thick or thin they are. Viscosity changes with temperature.
Modern oils have a lower viscosity. This means they're thinner, helping the engine turn over more easily, and ensuring that the oil can circulate quickly around the engine soon after start up. Thinner oil helps fuel consumption too.
Oil operating temperatures range from a cold start in winter to normal driving conditions in summer. To meet this need, engine oils are 'multi-grade' – additives known as viscosity improvers are used to give them one viscosity when cold and another when hot.
Both grades will be marked clearly on the oil container, eg 5W–30. The first number is the winter or cold temperature grade, and the second the high temperature grade.
Check the car handbook for details of the grade(s) of oil that can be used.
Oil specifications
All engines are not the same, so it shouldn't be a surprise that oils are not the same either.
Working together, the oil companies and car manufacturers, have developed a series of engine tests and performance specifications for engine oils to ensure compatibility with the latest engine technologies and service schedules.
Around the world there are different sets of standards for engine oils. Labels on engine oil containers may quote specifications from The American Petroleum Institute (API), the CCMC/ACEA (European Constructors), ILSAC (The International Lubricant Standardization and Approval Committee) or JATO (the Japanese Automotive Standards Organization). You will also see reference to car manufacturers' own specifications.
Generally, later specification oils are backwards compatible – they can be used in older cars. This is not always the case, though, particularly with 'fuel-economy' oils. Older specification oils should not be used in newer cars.
Manufacturer's specifications
Many car manufacturers develop their own engine oil specifications, most notably Volkswagen and Mercedes-Benz, but also BMW, GM, Porsche, PSA and others. These are increasingly very specialised 'longlife' oils essential to support service intervals extended up to 2 years or 30,000km.
CCMC/ACEA (European Constructors) Specifications
A summary of ACEA specifications illustrates the range of oils available and the importance of checking the handbook and using an oil of the right specification for your engine.
Petrol
A1 Fuel economy petrol
A2 Standard performance level
A3 High performance and/or extended drain
A5 Fuel economy petrol with extended drain capability
Diesel
B1 Fuel economy diesel
B2 Standard performance level
B3 High performance and/or extended drain
B4 For direct injection passenger car diesel engines
B5 Fuel economy diesel with extended drain capability
Heavy-duty diesel
E1 Non-turbo charged light duty diesel
E2 Standard performance level
E3 High performance and extended drain
E5 High performance and extended drain including some API specs
E6 Euro 4 engines – low SAPS (sulphated ash, phosphorous, sulphur) for vehicles with a diesel particulate filter
E7 Euro 4 engines – exhaust after treatment /exhaust gas recirculation
Diesel vehicles with a diesel particulate filter
If you have a diesel car fitted with a diesel particulate filter (DPF) you must use one of the latest 'low SAPS' (Sulphated Ash, Phosphorous, Sulphur) oils. Using 'normal' oil instead of low SAPS can result in blocking of the DPF.
C1 Low SAPS (0.5% ash) fuel efficient
C2 Mid SAPS (0.8% ash) fuel efficient, performance
C3 Mid SAPS (0.8% ash)


Check the vehicle handbook
The vehicle handbook includes information about the specification(s) of engine oil that are suitable for your engine. ACEA/API specifications will be marked clearly on the pack label.
Where a manufacturer's own specification is quoted in the handbook then you must look for this on the oil container label. In some cases manufacturers will specify an acceptable equivalent ACEA or API specification too. This might be for 'emergency top-up only' though.
If you're having difficulty finding oil of the right specification, the parts department of a manufacturer's dealer will be able to help.
(Page updated 5 November 2012)