Log in or register
close
My AA Account
Sign in to see your cover and request assistance online
Don't have a My AA account?
You'll need your policy or membership number
Daihatsu Terios 1.5 SX
It's a proper 4x4
July 2006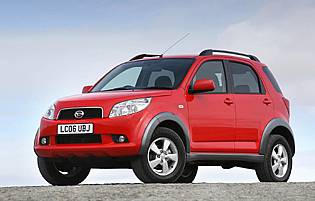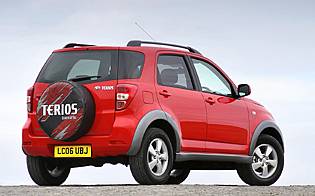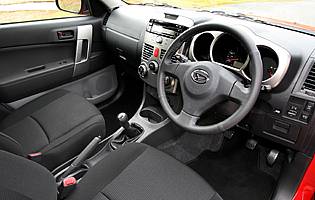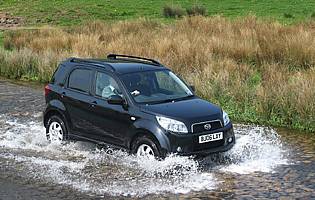 Likes:
Impressive cabin build quality – better than its predecessor
Interior space is on a par with a conventional supermini
Despite its size, off-road it's a proper 4x4
Daihatsu's reputation for building durable cars is evident
Gripes:
Road and wind noise is obvious at motorway speeds
Sole 1.5-litre petrol engine option is noisy when pushed hard
Cabin is predominately black, which can make it feel a little gloomy
External spare wheel helps ground clearance but is liable to theft
There's never been a lot of demand for a compact, supermini-like vehicle boasting permanent all-wheel drive. That hasn't stopped Daihatsu from persisting with the format, which is why we have the Terios. Outside its native Japan, the Terios is something of an oddity. But the combination of Honda-like levels of durability, supermini dimensions and all-weather adaptability is an intriguing combination for some buyers.

If you're considering a Terios, there's a real chance it's because there's nothing else available with the little Daihatsu's combination of attributes. It's true that small, rugged yet refined off-roaders are a scarce commodity. And it's a fact that Daihatsu knows all too well.

In Daihatsu's homeland, slightly left field cars flourish, if only because you've got to produce something to stand out in a market close to saturation point. Elsewhere it's a slightly different matter: such an odd combination of features as present in the Terios tend to have consumers scratching their heads. The more enlightened ones, however, know the car's real worth.

Originally a genuine oddity thanks to its tall, slim upright cabin, this Terios has grown slightly in size - as have so many conventional supermini models. Unlike regular family runabouts, the Terios doesn't feel or look bloated. In fact, it's actually made the car more of a mainstream proposition.

True, it will never compete with the likes of Ford's Fiesta or Fusion, but this Terios now makes more sense. It can cope with a growing family and their clobber, and it feels more stable on the road at all speeds. It's also more European in its cabin design and rivals many European offerings in the build quality department. And then there's its permanent four-wheel drive system and off-roader stance, attributes that make it something of an all-weather winner.


Our verdict on the Daihatsu Terios 1.5 SX
No longer the oddball mini 4x4 it once was, the Terios is now a car that happily combines its off-roading capabilities with the ability to play supermini and motorway mile muncher when asked. Cabin ambience and build quality have taken significant leaps forward, and the car's bigger dimensions make it more practical. If only the engine was a little more powerful. As it it's adequate, and illustrates Daihatsu's modest corporate personality, which is a shame because the rest of the car is so good.