Online Assessments and Training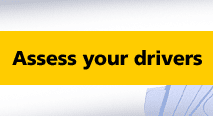 Online Assessments and Training is designed to help you make reasonable attempts to assess your drivers' competence, and provide remedial training where necessary.
Online Assessments and Training helps you
meet your 'duty of care' obligations under HSE (Health and Safety Executive) legislation
target training to 'at risk' drivers to remedy faulty driving
reduce the accident rate/vehicle abuse due to faulty driving
reduce fleet operating costs through improved driving skills
save time by minimising manual intervention
provide online results of drivers' assessment and training activities
ensure a continual improvement plan, with data fed into our central information system
Find out more about Online Assessments and Training.
For enquiries, call us on 0800 52 10 72. Lines are open 9am to 5pm Monday to Friday.
Or complete our Risk Management Enquiry Form and one of our customer advisers will contact you.