Car Recalls
Has your car got a safety defect?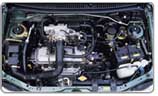 Is your car safe? Has the manufacturer recalled your car because a fault has been identified?

Search official recalls from 1995 onwards to check if your car has been affected.
Use this search if you:
Are buying a used car
Have moved house since you bought your car
Have bought a new or used car
Useful information
1. See the Code of Practice for a full explanation of how recalls work.

2. To confirm there are no recalls on your vehicle, or that the repair/inspection required by a recall has been carried out, please contact the vehicle manufacturer or importer.

Please remember we update the site once we have received the official bulletin from the Vehicle Inspectorate (June and January). Recall information launched since the last bulletin is only available from the manufacturers.
Other products & services
Related information
The information provided on vehicle recalls is for information purposes only. While the AA has taken care in the preparation of recall information, and the information presented is believed to be reliable, the AA does not represent that such information is accurate, comprehensive, verified or complete, and shall not assume or accept any liability (whether in negligence or otherwise) for the accuracy or completeness of such information or for any reliance placed by any person on the information. Nor shall the AA be under any obligation to advise any person of any error in information provided. The AA shall not be liable for any damages (including, without limitation, damages for loss of profits, business or other consequential loss) which may arise from any use of, or reliance upon, or inability to access, the information.

To confirm that there are no recalls on your vehicle, please contact the manufacturer or importer of the vehicle for final confirmation.

10 February 2010