Renault Megane 1.6 GT
December 2015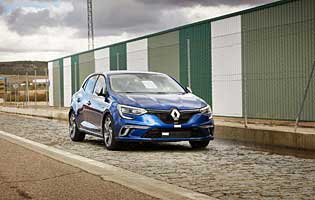 The Megane is a striking, imposing and handsome car
Ratings
Overall rating
Value for money
Costs
Space and practicality
Controls and display
Comfort
Car security
Car safety
Likes
Attractive design makes it stand out UK roads
Comfortable in the front and the back
GT model is quite fun to play with
Slightly unusual choice in a sea of SUVs
Gripes
Diesel engines are sluggish compared to the GT
The GT version isn't as performance-orientated as it could be
Touchscreen infotainment system is cumbersome to use
Some interior plastics feel cheap
Thanks to a new platform and design language, the new Megane is a huge step forward from the previous generation. It looks fantastic, drives pleasingly, and has plenty of the French style we used to expect from Renault.
The new Megane competes with brilliant rivals such as the Ford Focus and Vauxhall Astra. They all follow a similar family-friendly format, but Renault has always put a huge emphasis on style. As such, the Renault Megane is probably the best-looking car in the sector.
The Megane comes in three main flavours: petrol, diesel and GT. The GT version uses a 1.6bhp petrol engine to produce 202bhp - a fairly swift car, but certainly a 'warm hatch' rather than a hot hatch by modern standards.
A new platform has improved not only the way the car drives, but also the amount of space and the interior layout of the car. All passengers can enjoy improved legroom compared to the outgoing model. The GT version is further improved with supportive seats and innovative four-wheel steering.
It's the exterior design of the car that really stands out though. It's a strikingly beautiful car when you consider that it's just a family hatchback. Big, theatrical styling at both ends makes it instantly recognisable, even in the dark.
Our verdict on the Renault Megane 1.6 GT
The Renault Megane is a good-looking family car with all the practicality and function you'd expect from a car in this sector. What it lacks is the dynamic driving experience of the Ford Focus, but what it offers over all its competitors is a stylish exterior.
Costs

The Renault Megane will be available for less than GBP20,000, making it good value. The GT model is expected to cost more than this, however, and when driven with any enthusiasm the fuel economy takes a serious downward turn.
Space and practicality

The boot is 384 litres, putting it largely in like with competitors such as the Focus and the Astra. It's quite square in shape, making it easy to fill, but it does have a pronounced lip, making it more difficult to load. Oddment boxes throughout the cabin are adequate but there could be better-designed cupholders. The Megane is, overall, a practical family car.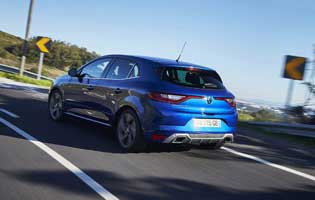 Tail lights stretch across nearly the whole boot lid
Controls and display

The central display screen is adequate, but doesn't do the exceptional job that a large portrait interface does on premium cars. The system does lag sometimes, and isn't as responsive as more sophisticated touchscreen technology. Most of the controls are in a very familiar pattern, apart from features such as the audio stalk that is mounted where you least expect it. The gearbox paddles on the steering wheel are in an awkward position that takes some getting used to.
Comfort

This is where the Megane, and many other Renaults, comes into its own. The space inside is good, larger and more spacious than both the previous Megane and the other cars in the category. Parts of the interior aren't quite as ergonomically designed as competitors though, the audio stalk being one of the most noticeable features in an unexpected place.
Car security

Security and central locking in the Renault Megane is expected to be good, though the model lacks some of the more sophisticated door and boot opening systems found on premium models.
Car safety

A wide range of safety features are in place, including collision warnings. The technology will make beeping noises when it perceives a threat, which is often in perfectly safe situations. There's no reason why the Megane would score less than five stars when tested by Euro NCAP.
Driver appeal

Renault sells the GT as a fun car to drive. It's good, but it isn't a performance car - it's a warm hatch with gimmicks like launch control. It's not as fun to drive as the Focus (in standard or ST form) and has vague steering and throttle inputs until you engage sportier driving modes. Even then, the driving experience is relaxed rather than athletic, and the presence of pretend engine noises in the cabin could ruin the experience for some people.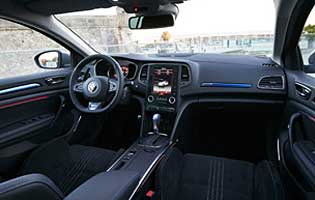 The inside of the Megane is pleasant but not lavish
Family car appeal

This is a brilliant family hatchback with Isofix points, storage space, and the other trappings of practicality that make a good, child-friendly wagon. It also shows that family cars don't have to be boring to look at.
First car appeal

The Megane would be an adequate first car, but not in GT spec. There are too many settings that allow exuberant driving, and the insurance would quickly become very expensive. New drivers who need something larger than the conventional Polo or Corsa should look at the Megane in its most basic form, or choose an Astra or Focus instead.
Quality and image

It looks and feels like a high-quality vehicle. The exterior is particularly upmarket, and seems to exude a certain 'Frenchness' that Renault hasn't been able to achieve for years. Inside, the same is somewhat true - there are scratchy plastics and bits of faux-metal trim that don't feel premium. The touchscreen feels old fashioned to anyone who's used more modern systems.
Accessibility

It's about as easy to get into and out of as any other family hatchback. Increased legroom in the back means rear passengers have a slightly easier time getting comfortable, and the supportive seats on the GT model are only slightly more shaped than a conventional car seat. Door apertures are wide and the seats themselves are adjustable.
Stereo and ICE (In car entertainment)
The portrait touchscreen that controls the infotainment system is nothing like the one you may have seen in the Tesla Model S. It's an old-fashioned, somewhat cumbersome setup that won't be intuitive to use for many drivers. As part of the Megane GT 'driving experience', engaging certain engine modes will cause artificial engine noise to be pumped into the car's stereo. The audio control stalk is mounted on the steering column, roughly where the cruise control stalk would be on a better-designed car.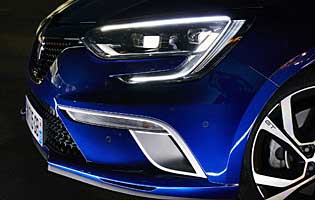 The lights are the most immediately recognisable design element
Colours and trim
The Renault Megane is available in most of the more popular colours. Its shape is very striking, even from far away, meaning that those interested in the image of their car will find it easily the most attractive choice out of the boring range of family hatchbacks. Angular headlights and full-width tail lights are distinctive external touches, while the interior is largely tasteful apart from some cheaper plastics.
Parking
The Megane is a very easy car to park thanks to good front and rear visibility. 360-degree parking sensors make it even easier and the doors are easy to get out of, even in small spaces. The C-pillar does obscure the view of incoming traffic when pulling out of a parallel park, however.
Spare wheel
Emergency tyre repair kit supplied as standard, space-saver spare optional.
Range information
Petrol engine options - 1.6-litre (202bhp). Diesel engine options - 1.6-litre (163bhp) Transmission options - dual-clutch automatic, six-speed manual.
Alternative cars
Ford Focus Incumbent class leader with good performance and handling
Volkswagen Golf A common choice but with an expensive options list
Vauxhall Astra Potential class-leader and a strong choice for families
Nissan Pulsar A boring car with good passenger space
Over 1,200 more car reviews online
All the reports since 1990 are available on this site, just search by make and model below.
Other products & services
Related information
December 2015