Vauxhall Astra 1.0 Turbo EcoFlex Tech Line
October 2015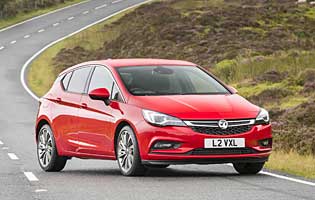 The Astra's design is pleasant and inoffensive but not memorable
Ratings
Overall rating
Value for money
Costs
Space and practicality
Controls and display
Comfort
Car security
Car safety
Likes
Smooth engine offers a refined experience for relaxed drivers
Excellent front seats offer high levels of comfort
Good handling characteristics make it fun to drive
Large colour screen interface is among the industry best
Gripes
Poor quality cabin materials in too many areas
Engine does not have the power of some alternatives
Overly light steering does not inspire driving confidence
Deep boot load lip makes offloading large objects difficult
The styling might be familiar but this generation of Astra is based on an all-new chassis that takes advantage of weight-saving techniques to cut as much as 200kg from its predecessor in certain like-for-like comparisons. New engines are also integral to the model's renewed assault on the compact family hatchback market, including a downsized and turbocharged 1.0-litre petrol.
A small engine in what was once considered a large car is no longer unusual. Rivals like Ford and Volkswagen have been installing their smallest turbocharged petrol engines into their Astra rivals for several years, so Vauxhall is really just playing catch-up. Its intent is to offer a better entry-level choice for people who want to avoid diesel.
As part of a new engine family, the 1.0-litre unit promises better performance than older non-turbocharged equivalents along with improved fuel economy. The other benefits of petrol over diesel, like smoothness, quietness and faster warm-up, are all left intact.
The lighter new platform is a key enabler for the engine. It is not built for outright speed and would have struggled to haul the heavier older car along. Less weight means the car tends to ride better, drive more smoothly and, on smaller wheels at least, absorb bumps impressively well.
The interior is something of a let-down, though, with a disappointing mix of materials and too many that look cheap, feel cheap or both. High-spec models rectify this with a spread of leathers and contrasting stitching, but the lower models feel somewhat utilitarian. Sales are expected to remain biased heavily towards fleets and company car users.
Our verdict on the Vauxhall Astra 1.0 Turbo EcoFlex Tech Line
The Astra is a straightforward car that offers no more or less than many people will expect. It drives with more smoothness and comfort than before, the 1.0-litre engine is adequate for everyday use and the overall package is close to being as versatile as any car of this type can be. Particularly good front seats offer lots of lumbar support, which makes for an enduringly comfortable experience on the motorway, so it's just a shame about the interior on low- to mid-range models.
Costs

Vauxhall is well known for offering big discounts on its cars, especially where models are technically new but pre-registered. Mid-spec Astras can therefore be bought for very low prices. Resale values are low for some models, so it's worth checking the specific details. Fuel economy for the 1.0-litre turbo engine is excellent, especially when used gently. Insurance is modest and servicing should be very affordable.
Space and practicality

The boot is a good size but is not the most practical shape, with a deep load lip preventing easy loading and unloading of heavy or large objects. A ridged base does help stop smaller items and soft luggage rolling from side to side, though. A compact folding pushchair will fit into it, but little else after that. Inside the cabin the glove box is huge, but the door pockets could be better thought-out.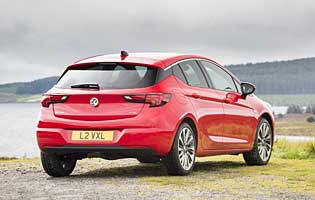 A small rear window restricts visibility slightly
Controls and display

The central display screen is both large and sharp, with clear and engaging graphics. It's easily one of the best interfaces among mainstream cars of any type. That said, its functions must be explored, which takes a little time but then becomes intuitive. The rest of the controls fall into a mostly logical and familiar pattern.
Comfort

Going no larger than 17-inch wheels is a wise move, because on these smaller rims the Astra rides very well. It thunks over sharper bumps and motorway expansion joints but generally cushions blows in comfort. Legroom is good for all on board, and in the rear it almost matches the larger Skoda Octavia. The front seats are extremely comfortable, with prominent lumbar support especially helpful for long drives.
Car security

Press the remote key fob's lock button and not just the doors lock. The fuel filler lid also locks to prevent fuel theft, while deadlocks are also installed to stop thieves smashing windows and opening the car from the inside. Locking wheel nuts are standard on all models with alloy wheels.
Car safety

An expanded Electronic Stability Programme system is standard, taking care of safety under emergency manoeuvres. For a price, a Perimeter Protection Pack can be added, consisting of an automated parking assistant, a blind spot alert system and electrically folding door mirrors that help stop the mirrors being bashed and broken.
Driver appeal

Thanks to its extensive weight loss versus its predecessor, the car has a new lease of life when it comes to driving enjoyment. It grips well, turns keenly despite very light steering that robs a little cornering confidence, and under more relaxed use this engine proves smooth, easy-going and quiet. It doesn't have enough power or torque to make the Astra feel particularly brisk, but it's very linear and driver-friendly.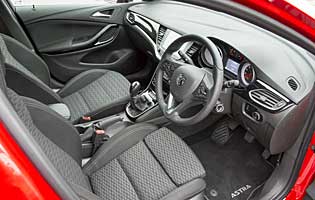 Astra interiors are heavily specification-dependent
Family car appeal

Young families are the principal buyers of the three in 10 Astras that are sold to private individuals. With plenty of rear seat space, Isofix child seat mounts and the ability to turn the front passenger side airbag off, the Astra has all the key bases covered. Higher seats would make it slightly easier to install child seats, though, and the car lacks any of the parent-focused features on Vauxhall's own outstandingly clever Meriva.
First car appeal

For a new driver whose needs preclude a smaller, more typical car like Vauxhall's Corsa, Adam and Viva, the Astra would make a very sensible choice. Especially so with this engine, which is very forgiving and easy to use without risk over over-stepping in terms of performance capability. It's an undemanding car to drive and, rear visibility issues aside, is no harder to pilot than a Corsa.
Quality and image

The tangible quality inside the car is a disappointment, but the excellent infotainment interface does partially redeem Tech Line models and upwards. Vauxhall is making slow but steady progress in terms of build quality and reliability, and is now comfortably mid-table in ownership surveys. It is on par with the Ford Focus in most respects, but lags behind some pricier options.
Accessibility

As a compact family hatchback the Astra is designed for ease of use and access. Some older people prefer seats a this height because they are easy to simply turn and drop on to, while people with better personal mobility might prefer something slightly higher for the visibility advantages it may offer. The doors, including the boot lid, are light and easy to open.
Stereo and ICE (In car entertainment)
Connectivity is a big part of the Astra's identity. An MP3-compatible CD player, Bluetooth, sat-nav including street-level mapping for the UK and Ireland plus major routes for Western Europe, AUX-in socket, USB connection with iPod control, an AM/FM radio with 36 station presets and six speakers are all standard at this level. There are also steering wheel-mounted audio controls. This trim grade does not include an alarm.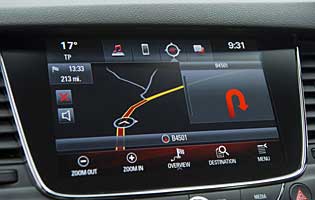 The boot is large but has a deep lip over which bags must be loaded
Colours and trim
Vauxhall has covered all he important bases with whites, reds, blacks and silvers, with enough other colour options to leave little cause for complaint. The car's shape is slightly bland from some angles, though, and a bright colour helps to lift it a little. The interior trim is a big disappointment in this car, though, with a cheap rubberised handbrake lever and unattractive plastics dotted around. The leather steering wheel is the trim highlight.
Parking
The Astra is a simple shape and a compact volume, but isn't quite flat at the back, which could prey on some less confident drivers' minds when reversing into a space. Parking sensors are optional for this model and come as a package both at the front and the rear. Visibility is good, so a confident driver will have no problems manoeuvring the Astra at low speed, but many rivals include parking aids as standard.
Spare wheel
Emergency tyre repair kit supplied as standard, space-saver spare optional.
Range information
Petrol engine options - 1.4-litre (99bhp); 1.0-litre turbo (103bhp); 1.6-litre (113bhp); 1.4-litre turbo (138bhp). Diesel engine options - 1.3-litre (94bhp); 1.6-litre (108bhp, 134bhp); 2.0-litre (163bhp, 192bhp). Transmission options: five and six-speed manual gearbox depending on model, plus auto gearbox (selected models only). Trim levels: Design, Excite, Limited Edition, Tech Line, Tech Line GT, SRi, BiTurbo, Elite.
Alternative cars
Ford Focus Good to drive and with a much-improved interior
Volkswagen Golf Superlative all-rounder but with expensive prices
Volkswagen Golf Superlative all-rounder but with expensive prices
Kia Cee'd Very solid and good to drive, with new small turbocharged engine options
Nissan Pulsar Class leader for rear legroom, but otherwise quite dull
Over 1,200 more car reviews online
All the reports since 1990 are available on this site, just search by make and model below.
Other products & services
Related information
October 2015