Audi A4 2.0 TDI 150 SE
October 2015
Clean new exterior design is evolutionary but attractive
Ratings
Overall rating
Value for money
Costs
Space and practicality
Controls and display
Comfort
Car security
Car safety
Likes
Styling is derivative but much improved
Excellent cabin, packed with relevant technology
Refinement is first-rate with low noise levels and comfortable ride
Efficient engines are quiet, frugal and responsive
Gripes
Steering is accurate and faithful but lacks feedback
Needs appropriately-sized alloy wheels to look its best
Time required to become familiar with all the on-board systems
Could still be mistaken for the previous model
It is a crucial time for the compact premium saloon segment, as almost all of the contenders within in it are brand new or have been refreshed. The latest offering to appear in a new form is Audi's A4, one of the best-selling in the segment and one of Audi's best selling cars full stop.
It was the first A4 that arrived in the mid-1990s that kick-started Audi's growth into a major player in the premium segment and twenty years later it remains one of the brand's most crucial products. Rather than just a facelift, this B9 generation A4 is all-new and benefits from the company's latest thinking in technology, mechanicals and quality.
Although familiar in some respects the A4's exterior is all-new, uses more aluminium in its construction than ever before to reduce weight, plus it is the second-most aerodynamic production car in the world according to Audi, with a drag co-efficient of just 0.23. With up to 120kg of weight saving on some models the A4 promises to be significantly more efficient than the outgoing model.
Mechanically the A4 enjoys the latest range of Audi petrol and diesel engines, including the 1.4-litre TFSI petrol as the new entry-level engine and the updated 2.0-litre TDI unit available in two power outputs. Also the new A4 enjoys a new suspension setup with a more sophisticated independent arrangement at the rear, designed to improve both handling and ride.
Inside the Audi claims that the A4 is more refined than ever, with lower noise levels and higher quality materials. The A4 can also be specified with the latest generation Audi technology already seen on other models such as the virtual cockpit, rear seat entertainment and Traffic Jam Assist to name a few.
Our verdict on the Audi A4 2.0 TDI 150 SE
While the A4's key rivals have seemingly concentrated on being the last word in sporting saloons, Audi has concentrated on making its new challenger more comfortable and refined than before, and to great effect. In many ways it feels like a scaled-down A8 limousine and is likely to prove very satisfying to own. Still good to drive if not the last word in fun, it nonetheless is a complete car.
Costs

Running costs for the high-power diesel A4 should be impressively low, with potential fuel consumption being very low indeed for a car of this class. The other side of the coin is premium-priced servicing to go with the premium badge. Residual values will in theory remain strong, but the market can become saturated with models like these, which forces prices down.
Space and practicality

Incremental improvements in head and legroom front and rear as well as increased boot space all add up to increased practicality. The saloon version will never offer as much space as the estate, but for this bodystyle there are no complaints, even from adults stationed in the rear seats.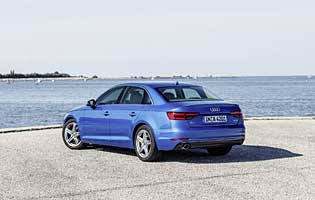 Rear design is cleaner and more attractive than before
Controls and display

Audi continues to lead the way in this area, with carefully chosen instrument graphics and attractive, clear displays. The optional virtual cockpit is a welcome and useful option, allowing the driver to concentrate more easily on the road ahead. The latest generation MMI interface is also slick and easy to use.
Comfort

The A4 manages to establish some clear ground between it and its key rivals in terms of comfort. Ride quality is above average but it is the low noise levels and overall refinement which are beyond the class best. Supportive seats and the option of laminated side glass all contribute to an impressive level of comfort.
Car security

Aside from the standard alarm and immobiliser fitment the A4 offers features such as laminated side glass which prevents even determined thieves from gaining entry, while the contents of the boot remain hidden thanks to the saloon configuration.
Car safety

With a lower kerb weight yet a stiffer structure the A4 has improved its passive safety performance whilst on the active safety front this is the most sophisticated compact Audi by some margin. Features such as Traffic Assist are likely to find favour and are a big part of reducing fatigue as well as avoiding collisions.
Driver appeal

All A4s come with the Audi Drive Select system which allows the driver to tailor the car to suit their requirements. Primarily, however, the A4 appears to be biased towards comfort rather than a sporting drive, but the reality is that this will suit the majority of drivers for most of the time. Regardless, the major controls operate with assured slickness while the powertrain delivers smooth and effortless performance.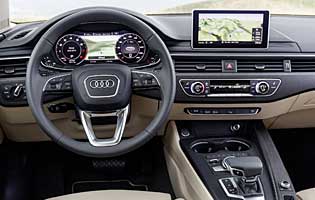 Impressive cabin is well specified and of a very high quality
Family car appeal

There's no reason why the A4 couldn't provide perfectly useful family transport, with good space in all seats and the capacity to handle full-sized child seats in the rear and larger pushchairs in the boot. Only the issue of sticky fingers on cloth trim could cause headaches.
First car appeal

The A4's sensible premium image is unlikely to appeal to new drivers, while on a more practical level it is likely to be too expensive to buy and insure for the newly qualified.
Quality and image

Audi has built its success on high-quality products. All its key rivals are reaching ever-higher levels, but the latest generation A4 displays a commitment to first-rate quality for the sector. It is good enough to feel close to the class above in terms of fit, finish and the standard of materials used. All of this contributes to the A4's strong image; for some it will be a default choice for their next purchase and its premium feel is a big draw.
Accessibility

There are no issues whatsoever with gaining entry to the A4. Front and rear doors open wide to give a sizeable aperture for entry and exit, while the boot lid opens high and beyond the vertical position to give easy access to the boot. Optionally the boot can be opened by gesturing with the foot beneath the bumper area.
Stereo and ICE (In car entertainment)
As with all modern Audis there are a wealth of options in respect of audio and infotainment. The standard equipment includes a seven-inch screen with the latest generation Audi MMI interface, plus DAB radio, auxiliary and USB inputs plus Bluetooth. The options stretch as far as in-car WiFi and rear-seat tablets, which means there's a setup to suit all needs and budgets.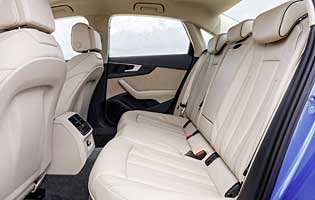 Rear seat space has been improved significantly over previous model
Colours and trim
Sober colours will inevitably prove to be popular for the A4 but brighter shades do suit it, particularly the light blue shade available from launch. Inside it is the usual mix of conservative colours but tan finishes and the option of aluminium or carbon fibre trim do give more room for personalisation.
Parking
Good visibility, light steering at low speeds and the ready availability of parking sensors, cameras and self-parking software means the A4 is a straightforward machine to get parked. The only possible issue how easy it is to kerb the larger alloy wheel options.
Spare wheel
Emergency tyre repair kit supplied as standard.
Range information
Petrol engine options - 1.4-litre (148bhp); 2.0-litre (187bhp, 249bhp). Diesel engine options - 2.0-litre (134bhp, 187bhp); 3.0-litre (215bhp, 242bhp, 268bhp). Transmission options: Six-speed manual or seven-speed dual-clutch automatic gearbox depending on model. Trim levels: S, SE, Sport, S Line.
Alternative cars
BMW 3 Series Key rival is a sharper drive but less comfortable as a result
Jaguar XE Best blend of handling and comfort, some versions look weedy on small wheels
Mercedes-Benz C-Class Great cabin and smart looks, slightly wooden driving experience
Lexus IS Sharp, alternative design, excellent quality but middling to drive
Over 1,200 more car reviews online
All the reports since 1990 are available on this site, just search by make and model below.
Other products & services
Related information
October 2015