Audi R8 V10 Plus
September 2015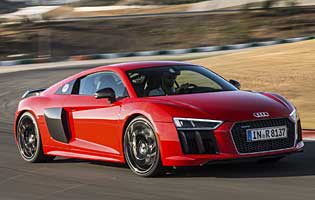 Large air scoops are an odd new design on the familiar R8 shape
Ratings
Overall rating
Value for money
Costs
Space and practicality
Controls and display
Comfort
Car security
Car safety
Likes
Frenetic V10 engine offers high-revving thrills
Advanced interior technologies are engaging
Magnetic Ride provides comfort and control
Much cheaper than some rival cars
Gripes
Air scoop shape lends odd proportions
Many desirable features are not standard
Less mid-range torque than turbocharged rivals
Instrument cowl reflects badly in driver's sight line
After a surprisingly long lifespan, the original Audi R8 has been replaced with a more technologically advanced version, but because of the strides made in making cheaper Audi models faster by using turbocharging, the R8 is now available only with a V10 to ensure it remains the fastest of the brand's cars by a clear margin.
The styling has changed significantly, with the tall, colour-contrasting side panel of the old model now replaced with a smaller trim piece behind the door. The large air scoops on the side lead into a mid-mounted engine as before, but the 5.2-litre power unit is more powerful. Unusually, the scoops taper inwards towards the rear, which makes the car look slightly odd.
Two versions of the car will be built, with the more expensive Plus version benefiting from more standard equipment, more power and increased bragging rights, but the standard R8 can still be specified with many of the key features that many buyers will want; the most important of which may be the plush and adaptive Magnetic Ride suspension.
Often seen as a cut-price supercar in both positive and negative ways, the R8 and its step-sister car the Lamborghini Huracan are now the only two supercars in this category that retain a normally aspirated engine. Some buyers could see this as a defining and essential feature. More expensive rivals from McLaren and Porsche are turbocharged.
Audi has fitted the R8 with all the technology at its disposal, from the latest version of its fast-shifting twin-clutch automatic gearbox to a fully-digital instrument binnacle. In many ways the R8 feels much like any other high-end Audi. This is a factor that will count both for and against it, depending on the buyer.
Our verdict on the Audi R8 V10 Plus
The R8 is a hugely impressive car with exceptional reserves of grip and balance that extend way beyond the talents of most drivers. It has a greater breadth of talents than before, and it's supremely effective at translating power from its engine into speed on the road. It's an easy car to enjoy and, with safety systems engaged, an easy car to drive quickly, for which it rightly earns praise.
Costs

The R8 is far from a cheap car but is many tens of thousands of pounds cheaper than some cars to which it might be compared. There are alternatives that are cheaper still, but the R8 justifies its price tag with several unique selling points. Fuel costs will obviously be expensive and insurance will be beyond the financial reach of most people.
Space and practicality

There is poor provision for luggage in the R8, which seems like an oversight because the car can be set up to be usable every day, if desired. There is a shelf behind the two seats that could be used for small bags or coats, while between the front wheels is a deep but narrow luggage bay. This isn't suitable for large cases and might not even accommodate smaller ones depending on their shape. Soft bags not packed to bursting are best to ensure a comfortable fit.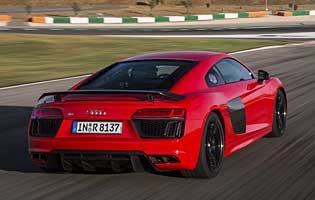 Distinctive styling marks the R8 out from the crowd
Controls and display

The Audi virtual cockpit is a deeply impressive system once a user becomes fully versed in its wide array of functions. It represents the biggest shift in in-car control systems layouts for decades, and does take some getting used to. A lot of functionality is condensed into a small number of controls and displays, and while it is all very high quality the complexity could become frustrating for some owners.
Comfort

Plus cars can be specified with a track-biased suspension setup, which also proves suitable for smooth, winding European roads. In Britain the better option is Audi's Magnetic Ride, which allows much more supple behaviour over bumps and ridges, while stiffening up on request for more rigid body control. The seats are firm with little padding, but they are shaped so that they keep spines and thighs at the optimum angles.
Car security

Not only does the R8 come with an alarm and immobiliser as standard, of the highest calibre that Audi possesses, but it also has preparation for a tracking system. Should one be fitted, the car will be vastly easier to trace in the event of a theft. It must be noted that the car will attract lots of attention, though, and could be more vulnerable to vandalism than most cars.
Car safety

Wide, premium tyres ensure a very solid hold on the road. Airbags are located at the front, front corners and sides. Furthermore, a complex mesh of active safety systems covers stability under acceleration, braking and cornering. A seat belt reminder will sound a warning if belts are unbuckled while the car is in motion, but on Plus models this only applies to the driver's seat.
Driver appeal

Few cars are this much of a joy to drive hard, and thanks to the high-revving engine and huge grip from wide tyres, the car invites an attacking driving style. It is almost impossible to reach the car's limits on the road, but engaging 'dry performance' mode allows the rear to slide a little. At the limit, it becomes as visceral as even the most aggressive driver could wish for. The big black mark is the highly distracting and visibility-reducing reflection from the instrument cowl.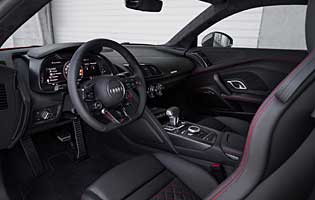 A highly advanced interior is complex and takes time to figure out
Family car appeal

Little thought has been spared for family tasks because by the R8's nature it is not built to cater for children's needs. The standard version does actually have an ISOFIX child seat mount on the passenger seat, but other than that there is little to suggest that this car could cope with family life. The boot is too small, the seat height is too low and it is hardly budget-friendly.
First car appeal

The closest a typical first-time car buyer is likely to get to this car is via a poster on their bedroom wall, or courtesy of a generous salesperson who will let them sit in one for a minute. The R8, with all its power, width, restricted sight lines and expense is simply not suitable for a new driver.
Quality and image

As the flagship sports car built by a company famed for its materials quality even in its mid-range cars, the R8 benefits from a superb array of tactile surfaces that create an immediately positive impression, even if the eventual realisation is that high-grade A6s and the like are actually almost as nice and feel perhaps a little too closely related. On the mechanical side, the free-revving V10 engine feels precise and sharp, helping to boost the impression of quality.
Accessibility

The R8 is low, and the Plus model is even lower than the standard car. The Plus also has bucket seats as standard, and while there is electric height adjustment on them the seats have large, supportive bolsters that can make it difficult to get in without rubbing against them, which, in the longer term, will damage them. Care is needed.
Stereo and ICE (In car entertainment)
Both versions of the car share the same standard connectivity system based on the 12.3-inch 'virtual cockpit', which is a screen through which most of the car's accessible functions can be controlled. It's a complex system to navigate around but basic audio controls can be found on the steering wheel. Audi's proprietary device interface system allows devices to connect, and there is Bluetooth for wireless playback. DAB radio is another standard feature.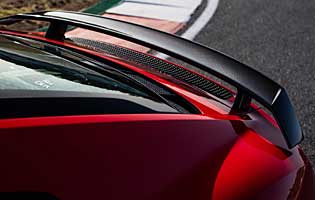 A carbon spoiler instantly identifies the Plus model
Colours and trim
Most of the standard paint finishes are available at no extra cost, spanning flat red, white and yellow, metallics including red, white, silver and black, a crystal blue shade and a pearl grey. Matt paint is an expensive option, and Audi can offer custom paint colours in a vast array of finishes. The interior trim is equally free with choice, thanks to dozens of different leather trim and colour options. The quality of the leathers is exceptionally good, and is matched by the rest of the surfaces throughout.
Parking
While the R8 is not the worst supercar when it comes to rearward visibility, there is still precious little of it. A full suite of parking sensors at both ends is therefore a welcome part of the spec sheet, and should help avoid any bodywork damage from low-speed car park scrapes. What they won't help with is locating and warning of kerbs, which could easily catch and damage the vulnerable wheels or even the bodywork.
Spare wheel
Emergency tyre repair kit supplied as standard.
Range information
Petrol engine options - 5.2-litre (533bhp; 602bhp). Transmission options: Seven-speed twin-clutch automatic gearbox only. Trim levels: Standard, Plus.
Alternative cars
Porsche 911 Turbo An incredibly good all-rounder but doesn't feel special
Ferrari 488 GTB Much more expensive Italian option is dynamically superb
McLaren 570S Wonderful combination of power, poise, technology and theatre
Mercedes-AMG GT S Unusual but brilliantly executed sports car with lots of character
Over 1,200 more car reviews online
All the reports since 1990 are available on this site, just search by make and model below.
Other products & services
Related information
September 2015