McLaren 675 LT 675 LT
September 2015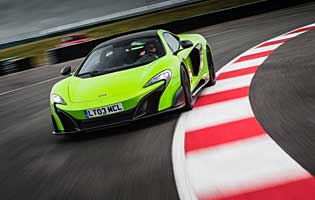 Striking 675 LT has echoes of the P1 hypercar
Ratings
Overall rating
Value for money
Costs
Space and practicality
Controls and display
Comfort
Car security
Car safety
Likes
Spectacular performance and soundtrack to match
Balanced, communicative and enjoyable handling
Still a comfortable car despite performance and handling
Intelligent design and quality throughout
Gripes
Limited run model likely to be popular with speculators
Despite appealing dihedral doors still requires care on entry and exit
Running costs will be very high
Not a practical car
McLaren is rapidly expanding its range to cater for every whim of their wealthy owners. After the Ultimate Series P1 and Super Series 650S, the British manufacturer has introduced a track-biased version of the latter called the 675 LT. Taking its name from the legendary McLaren F1 Long Tail, the 675 LT is the company's fastest car bar the P1.
In a short space of time McLaren has gone from producing just one road car in its history to creating a range of cars, stretching from the Sports Series models designed to compete with more everyday cars like the Porsche 911 right up to the Ultimate series P1. The rebirth began with the introduction of the MP4-12C, and the 675 LT is a distant derivation of that car.
The starting point for the 675 LT is the 650S, although there are a multitude of changes to create what is a very different car. Most obvious are the changes to the body; despite the Long Tail name the 675 is only fractionally longer than the 650S. More changes are focused on aerodynamics and downforce.
In the engine room the 675 LT uses the familiar 3.8-litre twin turbocharged V8 engine seen in other McLaren cars, but in this application over 50% of the parts are new. Extra power is delivered thanks to upgraded engine components such as the camshafts and connecting rods, while a titanium exhaust saves weight and improves the sound.
Elsewhere the 675 LT is a remarkable 100kg lighter than the 650S thanks to extreme weight saving measures, although McLaren is adamant that this hasn't come simply by removing equipment. The 675 also gets suspension derived from the P1 for super-sharp responses, plus a recalibrated ESP system to give the driver more options.
Our verdict on the McLaren 675 LT 675 LT
The 650S was more than ready for track fun but the 675 LT is on another level altogether. Ferociously fast but manageably so, the 675 LT has such a breadth of ability that it can still do the everyday stuff, be fast and forgiving on the road yet still outpace almost any other car on track. The production run sold out quickly, making it among history's most desirable supercars.
Costs

There's no doubt that the 675 LT is expensive to buy and as a result attracts high insurance premiums. There is also an inevitable thirst for fuel. Emissions levels will attract higher rates of road tax too, but most owners will find these matters immaterial.
Space and practicality

For a car of this nature the boot is usefully large and a sensible shape but is unsuitable for larger items. However, there's enough space for at least a weekend away and for track work it is more spacious than most.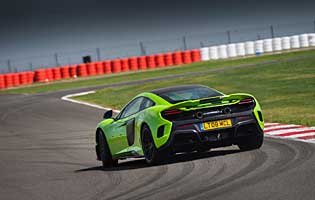 Substantial aerodynamic changes include bigger diffuser
Controls and display

The centre console is dominated by a vertically-oriented screen with a crisp, simple display. Menu lists are displayed more fully and with greater clarity, while in certain view modes the navigation map offers a view of more of the road you're travelling along, giving you more notice of any sharp turns or hidden junctions. The instruments are cleanly designed, comprehensive in their readouts and very attractively styled.
Comfort

Despite the track-focused approach the 675 LT is a surprisingly comfortable car thanks to the unique suspension system that dispenses with anti-roll bars for electronic actuators, allowing track stiffness or relative softness when required. Noise levels are a little greater than the 650S but still reasonable for a car of this nature.
Car security

A car like this will always draw attention to itself in both good and bad ways, but it will inevitably be at higher risk every time it is left in public view. An alarm is fitted as standard but it can be upgraded with a louder, more comprehensive version for a price. An immobiliser is also standard, but owners of this car will probably want to add a good tracking device to ensure a quick recovery if the car was stolen.
Car safety

Arguably the biggest risk in a car like this is that the power goes to a driver's head, but it is much better-equipped than a normal road car to avoid an accident thanks to wide, grippy tyres, huge brakes and amazing agility that can be employed to change course instantly in an emergency. The carbon fibre monocoque that surrounds the passengers is also built to protect its occupants in all but the most extreme circumstances.
Driver appeal

The 675 LT delivers a sense of occasion right from the start, and although it can be deceptively normal over the first few miles it only requires a small squeeze of the accelerator to unleash the power within. Certainly it offers more power than is fully usable on the road, and even on the race track it dishes out astonishing performance. Complementing the performance is the handling, which is racing-car precise and remarkably compliant, instilling confidence and allowing drivers of varying abilities to enjoy its talents.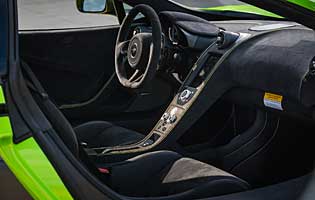 High quality cabin feels futuristic
Family car appeal

A strict two-seat arrangement means the 675 LT isn't cut out for family work, although the passenger airbag can be deactivated to allow a rear-facing child seat to be installed.
First car appeal

Anyone fortunate enough to be in a position to own a McLaren 675 LT as their first car should jump at the chance, but under normal circumstances a car of this nature is too fast and too expensive for the inexperienced.
Quality and image

McLaren has built its image on high principles of engineering and this is apparent throughout the car. It should stand up to repeated track use with careful attention paid to tyres and brakes, which have a hard time in such situations. With less of a road car back catalogue than its rivals the engineering link between this and its racing cars is a big part of the image and one of the key reasons for its desirability.
Accessibility

Wide door sills and an inevitably low seating position mean that gaining entry to the 675 LT takes effort and care, although the doors themselves open high and wide yet are easy enough to close again once on board. Access to the boot space in the front of the car is a little more fiddly than ideal; it's akin to opening the bonnet on a conventional car and requires fiddling for a catch placed out of sight.
Stereo and ICE (In car entertainment)
The standard stereo in the 650S is actually quite basic, with a mere four speakers dotted around the cabin and no configurable settings for the graphic equaliser or fade controls. Bluetooth linking is possible, though, to allow hands-free phone calls and wireless music playback. For a cost the system can be upgraded to a Meridian system that includes three more speakers, a more powerful amplifier, and clever adaptive technology that accounts for the different acoustic properties of the car's interior surfaces.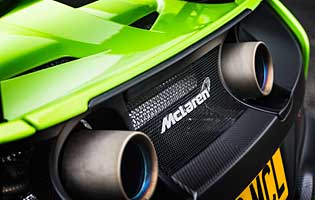 Twin centre exit exhausts are unique to the 675 LT
Colours and trim
With such a dramatic exterior including many carbon fibre elements the 675 LT can wear both subtle and lurid shades equally well. Either way it is not the last word in discretion, although dark shades do offer a more low-key look. On the inside there is the usual broad range of options to suit the owners tastes, including contrast stitching and coloured trim.
Parking
Obvious care is required when undertaking slow speed manoeuvres due to the relatively limited view outwards, low ride height and wide alloy wheels. Helpfully the 675 LT is relatively docile when turned to its softest settings and the rear view camera system comes as standard.
Spare wheel
No spare wheel or alternative supplied.
Range information
Petrol engine options - 3.8-litre (666bhp). Transmission options: Seven-speed dual-clutch automatic gearbox only. Trim levels: 675 LT.
Alternative cars
Ferrari 458 Speciale Naturally aspirated V8 is mesmeric although ultimately not as fast
Porsche 911 GT3 RS Most extreme 911 ever is a worthy rival and much less expensive
Nissan GT-R Nismo Track-biased GT-R is even more brutal than the standard car
Ariel Atom V8 Trades any semblance of practicality for the last word in speed
Over 1,200 more car reviews online
All the reports since 1990 are available on this site, just search by make and model below.
Other products & services
Related information
September 2015