Toyota Avensis Touring Sports Business Edition Plus 1.6 D-4D
June 2015
Toyota's current family styling now dominates the lights and grille
Ratings
Overall rating
Value for money
Costs
Space and practicality
Controls and display
Comfort
Car security
Car safety
Likes
Chunky, expertly shaped front seats offer exceptional comfort
Huge boot available in both saloon and estate variants
Tall gearing makes for excellent motorway cruising fuel economy
Good value for money compared to alternatives
Gripes
Small wheels necessary to gain the lowest running costs
Some ancillary controls date back more than a decade
Engine struggles to provide strong overtaking acceleration
Boot would benefit from measures to prevent luggage sliding or rolling
Toyota's Avensis has been the type of car that rolls along through its life being loved by loyal buyers and being overlooked by the many in favour of flashier, more fashionable cars. Toyota hasn't tried to change this perception overnight, but has made some crucial improvements nonetheless.
The Avensis is roughly the size of a BMW 3 Series and is one of a handful of similarly mainstream models that used to be extremely popular before the advance of the premium German brands effectively stole the segment away from the Toyotas, Renaults and Hondas of the car world.
However, these cars are still very profitable even though sales volumes are falling, and Toyota is showing that it's still willing to invest. The Avensis has been upgraded with much-improved seats, newly-standardised safety equipment and diesel engines sourced from BMW - to satisfy the demanding European driver without necessitating the huge research and development costs that come with building new engines from scratch.
There is a clear bias in the sector towards business users, so Toyota has renamed two trim levels to clearly reflect their target buyer. The Business Edition and Business Edition Plus are keenly specified to give high-mileage drivers the low running costs, the comfort and the equipment that they really want, including integrated navigation on the higher of the two grades.
With rivals like the Renault Laguna and Honda Accord having disappeared from the UK market altogether, Toyota's main concern outside of the dominant premium brands is the Volkswagen Passat, which has itself moved upwards in both quality and price. The Japanese firm is banking on its reliability and safety records to win buyers' minds even if their hearts lie elsewhere.
Our verdict on the Toyota Avensis Touring Sports Business Edition Plus 1.6 D-4D
The Avensis is not obvious, not boastful, it doesn't make an instant impression and yet it won't become annoying to live with, either, unless the driver simply wants more performance than the Avensis' relaxed engines can give. It's a straightforward car with exceptionally comfortable front seats and an economical engine that will transport an individual or a family in high levels of safety and with peerless reliability.
Costs

For the space and reliability on offer, the Avensis delivers a convincingly good value package. Many owners keep the car much longer than the term of the initial finance arrangement, offsetting depreciation as much as possible while the new diesel engines offer low road tax rates.
Space and practicality

There is no shortage of personal space for four people inside the car, with plenty of legroom boosted by gaps beneath the front seats. Three children can fit across the rear bench seat without being squeezed together, too. In the front of the cabin there is only one central cupholder, but the door pockets have slots for bottles. The boot is huge; both deep and broad, but doesn't feature any in-built facility to compartmentalise the floor area to stop items moving around.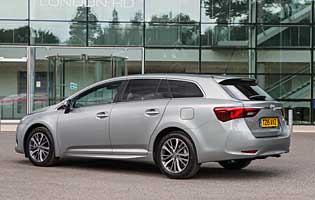 The rear end of the Touring Sports will be familiar to existing owners
Controls and display

In some instances, like the electric mirror controls for example, Toyota is still using switchgear first conceived around the turn of the millennium. This old-fashioned approach does no favours for the aesthetics of the controls but they are at least clear and easy to use. The new Touch 2 interface is sharp, bright and responds quickly to touches, although like most interface screens it's particularly prone to being unreadable when hit by sunlight.
Comfort

Behind the wheel the Avensis is immediately comfortable and stays that way for long journeys thanks to reshaped seats that spread the body's weight over a greater area. The driving position could be improved by allowing the wheel to move closer to the driver than it does, though. Anyone over six feet tall or with long legs will notice this most. Revised suspension tuning and chassis spot-welding means the car is more composed over bumps.
Car security

Like many cars in this sector, the Avensis boasts an alarm and an electronic engine immobiliser. Business Edition Plus and Excel grades gain privacy glass around the rear half of the car to help keep prying eyes out.
Car safety

Toyota has standardised its 'Safety Sense' suite of systems, which includes lane-keeping assist, speed limit sign recognition and pre-crash automated braking. Not all speed limit signs are seen and registered every time, though, so drivers should exercise caution when relying on the system. The automated braking system is not among the most sophisticated but should reduce the severity of any impact from around 25mph upwards.
Driver appeal

The 1.6-litre diesel might be the most frugal in theory but it needs to be worked hard to extract any measure of performance from it. Its strengths lie in relaxed acceleration and steady cruising, where its tall gearing - taller even than that of the 2.0-litre diesel - allows it to hold 70mph at around 1,800rpm for an impressive fuel economy return. One area of truly vast improvement is the steering, which is now quicker, weightier, more direct and much more natural-feeling.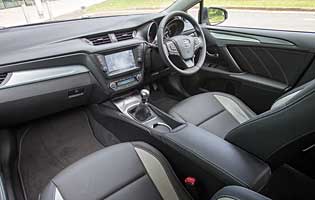 Materials quality is not perfect but the essential solidity is there
Family car appeal

Families will get on well with the Avensis thanks to its Isofix child seat mounts on the outer rear seats, robust build quality and budget-friendly reliability. Toyota's five-year warranty will help boost peace of mind and confidence in the Avensis' dependability. Alcantara seat trim inserts may be more vulnerable to child-related food or drink spillages, though, unless pre-treated with dedicated protectors.
First car appeal

The Avensis is a large car aimed at business users and families searching for reliable, spacious and comfortable transport. While a first-time car buyer might appreciate the comfort and on-board technology, they aren't likely to enjoy the car's large dimensions, relatively high price tag compared to a more traditional first car or the associated insurance ratings.
Quality and image

Toyota has an image centred on reliability and dependability, having scored class-leading results in ownership surveys in several of Europe's largest markets, like Germany and the UK. A five-year warranty attached to this car enhances that image, and the company is not afraid to cite qualities that some people would call boring as key weapons in the Avensis' armoury. Its physical material quality is generally good, especially the leather and Alcantara seats, but there is room for improvement here.
Accessibility

The Avensis has good-sized footwells for rear passengers to step into, which makes a big difference to the initial entry into the car. A natural disadvantage that an estate car carries versus an MPV or SUV is a lower roofline, which asks for more of a duck of the head. The tailgate rises with just a little initial weight before the lifting rams take over, but there is no powered option so the operation needs to be done by hand.
Stereo and ICE (In car entertainment)
Toyota has made sure that anyone on a long drive will have the maximum choice of digital inputs when it comes to playing music. Via the Touch 2 touch-screen media interface drivers and front passengers can choose from USB, AUX, Bluetooth and DAB/FM/AM radio, and although there are only six speakers in the cabin the system does a better job with music than many cars' expensive upgraded systems. The drawback for some people will be the absence of a CD player on all but the entry-level car.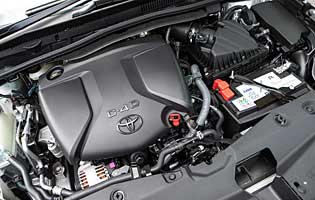 New engines, badged as Toyota D4-D, are in fact sourced from BMW
Colours and trim
If your favourite colour is among black, grey, silver, white or even slightly old-fashioned browns, the Avensis will suit your tastes. The solitary cheery colour choice is a strong blue, which with silver is one of the two most flattering options for the car's shape. The interior has been lightened in this high-grade model with plastic trim inserts that don't suit the styling particularly well but that do feel solid in their positions with the exception of the plastic door grip, which is creaky and feels cheap.
Parking
Drivers of this generation of Avensis will need to pay attention when parking unless they choose to pay extra for the parking pack, which adds sensors at the front and rear. However, Business Edition models and upwards do feature a reversing camera. It is quite a long car, especially in Touring Sports guise, but isn't especially wide. Visibility is about as good as it gets for the size of vehicle.
Spare wheel
Space saver spare wheel supplied as standard.
Range information
Petrol engine options - 1.8-litre (145bhp). Diesel engine options - 1.6-litre (110bhp), 2.0-litre (141bhp). Transmission options: six-speed manual gearbox, plus CVT auto (petrol only). Trim levels: Active, Business Edition, Business Edition Plus, Excel.
Alternative cars
Ford Mondeo The stylish choice, but feels very large and ungainly at times
Mazda 6 Low-emission diesel engine is excellent while styling divides opinion
Vauxhall Insignia Underrated and affordable, but can't match the Avensis for comfort
Peugeot 508 Uncommon option, with luxurious models often heavily discounted
Over 1,200 more car reviews online
All the reports since 1990 are available on this site, just search by make and model below.
Other products & services
Related information
June 2015