Honda Civic Type-R
June 2015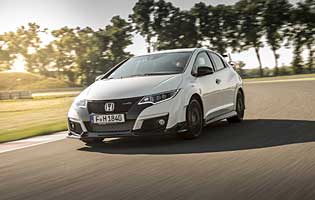 Outlandish Type-R exterior is hard to miss
Ratings
Overall rating
Value for money
Costs
Space and practicality
Controls and display
Comfort
Car security
Car safety
Likes
Eye-catching exterior
Impressive torque and flexibility from new engine
Good balance between ride and handling
High standard specification
Gripes
Lacks the high-rev sparkle of non-turbocharged VTEC engines
Track-car looks may be too much for some
No automatic version available
Firm ride shown up by some road imperfections
Honda is undergoing a product renaissance after several lean years following the global financial crisis, and one of the most important new models is a new generation Civic Type-R. With a loyal fan base and a reputation of driving excellence the new Type-R has a lot to live up to as well as trying to bring new customers into the brand.
The starting point for the new Type-R is the current Civic hatchback, most recently revised in early 2015. With no three-door version of the standard car the Civic Type-R is a five-door-only model, but the visual transformation is dramatic nonetheless. It wears a substantial bodykit with a deep front spoiler, flared wheelarches, large alloy wheels and a huge rear wing all as standard.
Inside the Type-R Civic receives a boost in equipment and functionality. Sports seats are standard, as is a leather-covered steering wheel and aluminium gearknob, and all Type-R models get additional information screens that show vehicle G forces and other data for track day drivers.
Mechanically the Civic Type-R marks a major departure for the brand as it is the first Honda Type-R model to use a turbocharged engine. While the 2.0-litre petrol unit continues with the clever V-TEC system which delivers increased power and engine efficiency, a new version of this system has been designed to work in tandem with the turbocharger.
Honda has also gone to great lengths to ensure that the Civic Type-R can handle the increased power through the front wheels. A mechanical limited slip differential has been added, and a new front suspension system has been developed to minimise the effect of torque steer. The Civic Type-R also benefits from an adaptive damper system for increased grip and stability.
Our verdict on the Honda Civic Type-R
Despite the fierce competition in the hot hatch segment the Civic Type-R has all the right ingredients to succeed. The looks are extreme, although possibly not to all tastes, but more importantly the dynamics are impressive, with rapid performance and sharp handling. The Type-R also manages to be perfectly usable in everyday driving and just as practical as the standard car.
Costs

Running costs for a car of this performance have the potential to be respectable; when driven with restraint the Type-R can manage good fuel consumption figures, although it is unlikely to be driven so frugally very often. Insurance costs may be significant however, as this is a car likely to attract attention.
Space and practicality

With almost no concessions made in the Type-R version it offers the same impressive practicality as the standard Civic. The clever Magic Seats remain, offering a flat floor and excellent space when folded, and space for passengers front and rear is good for a car of this size. Storage space in the cabin is good too, with useful cup holders and a handy box in the centre console.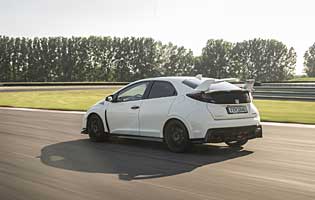 Huge rear wing looks like it has come straight from the racing version
Controls and display

The Type-R has the similarly unusual layout of the standard Civic, with three digitals displays as well as analogue instruments. Although it can take a little getting used to the updated graphics are a welcome improvement on the old system, and the amount of functionality is impressive. The digital speedometer located high on the dashboard is a sensible ergonomic feature.
Comfort

For a car with a clear sporting bias the Type-R is comfortable. The seats are superb; supportive and comfortable over long distances. Noise levels are higher than the standard car but not unacceptably so, and although the ride is firm it deals with most bumps well - only larger holes cause a disturbance in the cabin.
Car security

All Type-R models are fitted with privacy glass, plus an immobiliser and alarm with interior ultrasonic sensor, the latter of which can be disabled if required. The GT model also adds automatic folding door mirrors, a useful feature for keeping them out of harm's way when parked.
Car safety

The safety provision on the Type-R is of a very high level. On the active side the big brakes and strong grip are supplemented by Vehicle Stability Assist and a City Brake System, with eight airbags should the worst happen. Upgrade to the GT version and a host of additional electronic systems are added including Forward Collision Warning, and Cross Traffic Monitor to name two.
Driver appeal

As with many modern turbocharged performance engines the Civic Type-R is notable for its smooth and linear power delivery. In normal driving it is easy to make good progress thanks to the generous low down torque, and a higher revs the power is strong - although there is little to be gained by reaching for the red line. The handling is also very impressive, remaining remarkably free from torque steer and responding well to driver inputs. The suspension, although firm, pays off in the bends with roll-free and engaging responses.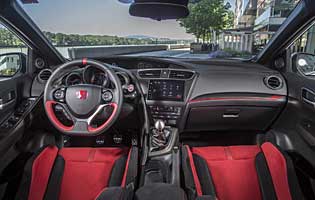 Familiar interior is highlighted with flashes of red detailing
Family car appeal

With good cabin space and versatility the Type-R is more than capable of performing family duties, with the only possible demerit being the increased noise levels and reduced ride comfort which may be an issue with smaller children.
First car appeal

The Civic Type-R is not a suitable vehicle for a new driver. Although good value it is likely to be too expensive, is too fast for the inexperienced and will likely demand relatively high insurance premiums too.
Quality and image

Honda has a supreme reputation for reliability, particularly among its petrol-engined models, and the plaudits are well earned. Honda's brand image is one of dependability rather than desirability, which has the effect of appealing just as much but to a different demographic. The material quality of the car is good. The fit and finish is excellent, and the materials quality in the cabin is on a level with most of its key rivals.
Accessibility

With five doors as standard the Type-R offers the same relative ease of climbing aboard, although it is worth nothing that the substantial seat bolsters in the front do require careful clearance. It's also easy to climb into the rear seats, although the amount of space in the footwell is reduced if the front seats are pushed back. Boot access is excellent with a large tailgate.
Stereo and ICE (In car entertainment)
The Type-R gains as standard the upgraded Honda Connect system which features a 7-inch touchscreen, DAB, USB and HDMI inputs as well as the ability to download apps. With great versatility and a range of features it is an easy system to use and get the most out of. An upgraded system is standard on the GT version.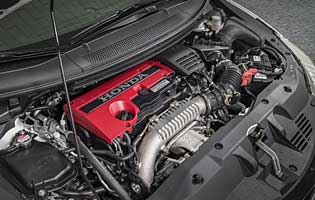 Turbocharged VTEC engine is a new development for this car
Colours and trim
The Type-R comes in a variety of suitably strident shades, such as a brilliant white and vibrant red. With so much dark detailing on the shape contrasting colours suit it well. The same goes for the cabin, which is much more eye-catching than the standard car thanks to plenty of red detailing. The leather wheel and aluminium gearknob are welcome touches too.
Parking
All Type-R models come with a reversing camera as standard, something of a rarity but essential in this particular car due to the rear visibility. The standard Civic is relatively poor in this respect but the Type-R adds a large rear wing, diminishing it still further. However the steering is sufficiently light at low speeds and the camera makes reversing much easier. The amount of steering lock available is relatively poor.
Spare wheel
Emergency tyre repair kit supplied as standard.
Range information
Petrol engine options - 1.4-litre (99bhp); 1.8-litre (140bhp); 2.0-litre (306bhp). Diesel engine options - 1.6-litre (119bhp). Transmission options: six-speed manual gearbox on all models, plus five-speed automatic on 1.8-litre only. Trim levels: S, S Navi, SE, SE Plus, SE Plus Navi, SE Plus T, Sport, Sport Navi, EX Plus, SR, Type-R, Type-R GT
Alternative cars
Vauxhall Astra VXR Fast and outrageous, a handful in some conditions but certainly fun
Ford Focus ST This hot Focus is a great drive and also comes in diesel form
Volkswagen Golf R Accomplished and refined as well as hugely capable, four-wheel-drive comes as standard
Renault Megane Renaultsport Trophy-R Track-focussed and huge fun, more compromised for daily use
Over 1,200 more car reviews online
All the reports since 1990 are available on this site, just search by make and model below.
Other products & services
Related information
June 2015