BMW 1 Series 120d xDrive M Sport
April 2015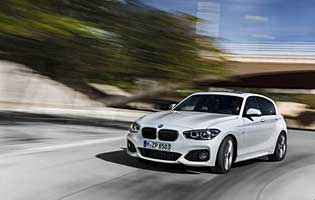 The 1 Series retains its poised stance on the road
Ratings
Overall rating
Value for money
Costs
Space and practicality
Controls and display
Comfort
Car security
Car safety
Likes
Strong diesel engine gives plentiful performance for suburban and country routes
Interior trim fit and finish is to a high standard
Seamless gear changes from eight-speed gearbox
Seemingly improved ride quality
Gripes
Desirable interior trims are costly options
In Drive mode the gearbox frequently hunts between gears
Engine bay could use more sound dampening
Boot slightly smaller than those of cheaper hatchback rivals
The 1 Series has been phenomenally popular in the UK, despite controversy over its divisive looks when it was first launched. Now it is firmly established in UK car buying habits the styling has been neatened and moved towards the mainstream, while quality and performance, in both accelerative and environmental terms, have risen.
Fighting it out with other highly successful compact premium cars like the Audi A3 and, latterly, the Mercedes A-Class, the 1 Series has always defined itself through its looks. Now, though, with a more refined visage it has moved towards more central ground where buyers of its two less visually contentious rivals might be tempted.
The hatchback has always been the best-selling version of this car, and the five-door dominates the statistics. This minor model update has brought no major changes to the structure of the car, its dimensions or shape, but four-wheel drive features as an option on several models. In combination with the popular 20d diesel engine it makes a formidable all-rounder.
Typically for a mid-life range update the level of standard equipment fitted across all trim grades has risen. Climate control is now standard on all models along with the all-but-essential iDrive user interface. This particular model also sports the eight-speed Steptronic automatic gearbox by default. If navigation is installed, the gearbox can pre-select gears according to the imminent needs.
LED daytime driving lights help to add a more premium look to those lower models that did not have them before, while hidden from view the engines have been downsized where possible, even moving to three cylinders and incorporating turbocharging on every single engine. The 120d xDrive remains one of the most powerful engines of its type and provides surprisingly strong performance at lower speeds.
Our verdict on the BMW 1 Series 120d xDrive M Sport
With a modest boot, room for five at a pinch and a driving experience that goes way beyond what most diesel compact hatchbacks are capable of, the 120d in xDrive form is a superb everyday car for those who don't need particularly large amounts of space. The car's only real fault is that to get the most from it, some expensive interior trim options are needed.
Costs

Fuel economy should be excellent if driven with care, but will suffer if the driver succumbs to the temptations offered by the car's excellent driving dynamics. Residual values should strong, although these can be significantly affected by the chosen optional extras, so it's best to choose wisely. Low company car tax and overall running costs should boost this car's appeal among business drivers, too.
Space and practicality

It's quite impressive that BMW has been able to include four-wheel drive without compromising the 1 Series' boot space. At 360 litres it is smaller than those of a number of similarly-sized rivals, but it should be big enough for most owners. The location of cupholders rearward of the gearstick can be awkward if taller bottles are placed there.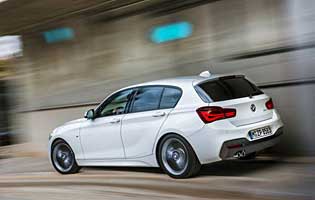 Four-wheel drive does not impinge on boot space
Controls and display

Owners of the last 1 Series will find that little has changed, except perhaps the welcome presence of the iDrive system. The pedals are lightly weighted but feel accurate in their duties, sharing a balance with the steering in that regard. The 6.5-inch main screen is excellent, being among the sharper and clearer on the market.
Comfort

Well designed seats, complete with larger lateral bolsters to fit with the M Sport tag, hold the driver and front passenger securely and will tend to suit average-sized to larger individuals. They are quite firm, though, as is the German way, so those seeking soft seats should look elsewhere. Rear passengers have enough legroom, but taller people will want frequent stops to stretch their legs.
Car security

There is remote central locking, automatic locking upon journey start and options for darkened glass around the rear half of the car. Keyless start is a great convenience feature, as is the rear privacy glass and sturdy rear load cover.
Car safety

Tyre pressure monitoring systems are now standard, displaying the individual pressures at each wheel. Adaptive cruise control is optional, and now includes the ability to bring the car to a halt and set off again under its own steam. A system that reads and displays speed limit signs is optional too, but at least there is an embedded SIM card that allows telephone calls in an emergency.
Driver appeal

The 120d xDrive achieves a remarkable balance between torque, grip and adjustable handling that far exceeds anything from its rivals. An impressive ability to sprint away from the lights, or onto and out of roundabouts even in the wet without losing traction is worthy of a performance car. And yet with restraint the car is refined enough and comfortable. Only a comparatively rattly engine note under acceleration and the automatic gearbox's over-eagerness to shift whenever possible lets the experience down slightly.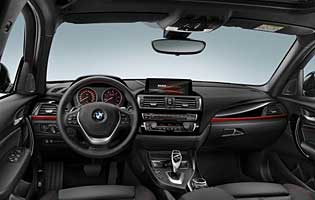 Although dark, the standard M Sport interior is high-quality
Family car appeal

As compact family hatchbacks go, the 1 Series is at the less spacious end of the spectrum. It's probably best suited to a small but growing family. Boot space is adequate but not outstanding for swallowing large items, although the folding rear seats should help. The premium materials in the cabin won't appreciate the presence of sticky fingers or muddy shoes, so parents will need to consider their circumstances before buying.
First car appeal

Of all the smaller, cuter, cheaper and more appropriate cars out there, the 1 Series is not likely to get a look in. As something neither accessible nor particularly desirable for most new drivers, it is likely to simply fly under the radar. With that said, it should be noted that the 120d xDrive model is very driver-friendly and easy to control, with all the advanced connectivity features a modern young driver could wish for.
Quality and image

First impressions are affected chiefly by the owner's choice of colour, wheels and interior trim, so the same 120d xDrive model can look a little flat or it can look every bit the proper premium car. There is no doubting the solidity of the build, though, or the tangible expense in most of the surfaces. The 1 Series' image is very strong anyway, thanks to continued desire for the car from UK buyers.
Accessibility

Seeing as nothing has changed for this model it's no surprise that in five-door trim the 1 Series offers a sensible compromise regarding access. On three-door models the two big doors can often create problems in tight car parks and when accessing a child seat in the rear. There are no such issues with the five-door, and access to the boot via the rear hatch is also straightforward.
Stereo and ICE (In car entertainment)
BMW 'Professional Radio' is now standard, but the chief news is that the iDrive rotary controller system, now a superb piece of equipment unlike its early days during the last decade, is included on all models. It allows easy and intuitive navigation through the menus to select sources, folders and tracks at will. DAB radio, CD, USB and Bluetooth inputs are included.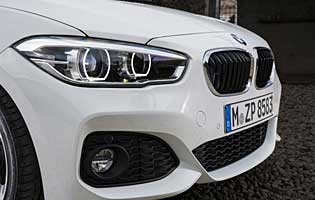 Revised headlight styling has sharpened the frontal looks
Colours and trim
New silver and brown paint colours have replaced blue and bronze shades in a range that caters mainly for the more sober buyer. An orange looks superb when paired with high-performance models but needs large wheels to complete the effect. The standard interior trim in the M Sport is good, but can be improved further with luxurious optional leather upholstery upgrades.
Parking
The 1 Series hatchback is the owner of one of the shortest rear windscreen wipers in the car world, indicating the shallowness of its rear screen. That means restricted visibility, so it's fortunate that parking sensors are fitted to help guide a driver. A fully-automated Parking Assistant is an option, using 12 sensors (previously 10) to automatically park the 1 Series in both bay and parallel spaces.
Spare wheel
Emergency tyre repair kit supplied as standard.
Range information
Petrol engine options - 1.5-litre (107bhp); 1.6-litre (134bhp, 174bhp); 2.0-litre (215bhp); 3.0-litre (322bhp). Diesel engine options - 1.5-litre (114bhp); 2.0-litre (148bhp, 187bhp, 221bhp). Transmission options: six-speed manual gearbox or eight-speed automatic depending on model. Trim levels: Advantage, Sport, Urban, M Sport.
Alternative cars
Audi A3 Criticised for conservative styling but an extremely accomplished everyday car
Mercedes-Benz A-Class Pinched boot aperture spoils practicality, but very stylish with good colour options
Volkswagen Golf Impressive all-rounder but cheaper rivals come close to matching the ownership experience
Volvo V40 Great looks with a distinctive interior, but let down by driving impressions
Over 1,200 more car reviews online
All the reports since 1990 are available on this site, just search by make and model below.
Other products & services
Related information
April 2015