Vauxhall Adam S
April 2015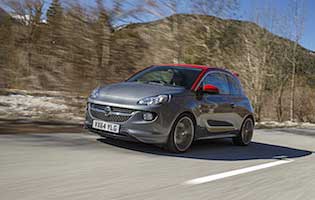 Not so subtle changes make it easy to spot the Adam S performance variant
Ratings
Overall rating
Value for money
Costs
Space and practicality
Controls and display
Comfort
Car security
Car safety
Likes
Curvy shape looks good as standard, while bodykit is a welcome addition
Responsive 1.4-litre engine sounds good and is responsive on the road
GTI-like cabin trim is tastefully done
Driving experience stands up well against the competition
Gripes
Not a cheap car when you factor in some choice options
Adam name and quirky looks split opinion
Ride can be over-firm on poorly surfaced urban roads
Rear passengers are not afforded much space
After introducing its Mini-rivalling Adam, Vauxhall has decided the range needed a performance model to challenge 'warm' hatch versions of the likes of Ford's Fiesta, Citroen's DS3, the aforementioned Mini and a growing number of sporty-looking and insurance friendly compact hatches appearing on the market. The Adam S is that car.
The basic Adam is already a distinctive car, styled to be very different from the Vauxhall's bread and butter Corsa. In S guise, the Adam gains a sporty-looking bodykit complete with roof spoiler, while the car's wheels and tyres have been upgraded to demonstrate the car's performance credentials.
The sporty theme continues inside, with chunky sports seats and a host of trim details aimed at reinforcing the car's fun and brisk character. This is aided by a tuned version of Vauxhall's 1.4-litre turbo petrol motor, which in Adam S guise delivers 150 horsepower to the front wheels. Vauxhall's engineers have also tuned the car's suspension, chassis and brakes so that it feels a step above the regular model.
The end result is a small car with plenty of enthusiasm and a surprisingly engaging driving experience. As warm hatches go the Adam S is brisk, but key to the experience is the engine's busy exhaust not, which does a good job of tricking you into thinking you're in something a lot more potent.
On a practical note the Adam S is just like its range stablemates. The three-door only body heavily favours front seat occupants as rear legroom is modest - especially so with the sports seats in the S. The focus in the cabin is on presenting a clean and uncluttered look, which the car achieves thanks to a modest button count and the use of a touchscreen to access the infotainment system's many features.
Our verdict on the Vauxhall Adam S
Unless you're Mini, you do have to work that bit harder in the compact hatch sector. The Adam is Vauxhall's answer to the runaway success that is the Mini, and this S variant is what it hopes will be a viable alternative to the Cooper-branded warm hatch. But it's not just Mini that the Adam S has to battle with, as affordable modestly powered compact cars are a popular choice for many seeking thrills on a budget. It's a good effort, but be prepared to make compromises in the cabin.
Costs

You don't usually focus on the pennies if you're into performance motoring, but it's good to know that the Adam S won't break the bank. On paper its economy and emissions performance should mean modest running costs, although don't expect such frugal behaviour when you're having fun. And don't judge the car's list price in isolation, as Vauxhall has been especially generous with the standard level of kit.
Space and practicality

While there might be deep door pockets which add practicality, as well as a partitioned open compartment at the base of the centre console that proves useful for coins and other oddments, this is not the most practical of cars. With restricted boot space a key consideration for some people, there's also the not so small issue of a distinct lack of rear legroom - especially for adult passengers.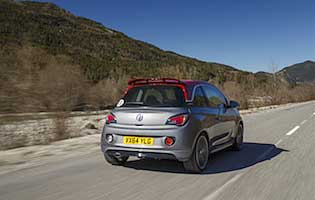 Despite modest power output Adam S delivers a fun driving experience
Controls and display

The main instrument cluster is clear, well illuminated and stylish. In keeping with the performance S theme, the various dials boast red accents. Elsewhere the controls follow a standard Vauxhall pattern, including the two chunky and solid-feeling ancillary stalks. The central touchscreen is also intuitive despite being the focal point for the bulk of the car's entertainment functions.
Comfort

Front seat occupants will be impressed by the snug and supportive nature of the car's sports seats. Those in the back - assuming they've got enough legroom, won't be impressed by the lack of space and the intrusive nature of those chunky sports seats. Still, unless you're pressing on, engine and tyre noise is modest and unlikely to be a major distraction.
Car security

Remote central locking is standard on all Adams, while a robust anti-theft package ensures a basic level on protection inline with the industry norm. Covered oddment storage space is largely the preserve of the glovebox, while the valuables in the boot are protected by a sturdy load cover.
Car safety

Six airbags and an advanced construction take care of the basic safety elements. A development of Vauxhall's ESP stability control called ESP-plus is standard on all Adams, while the S also allows you to turn it off. Also standard fit is a useful tyre pressure warning system.
Driver appeal

In hot turbo guise this 1.4-litre petrol engine is a willing and tuneful partner. 150 horsepower isn't a huge amount by modern warm hatch standards, but the Adam S uses it to good effect. The steering is weighty and the ride, while firm, ensures minimal bodyroll when cornering. The trade off is a slightly lumpy ride around town, but the overall impression is of a capable and fun car.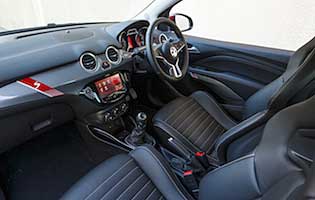 Chunky sports seats and bright trim detailing hint at car's performance potential
Family car appeal

The Adam - in any guise - is not really suited to family life unless perhaps as a second car for light duties. The three-door layout is not helpful when trying to squeeze children into the back or mount car seats, and there isn't enough legroom for older siblings. The boot is also a modest size for accommodating pushchairs and the like.
First car appeal

In principal the Adam is solid first car material; small, light, easy to park and inexpensive to run. The S variant could be viewed as 'my first GTI' in that it's relatively affordable route into hot hatch motoring. That said, you're not spoilt for choice in this sector of the market and cheaper, more polished cars do exist.
Quality and image

Buyers might be familiar with the long-standing Corsa but the more recent Adam has been a tougher sell in a fiercely competitive small car market. Style-led buyers will likely warm to the Adam, while performance orientated drivers might need more convincing in light of the established and competent completion.
Accessibility

As a small, three-door car accessibility is never going to be one of the Adam's strongest suits, and for rear passengers it certainly isn't. The side doors are quite long, which necessitates a lengthy step forwards into the car unless the door can be opened all the way. For the same reason the seat belt mount on the B-pillar will be a little bit of a stretch for some people.
Stereo and ICE (In car entertainment)
As standard Adam has a basic stereo system with a simple combination of dials, buttons and an old-fashioned LCD readout. For the S variant Vauxhall fits the full-on colour touchscreen system which is a much better solution. Easy to use, it's also compatible with iOS and Android phones and the built-in navigation function is pleasingly easy to operate.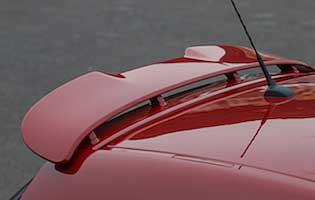 Roof spoiler is the easiest way to tell Adam S apart from its stablemates
Colours and trim
Bold colours are key to the performance Adam's appeal. Factor in the contrasting bodykit and roof spoiler and wallflower drivers need not apply. It's just as bold inside, with bright trim detailing ensuring the otherwise sombre cabin ambience is lifted a notch or two.
Parking
Fortunately the Adam S is a relatively small car, negating the need for parking sensors. Steering assistance at low speed is high, while visibility is pretty good - even over the shoulder.
Spare wheel
Emergency mobility kit supplied as standard.
Range information
Petrol engine options - 1.0-litre (115bhp); 1.2-litre (70bhp); 1.4-litre (87, 100, 150bhp). Transmission options: five and six-speed manual gearbox plus five-speed automated manual for selected models. Trim levels: Jam, Glam, Slam, Rocks, Rocks Air, S.
Alternative cars
Fiat 500 Cute and chic city car that lacks dynamic thrills
Mini Hatchback Benchmark for so many reasons, not just pace and desirability
Citroen DS3 Modern, appealing styling sets it apart, with a good range of engines
Ford Fiesta Favourite of keen drivers and a good all-rounder
Over 1,200 more car reviews online
All the reports since 1990 are available on this site, just search by make and model below.
Other products & services
Related information
April 2015