Audi A5 Sportback 2.0 TDI Ultra SE Technik
March 2015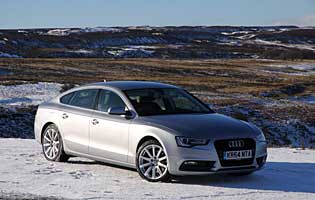 While not as shapely as the A5 coupe, the Sportback carries itself with dignity
Ratings
Overall rating
Value for money
Costs
Space and practicality
Controls and display
Comfort
Car security
Car safety
Likes
Smooth engine allows relaxed and easy progress in most situations
Front seat backs feature useful lumbar support
Good overall ride quality copes well with choppy road surfaces
Lots of adjustment for driver's seating position
Gripes
Door pockets will not fit larger items like CD cases
Urban fuel economy isn't impressive
Fuel economy meters lack precision
A rear windscreen wiper would be welcome
Audi's search for ever-greater fuel economy has culminated in a range of 'Ultra' models specifically tuned to offer the maximum efficiency potential. The A5 Sportback is a perfect candidate to be fitted with such an engine, as a car that appeals to budget-conscious drivers who don't want to compromise on quality, like company car drivers and parents.
The A5 is not a compact car, sharing much of its chassis with the A4 but with a larger, more spacious body. The roofline is higher for longer, specifically for the purpose of carrying adult rear passengers. It is styled in imitation of a saloon, lacking a rear windscreen wiper, but it is in fact a hatchback.
It therefore sits in a busy sector of the market, surrounded by cars that might be cheaper, larger, more luxurious or more exclusive, but Audi argues that the A5 Sportback Ultra offers an ideal balance between premium and accessibility. Key to its appeal is a diesel engine that is tuned differently to its otherwise similar kin.
It therefore sits in a busy sector of the market, surrounded by cars that might be cheaper, larger, more luxurious or more exclusive, but Audi argues that the A5 Sportback Ultra offers an ideal balance between premium and accessibility. Key to its appeal is a diesel engine that is tuned differently to its otherwise similar kin.
The 2.0-litre diesel engine has been detuned and has less power and torque than other TDI units in the A5 range, but this Ultra version spreads its pulling power over a broader rev range than its counterparts, giving a linear, smooth power delivery that encourages early gear shifting and a progressive style of driving. It is very easy to drive economically.
Our verdict on the Audi A5 Sportback 2.0 TDI Ultra SE Technik
This is not the most exciting car in the world, but understatement can be just as desirable. The A5 Sportback TDI Ultra looks every inch a premium car and goes about its business quietly and smoothly, with echoes of the brilliant A6 in its sense of refinement. Choose the SE Technik trim grade to include all the technology you're likely to want without compromising the ride quality or comfort.
Costs

High fuel economy and low carbon dioxide emissions mean that elements of both the fixed and the variable running costs should be minimised. It should be noted that the TDI Ultra engine will only return high efficiency under certain circumstances, though, and around town it may be little better than other engine options.
Space and practicality

A broad, evenly-shaped boot gives plenty of possibilities for loading suitcases, prams, camping gear and school projects, to name a few of the things a typical A5 Sportback might carry. The door pockets could be broader, because the armrests above them get in the way. The cup holders are broad, though, and big enough for most sizes of drinks container. The glove box is very spacious, but the USB connection has been awkwardly placed in there too.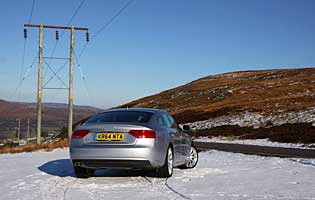 Rear styling is not the car's strongest suit, but it dates slowly
Controls and display

As one of the older models in Audi's range the A5 still features analogue dials around a central digital display between the speedometer and rev counter. The speedometer is tri-ratio, where the needle moves at three different speeds across digits that are spaced differently from 0-40mph, 40-100mph and 100mph to the maximum. In addition the main display is sharp enough to seem like a premium unit, and the graphics still look fresh.
Comfort

The wide front seats are supportive and come with good lumbar support as standard, which is useful because there is no adjustment. The rear bench seat has a little shape to the base, but the backs are straight and not very forgiving. There is enough rear legroom for average-to-tall people to be comfortable and there is no shortage of headroom. The suspension does a good job of controlling the worst of the road's imperfections but has its limits.
Car security

A Thatcham category one alarm and immobiliser combination handles basic security. Interior sensors can be switched off in the event that children or pets are left inside the locked car briefly. The fuel filler lid locks with the global central locking, and the tailgate can be opened independently of the four passenger doors to prevent thieves accessing the cabin while the owner is distracted.
Car safety

There is plenty of safety equipment on the A5, including traction control, adaptive cruise control and more. Extras like lane departure warnings and hill hold assist can be added as options. A clever Side Assist feature can monitor blind spots to warn of adjacent cars that the driver may have missed. A full spread of airbags can be found throughout the cabin and a first aid kit is standard fit. Optional xenon headlights cut through dark days more easily.
Driver appeal

While the efficiency-biased A5 is unlikely to win any awards for driving excitement, the person behind the wheel will appreciate the exceptionally smooth diesel engine and stable ride quality. Linear, predictable steering is much better than the variable-rate systems on newer premium cars, too. But the greatest and most appropriate rewards come in the form of average fuel economy that, under the right conditions, climbs towards 70mpg.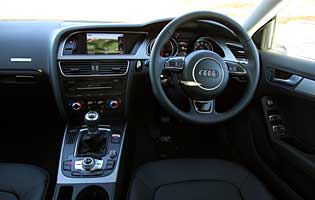 An overall sense of solidity and longevity permeates the interior
Family car appeal

Leather upholstery is standard, and while it should in theory be easier to clean than cloth there are a number of deep ridges and joins in the surface from which food and drink spills will be difficult to remove. Two Isofix child seat mounting points are placed on the outer rear seats, while the boot is large enough for most typical child-related items like pushchairs and smaller travel cots.
First car appeal

A car like the TDI Ultra version of the A5 Sportback is a car bought to fit a purpose, whether that is covering large mileages efficiently and in comfort or for appeasing nosey neighbours without breaking the bank. It holds none of the affable charm or fashionable desirability that the best first cars must have. Despite the fact that it's actually very easy to drive, its comparatively imposing size and high purchase price will make it an extremely unlikely choice.
Quality and image

The A5 Sportback presents an image of quality, if not to the level of the models on Audi's larger platform. Some of the interior surfaces feel little better than you'll find in some mainstream car makers' models, but there is an undeniable sense of solidity and longevity throughout the cabin. The brand image is still very strong, and in recent years Audi has taken and held the number one position in the UK's premium car brand sales charts.
Accessibility

The Sportback has a crucial advantage over the A4 saloon in the shape of its hatchback boot, which although being a little heavier to open, offers a much larger aperture and the ability to carry items taller than the level of the luggage cover. The long body allows for ample length doors that open wide, but the low A-pillars mean that unsuspecting front seat occupants can strike their heads while getting in.
Stereo and ICE (In car entertainment)
The SE Technik trim grade brings with it the Audi Music Interface, which comprises connections for MP3 players and USB devices except Apple iPods earlier than the fourth generation. There is a 40GB hard drive, a 20GB 'Jukebox' drive, two SD card slots, Bluetooth connectivity and a CD/DVD player. It is a completely comprehensive array of music playback options. A six-CD changer is optional, as is an upgrade to Bang and Olufsen.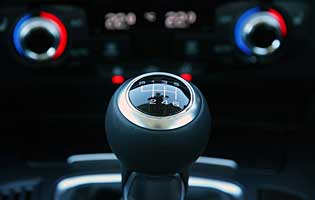 The six-speed manual gearbox is well-weighted and precise
Colours and trim
Unusually, Audi offers three free colour options including ever-popular white, black and red. There are more than 20 colours in total, including five greys, and the palette is heavily biased towards darker, heavier shades. Silver is particularly flattering, as is red, but most of the shades work well on the uncomplicated shape. The interior trim does not look as special as that of the A6, which is based on entirely different platform, but it does still look understated and classy.
Parking
Front and rear parking sensors are standard from SE grade, rendering the distance between the car and foreign object on a visual display on the central media interface screen. There are customisable acoustic warnings, too: drivers can alter the pitch and volume of the beeps. Some people may not like the presence of the extended boot lid, which is hidden from the driver's line of sight, but the parking aids go a long way to solving the problem.
Spare wheel
Space saver spare wheel supplied as standard.
Range information
Petrol engine options - 1.8-litre (167bhp); 2.0-litre (222bhp). Diesel engine options - 2.0-litre (134bhp, 148bhp, 174bhp); 3.0-litre (201bhp, 241bhp). Transmission options: six-speed manual gearbox, six-speed automatic and seven-speed dual-clutch automatic. Trim levels: Standard, SE, SE Technik, S line, Black Edition plus.
Alternative cars
Ford Mondeo The one-time everyman's favourite mid-size hatchback is now better than ever
Volkswagen Passat Fabulously quiet cabin on smooth surfaces underlines outstanding package
BMW 3 Series GT Large, with a higher driving position than most and can be expensive
Lexus IS Striking styling and good refinement in a well-specified car
Over 1,200 more car reviews online
All the reports since 1990 are available on this site, just search by make and model below.
Other products & services
Related information
March 2015