BMW 2 Series Convertible 218i SE
March 2015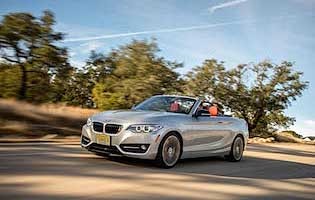 BMW's 2 Series Convertible is a handsome looking car
Ratings
Overall rating
Value for money
Costs
Space and practicality
Controls and display
Comfort
Car security
Car safety
Likes
Appealing looks
Solid driving performance
Rear seats more useable than they look
Roof easy to use and doesn't impact on practicality
Gripes
Limited visibility rearwards with roof up
Big wheel and tyre combinations can impact on cabin refinement
Driving experience could be more engaging
Long and tempting list of options - some of which should be standard at this price point
Following on from its coupe stablemate, this 2 Series Convertible takes over from the older 1 Series range, offering the fun and sensible compact cars in the German firm's line-up. The format remains the same though, with a compact cabin, a power operated fabric roof and a modest selection of powerful yet efficient engines.
While it would be easy to dismiss this 2 Series Convertible as a reworked version of the old 1 Series drop-top, the differences are more than just a name change as styling, powertrain and usability updates have been designed to lift the car's premium appeal.
That said, as before the main focus is on the attraction of open-top motoring. And eschewing a complex metal folding hardtop in favour of a lighter and mechanically less complex fabric roof ensures that the car's profile isn't visually compromised.
And being a BMW it's important the 2 Series drives well. In default rear-wheel drive guise the car offers a good balance of agility and refinement, allowing ken drivers to have some fun assuming you pick the right engine and gearbox combination.
If being seen is more important than thrashing around the countryside, the 2 Series Convertible will happily oblige. It might like the coupe's more focused approach on the road, but there's no denying that it looks the part, roof down, on a sunny day.
Our verdict on the BMW 2 Series Convertible 218i SE
Keen drivers will, predictably, always go for the coupe variant but it's good to know that the drop-top version remains a capable machine. The emphasis might be more towards style and functionality, but fun can still be had if you opt for a high power engine. Roof-down refinement levels are high, making this 2 Series a genuine all-year round proposition.
Costs

BMW has made impressive inroads into reducing fuel consumption and emissions without sacrificing drivability. The engines offered with the 2 Series Convertible should appeal to the business user as well as the private buyer. These potential savings are offset by the need to select a few options, as the default specification could be a little more generous at this price point.
Space and practicality

Convertibles are rarely bought for their practical attributes, but the 2 Series strikes a good balance if you're planning on using it as a daily driver. Boot space is acceptable and rear cabin room is fine for short journeys, although the seats are better suited for children. There's no cause for complaint up front, be it for the ample space or oddment storage options.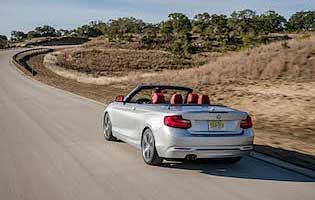 Top down, the 2 Series Convertible delivers a refined driving experience
Controls and display

It's familiar BMW fare in the 2 Series Convertible, with a clear and logically laid out facia and a bright, colour screen. The various controls prove intuitive, while the option of a head up display showing speed and navigation instructions is a welcome bonus.
Comfort

Resist the urge to opt for any sport-related trim levels or large wheels and you should find the 2 Series Convertible a comfortable and refined driving and ownership proposition. The upmarket cabin is a great place to spend time in, and the powered roof is easy to operate. For maximum comfort it's advise to select the wind deflector option as it really does make a difference.
Car security

As you would expect, the 2 Series Convertible comes with remote central locking plus the convenience of a stop/start button to save you fumbling for the key. The car's boot offers secure storage for valuables, although the roof itself will always be viewed as more vulnerable than a conventional tin-top alternative.
Car safety

It's good to see that BMW has all the bases covered with the 2 Series Convertible. There's no shortage of passive and active safety kit such as stability control and plenty of airbags. And being a convertible you also benefit from BMW's rollover protection system.
Driver appeal

Despite the BMW badges the 2 Series Convertible is unlikely to be the choice of many keen drivers. In its defense, the coupe will always prove the more popular while the drop-top 2 Series delivers a rounded performance. It's still a good steer though, do long as you opt for a sensible wheel and tyre combination and pair them with a reasonably powerful engine - say, a mid range diesel or high power petrol unit.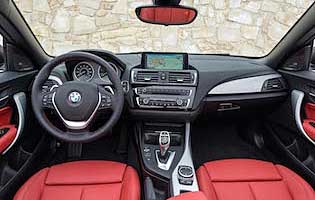 High quality cabin will be familiar to existing BMW owners
Family car appeal

There's little chance the 2 Series Convertible would make a good choice as the main family car due to the many compromises you'd have to make. It makes a little more sense as a second car, although boot and rear cabin space is modest.
First car appeal

In principle the car would be a sensible choice for a novice as it's neither an outright performance model or especially big. However, it's not an inexpensive choice and rear visibility with the roof up isn't special - not ideal for nervous first timers.
Quality and image

There are no complaints here as build quality is up to BMW's usual high standards and the cabin layout should be familiar to BMW fans. The decision to rename the car - it's really a 1 Series convertible - further elevates the car's status in the market.
Accessibility

Being a convertible, its two big doors mean there are no problems accessing the front seats, although tight parking spaces can prove the opposite. Accessing the rear seats is made much easier with the roof down, while the boot is the usual saloon-like affair.
Stereo and ICE (In car entertainment)
Mirroring many other cars in the BMW stable, the 2 Series Convertible boasts a good quality infotainment unit comprising audio, Bluetooth and MP3 player connectivity. The default navigation system is a welcome inclusion, and all of this is accessed by BMW's now familiar and more intuitive rotary controller.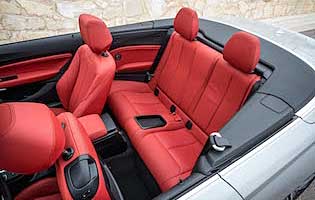 Rear space is modest but usable in a pinch
Colours and trim
Bold colours do wonders for the 2 Series Convertible, as they do much to highlight its clean lines, while the contrasting hood colour adds a welcome dash of style. It's a familiar environment inside the car, with lots of dark materials punctuated by bright trim accents.
Parking
Roof up and the 2 Series Convertible boasts good forward visibility but the view rearwards is hampered slightly. That's obviously not the case with the roof down, although the removable wind deflector means the view isn't a clear one. Still, the steering offers plenty of assistance at low speeds.
Spare wheel
Fitted with a tyre mobility system.
Range information
Petrol engine options - 220i (184bhp); 228i (245bhp); M235i (326bhp). Diesel engine options - 220d (190bhp). Transmission options: six-speed manual gearbox or eight-speed automatic transmission. Trim levels: Sport, M (M235i).
Alternative cars
Nissan 370Z Roadster Raw two-seater coupe is more fun, but less practical
Porsche Boxster Boxster offers premium badge and better performance but for more money
Volkswagen Golf Convertible Sensible alternative is easy to live with but not sporty
Audi TT Roadster Bold looks make this car an attractive alternative
Over 1,200 more car reviews online
All the reports since 1990 are available on this site, just search by make and model below.
Other products & services
Related information
March 2015