Audi TT Roadster 2.0 TFSI quattro Sport
February 2015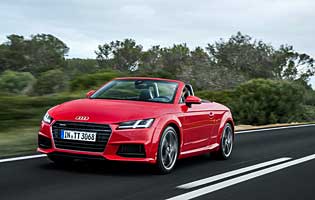 The new styling is made up chiefly of straight lines
Ratings
Overall rating
Value for money
Costs
Space and practicality
Controls and display
Comfort
Car security
Car safety
Likes
Sure-footed driving manners even in wet conditions
High-quality interior is neat and advanced
Powerful petrol engine has character but remains unthreatening
Fast-operating roof is among the most effective soft-tops in the world
Gripes
Firm ride could become tiresome on rough British roads
Poor visibility to the sides and rear necessitate expensive driver assist options
Small, shallow boot offers little luggage space
Lacks the outright dynamic prowess of the best rivals
The TT Roadster has been a great success in the UK, despite weather conditions that are often unsuitable for top-down driving. Its popularity has been largely based on its standing as a status symbol; a lifestyle choice with an image that many people engage with. Now, though, Audi says this generation is moving more towards substance than style.
Few TT owners are likely to know that the car was originally penned as a soft-top, or roadster, before being given a coupe roof that aped the silhouette of the convertible. Building the Roadster, though, was the ultimate goal. The first generation was very much better to look at than to drive, but since then the balance has shifted.
Audi now believes that the TT badge has a strong enough following for the designers to consciously move away from the lifestyle buyer and towards the sports car buyer in the knowledge that the car will still fit the lifestyles of the people who previously bought one. It lets the third-generation TT Roadster occupy a uniquely appealing market position.
A new, faster and neater roof is one of its defining features, raising and lowering in 10 seconds at up to 31mph. Its fabric outer surface comes in three colours to complement the array of exterior paint shades, while a three-layer construction is meant to keep exterior noise to a minimum.
Audi wants it to be it will always be at a fundamental disadvantage. The option of slightly rearward-biased quattro four-wheel drive will go some way to offering the balance of a true driver's car, but it is unlikely to ever be considered the driver's choice.
Our verdict on the Audi TT Roadster 2.0 TFSI quattro Sport
The TT Roadster strikes an exceptionally good balance between sporting intent and style. It looks and acts the part to a degree where all but the most dedicated of driving enthusiasts will be satisfied, making light of its extra weight versus the coupe and bringing priceless benefits on warmer days. The undeniable lifestyle appeal will continue to influence buying decisions, but this time it is backed by more driving enjoyment.
Costs

Adding the S tronic twin-clutch gearbox and quattro four-wheel drive that this car possesses adds a significant sum onto the price of the front-wheel drive entry-level alternative, but keener drivers will not regret it. Petrol bills will eclipse the equivalent refuelling costs for the diesel and this model is also much more expensive to tax than the diesel. The Roadster suffers a slight insurance cost increase owing to its vulnerable fabric roof.
Space and practicality

Audi builds a number of cars for which practicality is a strong suit, but the TT is not among them. A boot smaller than a Ford Fiesta's has a low ceiling that restricts the possibility of getting larger or more items on board. There are useful door pockets and cupholders in the cabin, and between the seats is a forward-facing hatch that opens into a small, enclosed storage area. Only having two seats limits the TT Roadster's practical applications.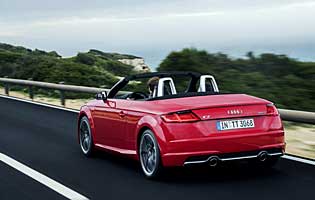 Distinctive silver hoops behind the headrests hark back to the original TT Roadster
Controls and display

The Roadster shares the same virtual cockpit as the TT coupe, where a 12.3-inch widescreen digital display takes the place of analogue dials. It can be configured in various different ways to show different data or navigation maps. Full Google satellite imagery is offered with an active in-car Internet connection. The screen and menus are so wildly different to traditional setups, though, that it can take some time to fully acclimatise to where relevant information is to be found. Technophobes might struggle to operate it at first, though.
Comfort

Comfort is not a priority for the TT Roadster, although the roof lining has been improved so that it is up to six decibels quieter depending on the exact frequency. The seats are firm and unyielding against your back, but they have enough lateral support to keep you in one place. The suspension has a naturally firm edge even on the Sport model's 18-inch wheels, and typical driving is best carried out with the suspension in its Comfort setting. Occupants themselves have plenty of room around them, though.
Car security

The three-layer fabric roof may be thick but it cannot hope to prevent a vandal cutting through it with a blade. Its insurance groupings reflect its slightly higher risk overall when compared to the hard-top version. Keyless entry and operation are standard, and the boot can be opened independently of the passenger doors.
Car safety

One of the complex safety systems installed in this model is wheel-selective torque control, where during fast cornering, electronics transfer more torque to the outer wheels and less to the inside ones in order to aid the steering and increase safety. Large brakes bring the Roadster to a stop with impressive force thanks in part to wide, high-quality tyres. There are many optional assistance systems that can be added, like Active Lane Assist and Traffic Sign Recognition.
Driver appeal

This car's four-wheel drive system gives impressive traction even in wet conditions, operating so seamlessly that you almost never feel it working. Its extra weight over the coupe means that its acceleration is blunted slightly, but it is still more than fast enough to conquer twisting A- and B-roads at speed with performance to spare. It doesn't have the levels of driver feedback or aural satisfaction of its six-cylinder rivals, but it is extremely stable, precise and agile.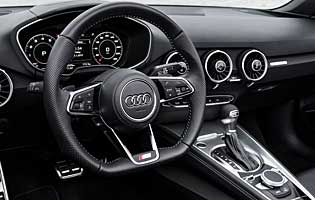 High-quality materials can be upgraded further via the options list
Family car appeal

With just two seats in the cabin, the convertible TT is clearly not a good option as a family car. The boot is small, with a relatively narrow aperture, the interior materials are almost exclusively expensive and delicate, and the ride can be quite firm and uncomfortable for some children. The TT Roaster would make a good second or third car, for when practicality was simply not an issue or for a single parent transporting one child.
First car appeal

From the point of view of the driver, visual appeal is crucial for a first car. Young drivers, in particular, don't want to feel embarrassed behind the wheel. The TT Roadster would rank extremely highly on any list of desirable cars by looks, but monetary and practicality factors render this a poor and implausible choice. The TT's width, its cost to buy and its poor outward visibility would be problems for novices.
Quality and image

Audi is being quite careful in launching the third-generation TT with only Sport and S line trim grades at first. Both of these are blessed with enough image-savvy features that provide plenty of showroom appeal. In line with the car's steady progress away from the casual derision directed at the first generation, this model's angular and taut lines take another step away from iconic, classic curves and more towards aggression. It is unlikely to become a classic in the way that the first TT has, but in the present its image is untouchable.
Accessibility

A natural by-product of the TT Roadster's body shape is that the doors are quite long, which in turn can make it difficult to get in and out of when in tight parking spaces. The seats are appropriately low, so a good bend of the knee is required at the best of times, and if parked next to a high kerb it can be a real stretch. On the other hand, with the roof folded away there are no headroom restrictions and getting into the car becomes easier to manage.
Stereo and ICE (In car entertainment)
The standard Audi sound system has the familiar array of playback options from CDs to digital radio and USB inputs. Adding the optional Technology Package brings Google Maps and Street View, online traffic data, price-graded fuel stations nearby and more. It also adds Audi music stream for real-time music playback, plus access to apps like Facebook and Twitter while stationary. A 12-speaker, 680-Watt Bang and Olufsen stereo upgrade can be added.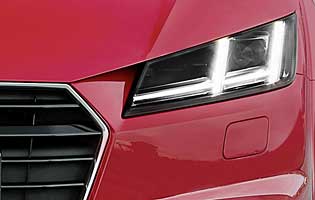 LED headlights are standard, with complex Matrix LED units as options
Colours and trim
Audi has upped the number of colour options in response to customer demand. There are now 10 exterior colours, two of which are completely new to Audi and one of which can only be added to S line cars. Three additional shades are available for the TTS. Sepang Blue is arguably the best colour for the new car, giving attitude, maturity and style. The interior trim appearance can vary wildly according to specification, but quality is high and most materials feel solid and rich.
Parking
Visibility towards the rear quarters is poor and the use of the reversing camera and parking sensors is essential until the camera lens is obscured by water droplets and dirt. A fully automated Park Assist feature is an optional extra and can park the car into bay or parallel spaces with minimal driver input. A physical factor to bear in mind is that the TT body is wider than some people might expect.
Spare wheel
Emergency tyre repair kit supplied as standard.
Range information
Petrol engine options - 2.0-litre (227bhp, 306bhp). Diesel engine options - 2.0-litre (181bhp). Transmission options: six-speed manual gearbox (diesel engine only), plus six-speed DSG twin-clutch auto. Trim levels: Sport, S line, TTS.
Alternative cars
BMW Z4 Heavyweight but fast cruiser is not the driver's choice but works as a status symbol
Mercedes-Benz SLK Ageing design hides a nimble and characterful car that can keep drivers excited
Porsche Boxster Easily the best in class for handling, but with options quickly gets expensive
Jaguar F-type Brutish and exciting, but frustratingly bulky for practical everyday use
Over 1,200 more car reviews online
All the reports since 1990 are available on this site, just search by make and model below.
Other products & services
Related information
February 2015