Audi Q3 RS 2.5 TSI
December 2014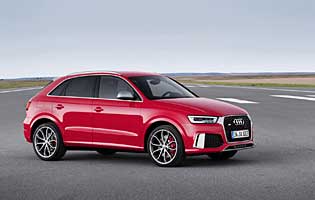 The standard wheels on the RS Q3 now measure 20 inches across
Ratings
Overall rating
Value for money
Costs
Space and practicality
Controls and display
Comfort
Car security
Car safety
Likes
Characterful, offbeat engine provides unique driver satisfaction
Good driving position combines clear view ahead and confidence to drive quickly
New gear ratios help improve the feeling of performance
Practical and luxurious extra equipment made standard
Gripes
New looks will divide opinion even more than ever
Despite improvements, fuel economy remains poor
Weight and height hamper its overall handling prowess
Expensive materials are vulnerable to family lifestyles
The RS Q3 was something of a surprise package when it was originally released. Its combination of small SUV styling, firm suspension and the characterful but thirsty 2.5-litre five-cylinder engine from the RS 3 hatchback was an unexpected hit. For 2015 it has been updated with more power, better efficiency and extra equipment.
This is a niche vehicle, marrying an unlikely combination of attributes into a likeable package. It manages to entertain drivers almost as convincingly as the RS 3, but with a different character that defines for it a unique position in the market. Only now, at the launch of the face-lifted RS Q3, are Audi's direct rivals mounting direct challenges.
Premium quality is essential for any Audi RS model, and that rings true even for the smallest among that elite group. Buyers want sumptuous leathers, impeccable stitching and an air of solidity that isn't always available elsewhere, and the RS Q3 is well equipped to satisfy demanding customers. People whose priority is the interior will be rewarded.
However, under the bonnet is an unusual engine, designed specifically to evoke memories of Audi's famous rally cars of the 1980s. It uses turbocharging and a five-cylinder layout to create enormous amounts of power and torque, which enable the somewhat racy compact SUV to reach 62mph from a standstill in just 4.8 seconds; pace normally reserved for expensive sports cars.
The enduring fashion for higher-riding cars, in tandem with an increasing trend for downsizing, means that the Q3 range, with the RS model as its figurehead, is well-placed to get even more popular. Many buyers will find it too small, and more still will object to its eagerness to burn through fuel, but engine improvements for this updated model will keep enough people interested.
Our verdict on the Audi Q3 RS 2.5 TSI
The RS Q3 will either fit your desires perfectly or it won't even come close. It is one of Audi's most unusual endeavours, but sales success in its first few years has borne out the firm's decision to build it. A notable hike in power, combined with better fuel economy and tweaked looks, should freshen the concept without removing any of the qualities that have been so popular among buyers.
Costs

Here lies the biggest reason not to buy an RS Q3; its running costs. It is not cheap to tax, doesn't hold its value especially well and gets through super unleaded fuel extremely quickly if its driver lets it. Automatic engine stop-start and the efficiency mode in the S tronic gearbox help make the most of every gallon, but using them all the time removes much of the joy of owning such a car.
Space and practicality

Although four-wheel drive is standard on this model, there is no less boot space than in a normal Q3. While there's enough head- and legroom, there is a general feeling of encroachment from all sides, not helped by the fact that the driver's side A-pillar seems so close when on the road. A flat load lip in the boot makes it easier to load and unload luggage, but buyers must be aware that its overall size is limited.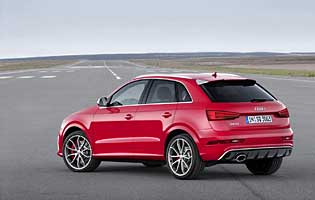 The car looks bigger than it is thanks to its wide stance
Controls and display

The main controls are laid out in the same way as any other modern Audi, which will make it easy for people upgrading from other Volkswagen Group cars. Red needles sweep across grey dials, while the LCD display between them can show RS-specific data like lap time and turbo boost pressure. The MMI interface is easy to use, but contains so many menus and sub-menus that it can take a long time to become intimately familiar with.
Comfort

Audi has really raised its game in terms of ride quality over recent years, moving from over-stiff, often downright uncomfortable suspension to much more supple, measured springs. As an overtly sporty model it is a surprise to learn that the RS Q3 is very much in the latter category, with more than enough comfort to satisfy its drivers for everyday mileage. Only rear passengers might complain at the pinched legroom, unless they are behind a short driver.
Car security

Audi has the bases covered with a Thatcham-approved alarm and immobiliser system, although some question marks remain over the ease with which criminals can clone usable keys directly from any car with keyless entry, which the RS Q3 features as standard. Privacy glass around the rear half of the car helps to defeat prying eyes, and the boot is fully enclosed when shut to keep luggage hidden and secure. Buyers can add a comprehensive tracker system if they wish.
Car safety

The flagship Q3 has a very high level of safety, with eight airbags, stability control and automatic activation of its headlights and windscreen wipers. Extra security is provided by the quattro four-wheel drive, large brakes and increased grip from the large, performance-oriented tyres. Optional extras include blind spot and lane departure warning systems which provide the highest level of safety assistance available in the class.
Driver appeal

Coming from what feels like an upmarket urban runabout, the characteristic noises of the five-cylinder turbocharged petrol engine are refreshing and exciting. Its performance is impressive, too, overcoming unhelpful aerodynamic properties to power the car to a restricted 155mph with relative ease. It requires a firm-footed approach to drive quickly and accurately, but until weight and height ultimately limit its potential, it's very enjoyable.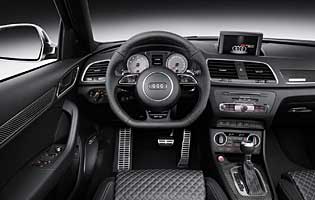 A typically high-quality Audi interior is a delight
Family car appeal

For the family that likes to complete the journey with style and speed, the RS Q3 makes a good choice. If one parent likes to sit high but the other has power as a priority, this car ticks both boxes, delivering confidence to both. ISOFIX child seat mounts are present on the outer rear seats, but parents would have to be careful around the expensive leather upholstery. The exposed stitching could be particularly vulnerable to spillages.
First car appeal

As one of the smallest Audi RS models, it is not beyond the realms of imagination to picture a young or first-time car buyer developing a fancy for the RS Q3. It has excitement, street cred, a little unusual heritage and all the usual Audi features that make a car easy to live with at low speeds. The purchase price and outright performance potential would make such a choice completely inappropriate, if not dangerous.
Quality and image

There do not appear to have been any corners cut when furnishing the RS Q3, and especially on the inside it makes just as high-quality a first impression as any other RS model. However, there are still many upgrades available on the spec sheet that can magnify the effect. Audi's image remains as solid as it has ever been, and with a strong line-up of cars with no weak chinks in the armour of its perceived quality, that shows no sign of changing.
Accessibility

As a small SUV this car's seats are placed at a generally good height for an average-height man to slide on to comfortably. Shorter people may think they are a little too high for comfort. The boot floor is at a good height, and the tailgate comes with powered operation for convenience. There is not a great deal of foot space when climbing into the back passenger area.
Stereo and ICE (In car entertainment)
There are numerous ways of playing audio content in the RS Q3. As standard there is DAB radio, along with a CD player, an SD card slot and MP3 player inputs, all of which ultimately link to 10 speakers. Further upgrades include a full Bang and Olufsen system for people who really want to enjoy their high-quality recordings, WiFi hotspot functionality and full Google Earth sat-nav imaging.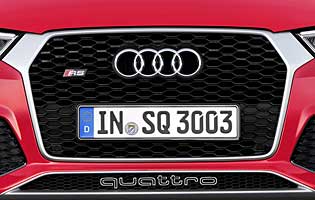 The silver grille surround identifies the 2015 model
Colours and trim
Audi has stuck to its normal pattern of offering colours that look good without offending anyone, so red, black, silver and white are likely to be the most popular options if past trends continue. Elsewhere in the range there are less conventional colours, but not all have made it to the RS model. The interior is impeccably turned out, with high-quality surface materials and an extremely satisfying overall look that betrays how much money has been spent on it.
Parking
As the driver sits high and the Q3 platform is quite small, parking is not difficult but does carry some risks. The large wheels, 20 inches as standard, are at grave risk of kerb damage. Rear parking sensors are standard across the range but buyers can choose to upgrade to a fully-automated parking system that, via front sensors as well, can even park the RS Q3 itself with minimal driver input.
Spare wheel
Emergency tyre repair kit supplied as standard.
Range information
Petrol engine options - 1.4-litre (148bhp); 2.0-litre (168bhp); 2.5-litre (335bhp). Diesel engine options - 2.0-litre (148bhp, 181bhp). Transmission options: six-speed manual gearbox or seven-speed twin-clutch automatic depending on model, with twin-clutch auto remaining optional across the range. Trim levels: SE, S line, S line plus
Alternative cars
Mercedes-Benz GLA AMG model delivers ballistic performance, but lacks real SUV appeal
Range Rover Evoque Disappointing dynamics but unrivalled style and kerb appeal
BMW X1 M Sport trim level offers sporty look with options for efficient engines
Mazda CX-5 Left-field option costs much less but is good fun to drive
Over 1,200 more car reviews online
All the reports since 1990 are available on this site, just search by make and model below.
Other products & services
Related information
December 2014