Audi TT 2.0 TFSI
October 2014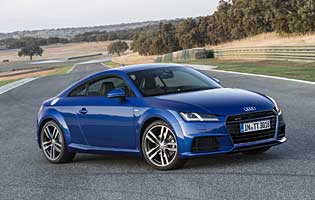 New six-sided grille is the most notable change at the front
Ratings
Overall rating
Value for money
Costs
Space and practicality
Controls and display
Comfort
Car security
Car safety
Likes
Exterior design is slick and attractive
Clever virtual cockpit creates clean and fuss-free cabin
Engine range offers power, refinement and economy
Impressive attention to detail throughout
Gripes
Could be mistaken for old car from some angles
Enthusiastic drivers may be disappointed with ultimate handling
Easy to inflate the price with option list
Rear seat space is poor
One of the key cars in the huge success of the Audi brand over the last 20 years has been the TT. Rejuvenating interest in the small coupe segment it has always offered a strong design theme whilst combining an easy-going and enjoyable driving experience. Now Audi has produced the third-generation version with promised improvements in a host of areas.
Few cars have had such a dramatic impact as Audi's TT, beginning with the eye-popping concept that first appeared in 1999. Since then there have been two generations, both of which managed to provide a strong style statement for fashion-conscious buyers without sacrificing too much in the way of practicality or usability. In doing so Audi made rivals go back to the drawing board.
This third generation TT is a natural evolution from the previous model rather than a radical departure. As before it uses a mixture of high strength steels and aluminium in its construction in order to keep weight down, yet it manages to weight 50kg model-for-model than before. Add to that is an engine line up that features new or revised engines, giving a useful performance enhancement.
In terms of its design the TT at first glance looks quite similar to the previous models, but closer inspection reveals the subtle differences. Broader and squatter than before, the third generation TT has taken on a more aggressive appearance. The grille is now six-sided and more imposing while the LED daytime running lights are vertically stacked to echo the R15 Le Mans racer.
On the inside the biggest departure is the standard fitment of what Audi terms a 'virtual cockpit'. This means the instrument panel has been replaced by a high-definition display screen, allowing it to be configured in numerous ways including a giant map filling the whole area in navigation mode as well as a more sporty display for higher speed driving.
Our verdict on the Audi TT 2.0 TFSI
The Audi TT has been improved in a host of areas and represents substantial progress over the outgoing model. It's faster, cleaner, more refined and with improved technology. Although fun to drive it's still not the last word in driving pleasure, but for the thousands of buyers who love its combination of style and sophistication it offers the perfect balance of fun and ease of use.
Costs

Improvements in kerb weight and engine efficiency all help play their part, and driven with restraint the TT has the potential to deliver respectable fuel consumption. Insurance will be a little higher than a common family hatch however.
Space and practicality

Front seat occupants have no issues with space whatsoever, enjoying generous head and legroom which is helped by the slimmed-down dashboard layout. The rear seats offer only a restricted space however. Boot space is slightly improved over the outgoing model and is enough to cater for two adults and their luggage.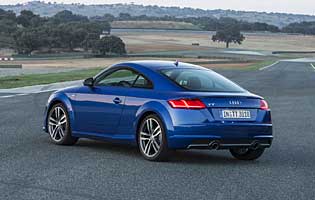 Slick curved roof remains a key design feature
Controls and display

The virtual cockpit layout in the TT is something of a departure for Audi but the result is impressive. New users will require a little time to get used to how everything works, but the way in which it puts plenty of information at your fingertips while also leaving an uncluttered layout is a real plus point.
Comfort

The standard sports seats are comfortable and supportive as well as offering a wide range of adjustment. The same can't be said for the rear seats however, which are suitable only for children or very short journeys with adults. Overall refinement is impressive, with low wind and road noise. The optional magnetic ride system also allows the drive to choose the suspension firmness depending on the conditions.
Car security

All TT models are fitted with an alarm and immobiliser as standard, while the rear load cover does a decent job of hiding the content of the boot - a crucial factor here as the large glass area of the tailgate makes it easy to see into the luggage area.
Car safety

Improvements in the TT's construction mean it is stiffer than before, which not only helps the handling but also means the structure is better able to withstand collision impacts. As well as the usual active safety system and airbags Audi offer a huge range of additional safety systems such as lane keep assist and traffic sign recognition.
Driver appeal

The TT is designed to be a sports coupe that can be used every day and its ability to switch between trickling through urban traffic to slicing along a quiet country road is one of its best attributes. In the most basic front-wheel-drive, 2.0-litre TFSI form there is a broad spread of power, so much so that it feels more like a naturally aspirated engine rather than turbocharged. The steering is quick and accurate and the suspension is firm but still able to cope with poor surfaces. Ultimately it is benign and safe rather than the weekend wheels of racing drivers but most buyers are seeking something more versatile than that.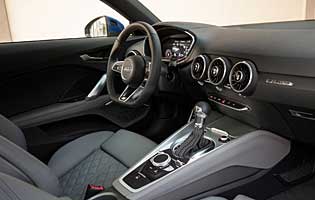 Beautifully designed cabin is a joy to use
Family car appeal

With just two usable seats supplemented by the occasional seats in the rear the TT isn't well suited to a family of four and is certainly unable to cope with five. However there are Isofix mounting points meaning that modern child seats can be safely installed.
First car appeal

Such is the easy-going nature of the TT that most first drivers could probably cope with the performance on offer, but it is factor such as the slight difficulty in parking and the initial purchase price.
Quality and image

A huge part of Audi's success in recent years has been down to the quality of its cars, and the latest TT continues in this manner. From inside to out the TT delivers an impressive level of quality, from the materials used to the standard of fit and finish. The TT's image has always been strong, perhaps only hurt slightly because of its huge success. The latest model will inevitably build on this, helped by the sharper and more aggressive exterior design.
Accessibility

With a strict two-door set up the emphasis is clearly on the front seat occupants, who benefit from wide opening doors and although the roof is relatively low it's quite easy to drop into the seat. Anyone attempting to get in the rear seats however will have more trouble, as the front seats don't slide forward at all.
Stereo and ICE (In car entertainment)
The virtual cockpit system means that there's no physical front to the audio system, and control is handled by basic buttons by the gearlever as well as duplicated buttons on the steering wheel. Even so it is easy to control with the Audi MMI system being easier to use than ever before.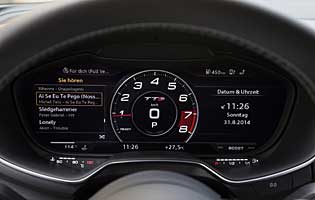 New 'virtual cockpit' is a clever feature
Colours and trim
On the outside the TT manages to pull off a whole range of shades. In brighter hues it looks modern and attractive, while darker shades hide some of the more subtle angles. On the inside the cabin is mostly made up of the typical dark grey, but the smart virtual cockpit and clever touches like the climate controls being mounted on the air vents helps to lift its visual appeal.
Parking
The TT's design means that the view out forwards and sideways is good, but over the shoulder visibility is less clear. However it has light steering at low speeds and easy controls, and on the options list there are three levels of parking assistance to make life even easier.
Spare wheel
Emergency tyre repair kit supplied as standard.
Range information
Petrol engine options - 2.0-litre (227bhp, 305bhp). Diesel engine options - 2.0-litre (182bhp). Transmission options: Six-speed manual gearbox or seven-speed dual-clutch gearbox depending on model. Trim levels: Sport, S-line.
Alternative cars
Porsche Cayman Less practical and more expensive but a thoroughbred driving machine
Peugeot RCZ Similar style-conscious approach, good driving experience and diesel option
Nissan 370Z Traditional sports car layout means engaging drive, less suited to everyday use
Toyota GT86 Less luxurious but sharp and exciting driving experience. Cheaper to buy too.
Over 1,200 more car reviews online
All the reports since 1990 are available on this site, just search by make and model below.
Other products & services
Related information
October 2014