BMW 2 Series Active Tourer 218i SE
October 2014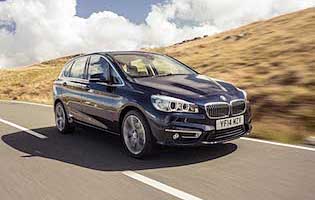 2 Series Active Tourer is a new departure for maker BMW
Ratings
Overall rating
Value for money
Costs
Space and practicality
Controls and display
Comfort
Car security
Car safety
Likes
Spacious cabin is light and airy
Flat load area is practical and family-friendly
Lofty driving position helps forward visibility
Affordable and offered with high level of standard kit
Gripes
Keen drivers will be disappointed
Can look a little awkward from some angles
Launch engines don't feel especially powerful in real world use
Still plenty of potential to spend a lot of money on cost options
It wouldn't usually be a big deal to launch a front-wheel drive family car, but when the firm in question is BMW it very much is. Famed for promoting 'Ultimate Driving Machines' and being a long-time promoter of the benefits of rear-wheel drive sports saloons, its 2 Series Active Tourer is a considerable departure from the norm.
Until the arrival of the 2 Series Active Tourer, BMW's line-up consisted of mainly the conventional models you'd expect to see from a premium car maker. But with one eye on closing the gap between its entry-level cars, the mainstream competition and providing a lifestyle vehicle that wasn't an SUV, the firm wanted to expand into new, more lucrative markets.
The Active Tourer is the car BMW hopes will help it make that leap. And with the need to combine practicality with a modest footprint plus the requirement to deliver low fuel consumption and emissions, the only sensible route was to opt for a conventional front-drive platform.
Whisper it, but the Active Tourer sits on the same platform as the third generation Mini and borrows some of its engines - the three-cylinder petrol units for example. The result is an agile car boasting good levels of versatility and, unusually for a BMW, a pleasingly high level of standard kit. You'll struggle to find parking sensors, a powered tailgate and sliding rear seats at this price point elsewhere.
The end result is a car boasting many of the attributes you'll find in a mainstream compact people carrier - lofty riving position, flexible seating layout - but with the addition of a premium badge. For many this will be the deal breaker as, despite being in possession of a family and aspiring to an active lifestyle, a traditional SUV was never on the shopping list. Too vulgar or too big, you see.
Our verdict on the BMW 2 Series Active Tourer 218i SE
Only the BMW purists will be jumping up and down at the prospect of a front-drive, small-engined people carrier. For sensible types with a family or the need for more space than a regular family hatchback, BMW's 2 Series Active Tourer delivers a competent mix of space, refinement, value for money, economy and desirability.
Costs

With BMW focussing on low fuel consumption and emissions, there's every reason to believe the Active Tourer won't break the bank. Furthermore, unusually high levels of standard kit and a competitive pricing structure should help convince buyers this is a BMW that be viewed as an affordable choice.
Space and practicality

Boasting a 4-2-4 split rear seat for added versatility, the Active Tourer offers a high level of flexibility if you want to mix occupants and clobber on a road trip. The car's powered tailgate is a welcome bonus, while the option of a front passenger seat that folds forward can extend the already generous load capacity. Cabin oddment space is also good, making it ideal for a demanding family.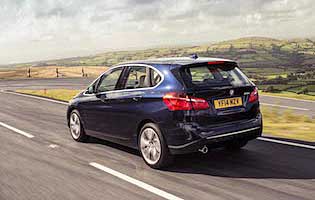 Hatchback format ensures high level of practicality and versatility
Controls and display

Everything you see and touch exudes BMW's usual high standards. The intuitive controls and clear displays trump many of the car's rivals. The main colour screen offers easy access to the car's various functions, although you'll have to dig deep for the, admittedly good, premium sat-nav option. Likewise for the head-up display, although this isn't as slick as BMW's previous efforts.
Comfort

Supportive seats throughout the cabin plus a light and airy ambience help make time spent in the Active Tourer pass without incident. Low noise levels and a mature ride ensures that passengers are rarely inconvenienced. Resisting the urge to specify large wheels should help boost this experience.
Car security

With all the usual bases covered - remote locking, keyless ignition, anti-theft measures - the Active Tourer is as well protected as possible. The car also includes a sturdy rear load cover to keep your possessions out of sight.
Car safety

There's more than enough safety kit here to please the most protective of parents. The cabin is full of airbags and the car's electronic stability and traction systems should prove sufficient. BMW also offers a pedestrian detection and auto brake package that should prove helpful in busy urban environments.
Driver appeal

In launch guise the Active Tourer isn't the quickest of family wagons, but the trade off if high levels of refinement and low fuel consumption and emissions. Most drivers won't detect the switch to front-wheel drive as it's only obvious when the car is pushed hard. What's more relevant is the car's polished and composed ride - helped further if you refrain from selecting large wheels - and a pleasingly slick manual gearchange.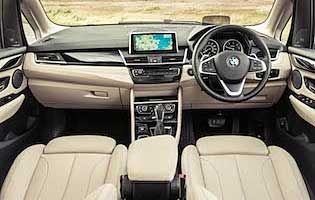 Familiar BMW fascia layout works well
Family car appeal

This is where the Active Tourer excels, as the car's cabin is spacious enough to accommodate a growing family, while the boot is big enough to swallow most things without complaint. And if you want more space you can always slide the rear seats forward - or back to boost legroom. The upmarket cabin trim does suit a brace of teenagers more than the sticky fingers of a gaggle of pre-schoolers, though.
First car appeal

Although a good car, the Active Tourer is unlikely to appeal to the first timer. It's a little big and not terribly entertaining. A 1 Series or even a Mini would be a better choice if wishing to stay loyal to the BMW family.
Quality and image

BMW enjoys a largely positive reputation, although this mainly stems from producing cars for keen drivers. The Active Tourer is, unashamedly, not a car for the track but for families and it will be interesting to see how it's received long term. It's a car BMW's needed for some time to compete in the expanding family car sector, though.
Accessibility

Conventional, not sliding, doors fit the bill here, with access to the car's rear cabin reasonable if not overly generous. That said, once inside cabin space is good. Predictably, front seat occupants fare best overall. At the rear, power for the tailgate is a welcome inclusion at this price point. It opens to reveal a good-size and flexible load area.
Stereo and ICE (In car entertainment)
BMW fans will be familiar with the Active Tourer's entertainment offering. Similar to the 1 and 2 Series models, you get digital radio plus Bluetooth and USB connectivity accessible via an intuitive interface and clear display. The optional sat-nav is impressive but the high-end choice isn't cheap.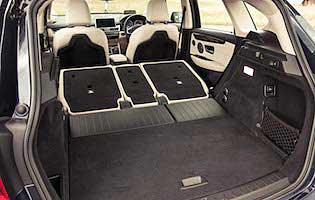 Load space is versatile and easy to configure to your needs
Colours and trim
There are parallels to the 3 Series here, with the Active Tourer offering a good range of traditional and Ikea-esque contemporary interior trim, be it gloss, matte natural or man made materials. The overall effect is a positive one. On the outside, the car looks best in subdued colours, befitting its premium car family roots.
Parking
Thanks to the car's lofty driving position forward visibility is good. The car's light steering at low speeds also helps, while the car's modest dimensions should prove a plus in crowded urban streets. Where fitted, the reversing camera combines with the rear parking sensors to remove the guesswork of reverse parking.
Spare wheel
Run flat tyres fitted as standard.
Range information
Petrol engine options - 218i (136bhp). Diesel engine options - 218d (150bhp). Transmission options: six-speed manual gearbox plus eight-speed auto gearbox. Trim levels: SE, Sport, Luxury, M Sport.
Alternative cars
Ford C-Max Dynamic benchmark for many and a good, affordable all-rounder
Volkswagen Touran Not the most visually or dynamically exciting VW but a solid performer
Mercedes-Benz B-Class Comparable image to the BMW but can't match it for kit and running costs
Vauxhall Zafira Tourer Mainstream alternative is a good all-rounder but lacks the BMW's premium image
Over 1,200 more car reviews online
All the reports since 1990 are available on this site, just search by make and model below.
Other products & services
Related information
October 2014