Audi A6 saloon 2.0 TDI ultra S tronic S line
September 2014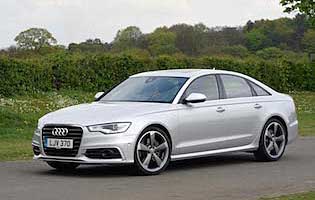 Sharp looks help the A6 stand out from the crowd
Ratings
Overall rating
Value for money
Costs
Space and practicality
Controls and display
Comfort
Car security
Car safety
Likes
Polished-looking exterior design
Impressive gains in efficiency and economy
Cabin is comfortable, attractive and better specified than some rivals
Lots of space in cabin and load area
Gripes
S line specification can result in an over firm ride
Long list of tempting but potentially costly extras
A1 and A3 models present a less cluttered cabin to the driver
Front-wheel drive will never match rear-drive for maximum enjoyment
Think 'premium' cars and thoughts rarely turn to saving money. That's all changed in recent years, with all the major brands introducing cars boasting low emissions and fuel consumption to primarily help keep cars affordable for the business community. Audi's 'ultra' sub-brand offers these attributes without compromising its core values.
Audi's A6 is well known and liked as a premium saloon - and estate - model in a fiercely competitive executive market sector. The car's design-led appeal for many puts its at a higher level than some rivals. That said, keen drivers have often looked to BMW for more thrills.
This certainly hasn't dented the A6's appeal through the years, and as manufacturers spend more effort reducing inefficiencies Audi has made some serious inroads. The firm's ultra sub-brand is a good example; focus on boosting economy while maintaining high standards of refinement.
The end result is a car that, powered by a 190 horsepower 2.0-litre diesel engine, boasts a sub 120g/km CO2 rating, a family hatch rivaling 64.2mpg economy figure yet is still capable of delivering a brisk performance.
For the cash-savvy company car driver these figures now take priority over any class-busting top speeds or zero to 62mph sprint times. With the promise of significant savings over even previous frugal A6 variants, this ultra model reduces an individual's take spend to new lows.
Our verdict on the Audi A6 saloon 2.0 TDI ultra S tronic S line
It seems every car maker has its own take on an ultra low emissions and fuel consumption model these days. Even the makers of premium cars can't ignore the benefits to not just the environment but also the bottom line. Audi's A6 ultra is an impressive example of how to do it right; there's no compromise to the driving experience or cabin refinement when on the move.
Costs

In executive circles Audi has become increasingly more competitive in recent years, be it more generous with standard kit or producing more efficient cars. The A6 ultra combines these two attributes and boasts a premium ambience while delivering family hatch levels of economy and emissions performance. The key benefactor will be the company car driver, as considerable year-on-year savings can be made with this A6 variant.
Space and practicality

This A6 is a big car, with the result being that rear legroom is refreshingly above average. Oddment space up front, along with occupant space, is also generous. The same is true at the rear, with the car's boot a cavernous asset easily capable of swallowing all manner of large items.
Save for the small 'ultra' badge you'd never guess this was a super frugal model
Controls and display

Audi has built a considerable reputation on the strength of its instruments and displays. They are often held up as examples of how to get it right, and the A6 is one of many 'best practice' examples. From the clear, colour main display to the intuitive controls and simple main dials, it's hard to fault the A6 here.
Comfort

This is where the A6 performs well, and the car's occupants will enjoy the refined, tasteful cabin complete with ample space fore and aft. Road and wind noise is expertly suppressed, too.
Car security

Like with all other A6 models, this frugal model boasts a solid roster of kit to keep thieves at bay. Remote locking, delayed operation headlamps and a sophisticated anti-theft system should prove sufficient. Covered cabin oddment storage space plus the saloon body layout also help keep valuables out of sight.
Car safety

The A6 is in the same boat as its premium peers here. From the plethora of airbags to the comprehensive level of electronic assistance for the driver, nothing has been left to chance. Dip into the options list and there's also a selection of advanced active systems to choose from.
Driver appeal

The focus here is on economical driving, although in this A6 ultra it never feels like it's a chore. The gutsy diesel motor is pleasingly quiet yet boasts ample pace for brisk motoring when needed. S line trim does prove rather firm, making SE a smarter choice of comfort is a priority.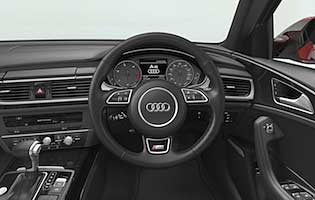 Tasteful and well-appointed interior is an Audi trademark
Family car appeal

No saloon, no matter how big, can compete against an SUV and the A6 is no different. It's plush interior is better suited to a more mature family anyway, and an estate variant would be more versatile, too.
First car appeal

With its size and expense counting against it, first time buyers might be better off looking at an A4 if they really need a saloon or the well received A3 if a family hatch-size car is more acceptable.
Quality and image

Cabin quality and finish is remarkably similar to that found in the considerably more expensive A8. The standard upholstery is appealing to the eye, and the wide choice of materials is another mark of quality. In light of this, opting for the ultra variant doesn't seem like a compromise at all.
Accessibility

Four large doors make for easy access front or rear. The same goes for the generous boot, which also comes with the option of being electrically operated, and boasts a long, wide flat load floor.
Stereo and ICE (In car entertainment)
The standard provision is an impressive system and a good quality audio set-up incorporating a CD/tuner and twin SDHC memory card slots for importing audio tracks, plus Bluetooth and USB connections. Even more tempting are the upgrade audio systems which deliver exceptional sound quality, and while the navigation options can prove pricey they are some of the easiest to use in this class.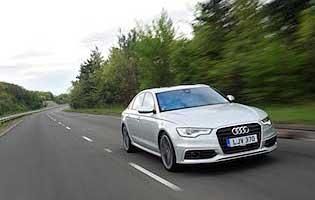 On the move the A6 ultra is rewarding, quiet and composed
Colours and trim
The car is best suited to understated metallic shades as they best suit its subtle curves. Inside there is a refreshingly broad choice of colours, which give the A6's cabin a welcome lift.
Parking
All A6 models are fitted with Audi Parking System Plus, which has sensors front and rear feeding an on-screen display. This in itself makes parking a straightforward affair, but optional upgrades include a reversing camera or even automated parking.
Spare wheel
Space saver spare wheel fitted beneath the boot floor.
Range information
Petrol engine options - 2.0-litre (245bhp). Diesel engine options - 2.0-litre (190bhp), 3.0-litre (204bhp, 245bhp, 313bhp). Transmission options: six-speed manual, seven-speed dual clutch automatic, eight-speed CVT automatic. Trim levels: SE and S line, Black Edition.
Alternative cars
BMW 5 Series More driver-focused yet still comfortable and stylish
Mercedes-Benz E-Class Styling may not be to all tastes but hybrid model promises impressive economy
Lexus GS450h Petrol hybrid-only with no diesel option, well-equipped, comfort-oriented
Jaguar XF Polished alternative but lacks ultra efficient variant
Over 1,200 more car reviews online
All the reports since 1990 are available on this site, just search by make and model below.
Other products & services
Related information
September 2014