BMW 3 Series M3
August 2014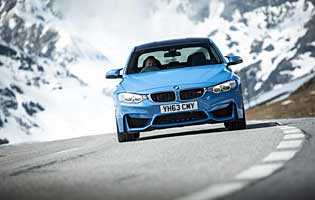 The M3 wears a subtle but attractive bodykit
Ratings
Overall rating
Value for money
Costs
Space and practicality
Controls and display
Comfort
Car security
Car safety
Likes
Handsome exterior builds on the standard car's looks
Turbocharged engine is flexible, powerful and easy to exploit
Secure and enjoyable handling with useful electronic safety net
Still easy and relaxing to drive
Gripes
From some angles it can look too much like a regular 3
Exhaust noise can sound too artificial at times
Concessions to comfort take away some of the usual hard edge of an M car
Running costs likely to be high
For many years the BMW M3 has been the most popular iteration of the high performance M car range, but that is all set to change as the most popular coupe version is based on the 4 Series to create the M4. That leaves the M3 tag to be worn solely by the four-door saloon version, which historically sells in smaller numbers.
The M3 is rightly revered by many enthusiasts thanks to its racing pedigree and guarantee of impressive performance, going as far back as the original E30 model. Always offered in coupe form but latterly in saloon and convertible form, the saloon has generally been the less popular choice despite offering more practicality without compromising performance.
The M3 follows the well-established route to creating an M car from a standard BMW although arguably this incarnation is more comprehensive than ever before. Perhaps the biggest change is that this is the first M car of this size to use a turbocharged engine rather than a naturally aspirated one, as the quest for increased performance with better emissions continues.
Elsewhere the M3 uses more lightweight carbon fibre than ever before with an under-bonnet strut brace and a lightened driveshaft that helps to reduce weight by 85kg over its predecessor. There are also numerous aerodynamic add-ons designed to improve the M3's performance as well as it looks.
Although there is a focus on performance enhancement the M3 still maintains the practicality and usability of the regular 3 Series saloon. Stop/start is fitted as standard and the ability to adjust steering, throttle response, gearchange speed where an automatic gearbox is fitted means the M3 can be docile when required.
Our verdict on the BMW 3 Series M3
Combining the positive traits of the standard 3 Series whilst adding a serious injection of performance means the M3 is a car with a very broad skill set. To some eyes it is prettier than its M4 sibling, is more capable of dealing with passengers and luggage and yet can still deliver huge thrills in the right circumstances.
Costs

There's no getting around the fact that the M3 is an expensive car to buy, although running costs will be better than any of its predecessors. Even so, the M3 will need to be serviced well in order to maintain its performance and longevity.
Space and practicality

The M3 is a compact saloon, so although it doesn't offer limousine-like space in the rear seats it will take adults without causing issues. Those up front are well looked-after event though the transmission tunnel and console are quite wide. The boot is well-shaped and generous in size too.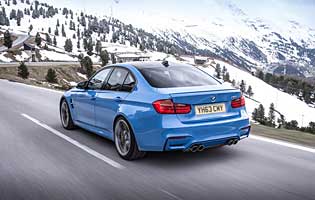 Signature quad exhaust pipes mark this out as an M car
Controls and display

BMW's various instrument and displays have steadily evolved over the years, and the M3 presents occupants with a classy set of intuitive controls. The i-Drive system has improved with every iteration and this latest offering is fast-operating and slick.
Comfort

Remarkably the M3 is virtually as comfortable as the standard car, arguably more so because what it gives away in a slightly firmer ride it makes up for with superb sports seats. Noise levels are well controlled, with a barely detectable increase in road noise from the wider tyres.
Car security

The remote locking function is a simple and discrete one, while the car's boot is separate from the passenger area, ensuring that your valuables can be locked out of sight for added peace of mind.
Car safety

Like every BMW the M3 has a complex suite of safety aids including Dynamic Stability Control which has different modes to suit your preferred driving style, as well as a useful hill-hold function. It is also blessed with uprated brakes while the wider tyres offering increased grip.
Driver appeal

Like any modern performance car there is a focus on usability as well as speed and the M3 achieves an impressive balance of the two. In normal driving the engine is relatively quiet and the ride impressive, yet with everything turned up to its highest setting it feels sharp and aggressive. The aural feedback from the turbocharged engine can sound artificial at times however as it is partially directed through the car's audio system.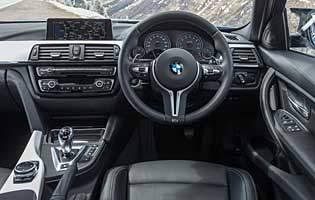 Cabin attractive and M3-only wheel a pleasure to use
Family car appeal

The M3 could easily perform family duties, being able to swallow plenty of luggage in the boot and allow children easy access to the rear seats. The better materials used in the M3's cabin might give parents a few nightmares with smaller children but the leather seats are at least more hardy than the cloth alternative.
First car appeal

As much as the M3 is an easy car to drive it still has a huge amount of power and in inexperienced hands could easily become a handful. It's also unlikely that a newly-qualified driver would be able to insure such a car, never mind buy one in the first place.
Quality and image

BMW has worked hard on its image over the years, with the main focus on its cars' driving performance. This approach has softened of late as the firm seeks to broaden the appeal of its products, even as far as its M cars which are easier to drive than ever before. An increased focus on fuel economy and reduced emissions has earned it praise and helped boost sales at a time of rising car ownership costs.
Accessibility

With the advantage of an extra pair of doors compared to the coupe M4, the M3 makes short work of climbing aboard. The same goes for the boot which has a remote release and opens wide to make access to the space very straightforward.
Stereo and ICE (In car entertainment)
The standard fit M3 system offers up satellite navigation, Bluetooth and the option of Google Maps and Connected drive, all controlled through the i-drive system which is easier to use than ever before.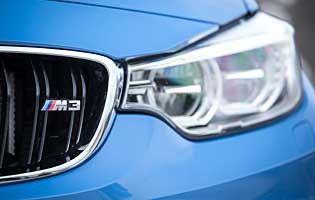 M badges slightly smaller than previous versions
Colours and trim
As well as the standard discreet metallic shades the M3 comes in some more eye-catching offerings which are entirely a matter of personal taste. On the inside it's mostly dark shades but the quality of the leather and plastics added to a choice of hard finishes boost overall quality.
Parking
Standard parking sensors help to take the sweat out of parking the M3, while the variable power assistance means the steering is finger-light at low speed. Move up the options list and you can add a 360-degree camera.
Spare wheel
Tyre inflation kit and run-flat tyres fitted as standard
Range information
Petrol engine options - 320i (184bhp); 328i (245bhp); 335i (306bhp) M3 (425bhp). Diesel engine options - 316d (116bhp); 318d (143bhp); 320d Efficient Dynamics (163bhp); 320d (184bhp); 330d (258bhp); 335d (313bhp). Transmission options: six-speed manual transmission plus eight-speed auto transmission depending on engine choice. Trim levels: SE, Sport, Modern, Luxury, Efficient Dynamics (320d only).Trim levels: SE, Sport, Modern, Luxury, M Sport, M.
Alternative cars
Audi RS4 Saloon or estate only but fast and fun to drive
Mercedes-Benz C 63 AMG This older version dominated by sensational engine
Lexus IS-F Left-field challenger is saloon only but has character and good performance
Vauxhall VXR8 GTS Bigger, less classy but great fun and excellent value
Over 1,200 more car reviews online
All the reports since 1990 are available on this site, just search by make and model below.
Other products & services
Related information
August 2014