Citroen C4 Cactus Feel 1.2 PureTech 110
July 2014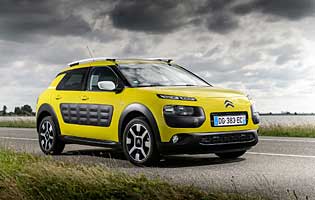 Bright colours help to create a bold, contrasting look
Ratings
Overall rating
Value for money
Costs
Space and practicality
Controls and display
Comfort
Car security
Car safety
Likes
Quirky design looks great and could help reduce potential damage
Quiet driving demeanour around town is surprising
Light weight helps to increase fuel economy and driving pleasure
Low purchase price in relation to size and practicality on offer
Gripes
Clumsy, harsh boot and door shut actions sound cheap
Smaller boot than some families will want
Protective external strips don't cover some crucial areas
Unusually soft seats are not comfortable for long-distance drives
Cars are getting more expensive because of the ever-increasing safety demands placed on manufacturers by governments, but the C4 Cactus aims to counter that by simplifying construction, using cheaper materials where possible and advanced materials where necessary. The result is a high-riding compact family car that's built with a real-world outlook on life with children.
Take car park bumps, for example. You might be an ultra-careful driver but that one time, when you don't make that one check, accidents can happen. The Cactus's bodywork is defined by large 'AirBump' strips whose purpose is to absorb low-speed hits, whether from other cars or supermarket trolleys, and allow the car to escape without needing expensive repairs.
In a world where even the smallest cars are scrambling to do away with unpainted exterior trim in the pursuit of a more premium look, the Cactus is a refreshingly utilitarian take on an everyday car. It's something genuinely different that has no direct rivals, despite overlapping some of the most competitive parts of the pre-existing market.
Built with simple methods but using an intelligent combination of light and simple materials, most Cactus models weigh in at less than 1,000kg - less than almost every supermini out there - and yet all the necessary safety requirements have been met. Safety is key for its target family buyer, but the Cactus's surprisingly low purchase price is a deal-clincher.
Underneath the distinctive exterior is a mix of old and new parts, with engines benefiting in both performance and fuel economy from the car's light weight. By Citroen's own admission it's built to a price, which has been an unhappy state of affairs in the past, but by simplifying the design it's hoped that the Cactus will prove more reliable.
Our verdict on the Citroen C4 Cactus Feel 1.2 PureTech 110
The Cactus looks and feels different, and just because it has an outwardly functional bias doesn't mean it doesn't look great. Citroen's designers have excelled themselves, and as long as the car proves reliable and dependable then it should prove a popular choice. Comfort levels are well judged for urban and suburban driving, the engines are economical and smooth, and there's generally a lot to like.
Costs

While the bump-resistant panels won't necessarily prevent accidents, they do reduce the risk of damage being caused, which could save hundreds of pounds. Otherwise, good fuel economy is possible through efficient engines and a lack of weight, and several versions fall into low road tax territory. Insurance is modest with the overall simplicity of the car helping to keep premiums down.
Space and practicality

The boot is 32 litres smaller than that of a Seat Leon, for example, but the Cactus is shorter and makes no compromises on rear passenger space, so that has to be expected. It's still big enough to be everyday-practical, but there are restrictions in terms of expanded practicality. The rear seats, for example, don't split, so there's no option to fold part of the seat back and keep a seat free for a passenger.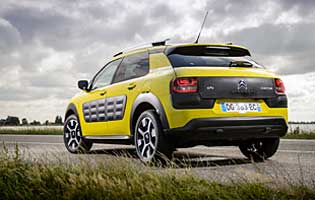 While it isn't pretty, the rear styling embodies French eccentricity
Controls and display

The big central screen is a standard feature on all Cactus models, even the basic Touch version. The digital speed readout is standard too, and leaves out all features deemed unnecessary - including a rev counter. The big digits are easy to read even with peripheral vision, but while the colour screen is sharp and bright, some of the icons in the on-screen menus lead to quite a bit of guesswork as to their function. Reading the manual is advised.
Comfort

The main point is the unusually soft foam within the seats, which means you sink into them to a noticeably greater extent many other cars. This armchair-esque feeling will delight some buyers and disappoint others, especially long-distance drivers. The suspension handles rounded speed bumps well, but sharper hits immediately overwhelm the dampers and send jolts through the cabin.
Car security

Remote central locking is standard-fit, and with deadlocking included the doors can be kept secure even in the event of a smashed window. By pressing the interior door-locking button beneath the touch-screen, the doors and boot can be kept secure for time spent stopped, like at traffic lights, for example. Privacy glass is not available.
Car safety

All Cactus models share a complement of passive and active safety systems, covering front, side and curtain airbags, plus stability control and anti-lock brakes. An interesting design feature is that the front passenger airbag is housed in the roof, allowing the dashboard to be mounted lower for an airier feel.
Driver appeal

In contrast to its utilitarian leanings the Cactus displays impressive refinement at urban speeds, the turbocharged petrol engine almost silent behind very little road noise. It's comfortable, too, which adds to the urban appeal, and this version of the versatile 1.2-litre petrol engine has enough muscle to cope well enough even on faster roads. The Cactus is in no way thrilling or dramatic, but it's relaxed, cheerful and extremely good at being an everyday runabout.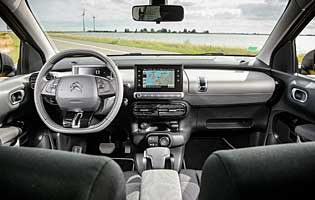 Cabin is comfortable and well laid out, but surfaces are mismatched
Family car appeal

Families are they key market for the Cactus, and in most respects this could be one of the best family hatchbacks on the market. Only the very top trim grade features leathers and surfaces that could be vulnerable to damage, and the plastics on the dashboard and in the door trims seems robust enough to take knock after knock. Where there is shiny plastic, though, fingerprints will collect quickly.
First car appeal

The bottom end of the Cactus range is surprisingly affordable, at a level more familiar to C3 buyers. That makes it theoretically affordable for a typical first-time buyer, particularly in the entry-level trim level with the lower-powered petrol engine. The AirBump panels help to reduce the likelihood of an insurance claim. It might be bigger than an inexperienced driver is used to, but not by much, and the benign, light steering makes it easy to handle.
Quality and image

Citroen admits that the Cactus is built to a price, which normally means that costs have been cut everywhere possible. In turn that leads to reliability problems, but this car uses a simplified mechanical design and build process to reduce costs, so the impact on reliability could be less pronounced. Only time will tell, but Citroen certainly has work to do on its reputation for build quality. The Cactus feels generally solid at a standstill, but with a few small creaks and rattles in motion.
Accessibility

Wide-opening doors and seats lifted higher than a typical hatchback's are useful for allowing access to older passengers with reduced movement, as well as making it easier for kids to climb in. The tailgate is heavier than expected for the first inch or two of its travel, but it gets lighter as the pneumatic rams take the strain. Rear passengers will need to tuck their feet in a little bit to get them past the B-pillar, which curves a little at the bottom.
Stereo and ICE (In car entertainment)
Citroen's check list for the stereo installation consisted of little more than basic radio and CD functionality, and as a result the sparsely located speakers have limitations in how they can deliver music. Importantly there's Bluetooth connectivity in mid-range models and upwards to allow wireless music playback. Music data is displayed via a large colour touch-screen, though, which lifts the whole experience to pleasant and engaging levels.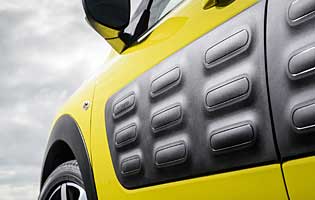 AirBump panels help reduce knocks and scrapes
Colours and trim
Citroen doesn't want practicality to get in the way of design, so there's a larger than average selection of paint colours to choose from. In future there will also be the option to change the colours of the AirBump panels, giving immense freedom of personalisation. The interior trim is less attractive, especially considering the visible mould lines in some places, and it has an overall mismatched feel that lacks any of the visual cohesion of the exterior elements.
Parking
The Cactus has good rear three-quarter visibility, so reverse-parking presents no major drama. It's slightly shorter than a Volkswagen Golf, so isn't too big for the city, and is easy to manoeuvre around car parks thanks to the raised driving position and modestly high-profile tyres, which help to avoid the risk of kerb damage. Top-spec models feature a reversing camera to help drives guide the car up to obstacles with confidence.
Spare wheel
Emergency tyre repair kit supplied as standard.
Range information
Petrol engine options - 1.2-litre (74bhp, 82bhp); 1.2-litre turbo (108bhp). Diesel engine options - 1.6-litre (99bhp, 113bhp). Transmission options: five and six-speed manual gearbox depending on model, plus automated manual gearbox (selected engines only). Trim levels: Touch, Feel, Flair.
Alternative cars
Kia Cee'd Familiar but pretty hatchback styling with good all-round family-friendly credentials
Fiat 500L Compact people-carrier boats lots of personalisation options but is pricey
Vauxhall Astra Financial promotions make the nimble-driving Astra a very tempting choice
Suzuki SX4 S-Cross Affordable crossover with lots of kit and an excellent diesel engine
Over 1,200 more car reviews online
All the reports since 1990 are available on this site, just search by make and model below.
Other products & services
Related information
July 2014