BMW 2 Series M235i
June 2014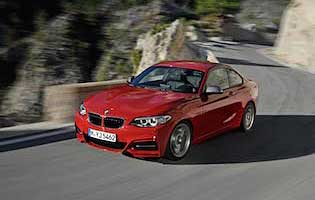 Subtle bodykit hides the M235i's true potential
Ratings
Overall rating
Value for money
Costs
Space and practicality
Controls and display
Comfort
Car security
Car safety
Likes
Understated looks draw little unwanted attention
Practical rear seats and boot space are a bonus
Impressive performance across a range of changing road surfaces
Powerful turbocharged engine proves flexible
Gripes
Big wheels and tyres cause road noise
Compact saloon-like profile can look awkward from some angles
Limited visibility out of the rear
Quality of manual gearshift could be better
If the M135i wasn't enough to excite the masses of keen rivers out there, BMW will also sell you a 2 Series equivalent. This two-door 'coupe' - in reality it's a compact saloon - will inevitably be viewed by some as 'son of E46 M3' thanks to its compact dimension, relatively affordable price tag and potential to allow skilled drivers to have more fun than is possible in a front-drive hot hatch.
With its twin-turbo 3.0-litre engine, this baby M car isn't short of shove. The car's 328 horsepower proves ample in the real world, and it's also the case that rear-wheel drive is easily the more exciting layout. With a nimble character akin to that of BMW spots saloons of old, the M235i shows up the firm's larger, heavier M cars in the fun stakes.
Thankfully that straight-six motor doesn't dominate proceedings, with the car proving to be a docile companion when the only task is to get to work on time. In two-door coupe form, the M235i is also more practical than you might think. Granted, it's no 3 Series Touring, but there's enough cabin room and boot space for a pair of speed-loving urban dwellers or empty nesters keen to relieve their motoring youth.
And in a departure form previous exploits, this particular m car can be further tuned after the initial purchase - depending on your available budget, naturally. From a locking differential, uprated brakes to suspension components, this lower cost M model can be personalised and modified to suit both your pocket and what you plan to use it for, be it fast road or track work.
For the times when you're not pretending to be a driving God, the M235i's cabin is a refined and relaxing environment. The M themed trim is subtle, while the sports seats offer plenty of support. The list of standard kit could be longer, though, given the car's asking price is that bit more than even the hottest of hot hatches.
Our verdict on the BMW 2 Series M235i
BMW's M cars are always held in high regard by fans of the brand, although with the arrival of ever faster and more powerful models, seeking enjoyment at more sensible speeds has become increasingly difficult. M versions of the 1 and 2 Series models have mostly fixed that issue, with the latter proving more engaging and focused than the already impressive former choice. That the M235i can also be tuned to your own taste and budget is another plus, along with the tuneful and flexible 3.0-litre engine.
Costs

Fuel economy is impressive considering the car's large capacity engine and power output. Owners will need to be prepared for a larger than normal bill when the run-flat tyres need replacing, though, while there's no escaping the fact that insurance and other routine running costs will be more than for your average hot hatch.
Space and practicality

There's plenty of room for sports bags and the weekly shop in the M235i's boot, although the open aperture is on the small side. The rear seats are more useable than you might think, but fully-grown adults will still find legroom restricted. Kids will fit snugly into the rear though.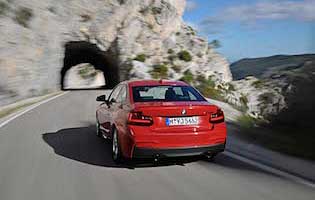 The view most people will see of BMW's rapid compact M coupe
Controls and display

The car's steering can feel a little heavy, but the weight and feedback quickly becomes a bonus when having fun. The manual gearshift could be smoother, though. Dials and instruments are well laid out and easy to read while the column stalks and switches are where you'd expect to find them. BMW's much improved iDrive system can still be a little fiddly at first but becomes second nature after some practice.
Comfort

The M235i is a driver-focused car from the outset, so it's no surprise to find a large range of adjustment for the driver's seat and steering column. When cruising, wind and engine noise are kept to a minimum. The sports suspension and wide tyres do lead to a firm ride, although never jarring, and road noise is obvious at speed.
Car security

As you'd expect, the M235i boasts a standard alarm and immobiliser package. There's ample covered storage inside the car and items in the boot will be out of sight thanks to the traditional saloon bodystyle.
Car safety

Big brakes mean the M235i is sorted when it comes to stopping from any speed, while the various electronic stability and safety systems also do a good job without proving intrusive when you're pressing on.
Driver appeal

With its rear-wheel drive layout, compact footprint and powerful petrol engine, the M235i is should easily please keen drivers. Weighty controls are backed up by a firm but measured ride, while traction is predictable even in the wet. Driven gently the car is no more taxing than a regular supermini. However, pushing hard reveals a car with deep reserves of ability and the power to impress on a variety of roads. It also makes a pretty handy track car, too.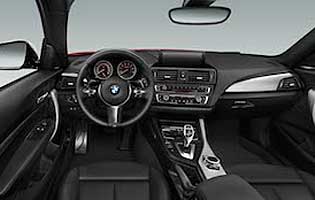 High quality interior proves refined
Family car appeal

You would never pick the M235i as a family car, but at least its rear seats are big enough to accommodate small children. Furthermore, the saloon format can match a hatchback for practicality but the M car's boot is big enough to cope with everyday duties. You'll have to be more inventive if you need to carry flatpack furniture.
First car appeal

The harsh reality is that the M235i is too powerful, too expensive to buy and too costly to run to be an effective first car. Younger drivers with no no-claims bonus will struggle to secure affordable insurance, and with budgets tight the road tax and fuel bills might be off-putting.
Quality and image

The M235i is the most desirable of the coupe line-up thanks to its M Sport styling and impressive dynamics, but its understated exterior leaves it lacking the visual impact that some keen drivers might be expecting from such a potent car.
Accessibility

The car's two long doors mean that it can take a considerable step forwards to climb in, especially for those who sit quite close to the wheel. It also leaves the seat belt a long stretch away past the seat back and those doors open wide - making tem tricky to open in cramps city multi story car parks.
Stereo and ICE (In car entertainment)
The M235i has a high quality sound system, but despite being the range topper it only comes with a single slot CD player as standard. It can be specified with sat-nav and CD/DVD changer. The latest-generation iDrive system has been updated with the latest style of interface to make accessing the most commonly used functions easier.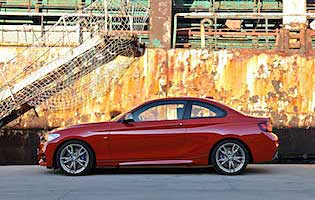 For some, the two-door coupe bodystyle will be more appealing
Colours and trim
The M235i looks at its best in more extravagant colours and BMW has made two available, covering a pale blue and a deep and lusty orange. Otherwise the palette covers more sombre hues. The M235i wears the M Sport body kit fitted to all M Sport models, giving it a sporty look on the outside while good quality leather seats and contact points provide a sportier feel.
Parking
Rearward visibility could be better, making the inclusion of parking sensors all the more important. The car's rear-wheel-drive layout gives it a tight turning circle because there are no restrictive drive shafts attached to the front wheels.
Spare wheel
Emergency tyre repair kit supplied as standard.
Range information
Petrol engine options - 220i (184bhp); 228i (245bhp); M235i (328bhp). Diesel engine options - 218d (143bhp); 220d (184bhp); 225d (218bhp) Transmission options: six-speed manual gearbox, plus eight-speed auto gearbox. Trim levels: SE, Sport, M Sport, M.
Alternative cars
Volkswagen Golf R version is a practical and potent hatch, but four-wheel-drive
Porsche Cayman Coupe offers premium badge and similar performance but for more money
Nissan 370Z Raw two-seater coupe is more fun, but less practical
Mercedes A-Class AMG-tuned A 45 is more practical and offers a rewarding performance driving experience
Over 1,200 more car reviews online
All the reports since 1990 are available on this site, just search by make and model below.
Other products & services
Related information
June 2014